---
Hygloss: Pulp Non-Fiction
"Things like construction paper are available in every school and discount store. We try not to do the commodity, but the specialty paper." — Moshe Neurath, Hygloss

When Rose Engelsrath left her native land of Austria for the United States in 1950, she felt something was missing. Was it her Viennese students? The wienerschnitzel? The Tyrol? No, she realized, it was the high-gloss craft paper.

Today, Hygloss Products Inc. (ToyDirectory) not only makes the high-gloss craft paper the company started producing in 1950 but a variety of other craft products and kits as well. It has moved from Engelsrath's home in Brooklyn, where she worked with her sister-in-law, Sarah Neurath, to a 19,000 square foot facility in Wallington, N.J. Today the company is run by Neurath's son, Moshe, who employs a staff of 25 and runs the neighboring manufacturing plant.


"It's bigger than it was, but it's not in the Fortune 500 yet," Moshe Neurath admitted. In fact, it may never be, and that's all right with Moshe. "I like to go home and relax."

Any Way You Cut It

When Engelsrath first began the company, the only high-gloss paper available was used by gift wrap companies. Today, Neurath has expanded on the unusual-craft-paper concept to deliver a number of lines of successfully selling paper products.

"We decided to specialize in specialty arts and crafts that were not easily accessible. Things like construction paper are available in every school and discount store. We try not to do the commodity, but the specialty paper," Neurath told TDmonthly Magazine.

Their most popular item is metallic paper in special colors and finishes. Other specialty items include holographic, velour and vellum papers.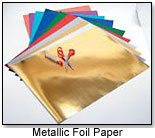 "In the 1990s, when scrapbooking became popular, we developed much 8-1/2" by 11" paper and 12" by 12" paper. We made sure the paper was acid-free, which is important for memory albums and scrapbooks," Neurath explained.

Rather than decorate the paper with images and quick-witted or observational lines, the paper's blank finish "serves as a great background for memories. They can also cut shapes from them to decorate their albums."

Still, Neurath estimated that 50- to 60 percent of Hygloss's sales are to school suppliers. The remaining sales are to small and big retailers, and a small percentage is sold to other manufacturers who use the product as a resource for their own products. Hygloss exhibits at trade shows, does catalog mailings and sends sales reps on the road.

Beyond the Page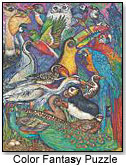 In 2002, Hygloss purchased a small art company called Color Fantasy. Now operating as a division of Hygloss, the Color Fantasy line puts out color-your-own T-shirts and posters that have black ink designs from science, nature and history (the educational aspect attracts school suppliers). Kids use fabric markers to color in the designs. Included in the pack are Fun Facts that teach kids about the animal, insect, planet or other object that the child is coloring in.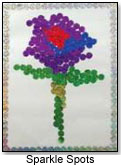 Other Hygloss products include kits made of buttons, beads, leather crafts and sponges, to name a few. "Every year, we add five to 10 new product lines," Neurath said. This past year, the company has debuted Sparkle Spots, Blank Books, Make a Puzzle and Plushy Sheets.

Neurath is still mum on what Hygloss will launch in 2006. No doubt, it will continue to extend the unique product line that started with one Austrian teacher and her desire to bring quality paper to the U.S. market.
THIS BANNER IS AN AD:
---
---