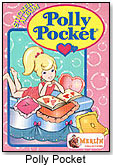 The 700,000 families in the United States who homeschool spend approximately $400 per year for each of the 2,000,000 children involved, according to the HomeSchooling Legal Defense Association. And what do they buy? Not a whole lot of educational toys, according to a survey of homeschooling moms in North Carolina and talks with retailers across the nation.
Instead, homeschoolers look for toys that are open-ended and encourage creative play. "Six different pieces of colored silk are more entertaining than all of Polly Pocket's Adventureland," said Lynn Costine, one of the homeschooling mothers. Nature toys, dress-up items and board games were the top toys in the homeschooling homes.
Find out if this growing and lucrative market is a perfect match for your store in the November issue of TDmonthly Magazine.

Writer's Bio:
ALISON MAREK is an award-winning writer, director and cartoonist whose work has been published by Fairchild Publications and DC Comics (Piranha Press), broadcast on Showtime and other cable networks, and viewed worldwide in film festivals. See her short films and print work on www.alisonmarek.com. Watch her nefarious villains in the web series www.MuggsMovers.com. Get inspired by her cartoons "Daily ARFFirmations to Unleash Your Inner Fido" at www.ARFFirmations.com. Phew! And then ...
Read more articles by this author