---
Be the Monster
"Kids always like the villain..." — La-Juan Browning, World of Toys

Discontent with monsters who hide under beds, some kids want to confront ghoulish creatures face-to-face. Starting with dinosaurs when they're 4 to 7, boys soon graduate to Godzilla and other dragons. Girls go for vampires (doesn't everyone?) and zombies are back in a big way for adults, manufacturers and retailers told TDmonthly Magazine.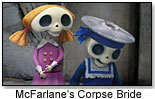 Human beings' fascination with monsters dates back to ancient times, said Corinne Pache, assistant professor of Classics at Yale University. She told TDmonthly that most Greek monsters exhibit animal and human characteristics that "represent nature at its scariest, that is, a lack of self-control, violence and disorder."
Dr. Mary Ann LoFromento, retired pediatrician and author of a series of "Simply Parenting" (ToyDirectory) books and DVDs, agreed. She believes that children are attracted to monsters partly because they need to control their anger and subdue their own aggressive "internal monsters." Stories and play where they either conquer or become monsters, she said, help them manage hostility and fear, much as Max does in Maurice Sendak's "Where the Wild Things Are."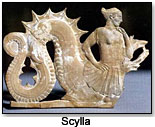 "Children have always responded to stories where there are monsters or evil forces," said Dr. LoFromento. "When there have been attempts in recent years to 'soften' fairy tales, they seem to lose their effect."
Even grownups need their dose of terror. Retailers said their biggest monster customers are adult collectors.
"Horror movies are popular right now, so the toys have just taken off," noted Bob Webster, a manager at Meltdown Comic in Los Angeles. "Every time there's a war going on, the horror movie market gets more expansive."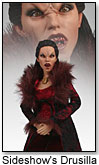 Films such as George A. Romero's 2005 flick, "Land of the Dead," and Danny Boyle's 2002 apocalyptic, "28 Days Later," are bringing the undead back to life for retailers. "Land of the Dead" action figures by Sota are scheduled for release in May 2006.

Del Howison, co-owner of Dark Delicacies in Berkeley, Calif., said that men are zombies' biggest fans. The unlicensed Living Dead Dolls always sell well for him. But the store's number-one monster for 10 years still vants to suck your blood.

"Vampires appeal to both sexes," Howison told TDmonthly. "They have an erotic appeal." Figures from the "Buffy the Vampire" TV series sell well for him. McFarlane Toys has a line from Bram Stoker´s "Dracula" scheduled for 2006.


Sexy monsters date back to the Greeks, said Pache. Lamia was "a horrible vampirelike creature (with) the ability to transform herself into a beautiful young woman in order to seduce young men … Another famous one is Scylla, who eats several of Odysseus´ men in the Odyssey."

A more benevolent monstrous heartthrob is Hellboy, who first appeared in Dark Horse Comics in 1993, said publicist Lee Dawson. Hellboy starred in his own movie last year, with Ron Perlman playing the giant red paranormal investigator. New comic monster figures from Dark Horse's zombie-fighter "Goon" books are also available.

Almost all of today's top monster toys crept into the public consciousness through comic books, movies or TV shows, retailers agreed. Villains from "Spider-Man" and "Batman" are big sellers with kids at World of Toys in Reno, Nev., said La-Juan Browning. "The Thing" from the recent "Fantastic Four" movie was mentioned as a good seller by several retailers.

Classic monsters such as Frankenstein and the Wolfman are also coming back, according to Luke Rook, owner of Lulubell: A Toy Bodega in Tucson, Ariz., who's noticed that kids like them, too. Carolyn Stevens of Collectibles 'n' Toys in Wayne, N.J., already had King Kong merchandise in her store in August, though the movie wasn't coming out until Fall.

"Kids always like the villain," commented Browning, who calls herself the "store grandmother" at World of Toys. "If they're buying dinosaurs, they want the Tyrannosaurus Rex. They're still into the mean one."

Howison has pointers for stocking monster toys: "Don't over-saturate; maintain the regular pace no matter what blockbuster may appear. Set a good price-point and pick just one or two items — the scariest."

The following products help nurture the monster within:









Illustrated in Grimly´s impeccably macabre style, these fairy tales will make brave souls of any scared kid. "Everyone looks for the art of Gris Grimly" at Dark Delicacies in Burbank, Calif., said owner Del Howison. Kids and adults both gobble up the books.

.

AD
---






The littlest child can let out a big roar using this dinosaur stand-in. This T. rex stands 7" long by 4.5" high. Hand-painted with authentic details, it includes a color-coded 5-language educational hang tag. T. rexes are popular with kids at World of Toys in Reno, Nev.

.

AD
---






.

AD
---






X-Plus has released three of the most well-known versions of Godzilla this year. This edition, based on the 2001 movie "Godzilla, Mothra, and King Ghidorah: Giant Monsters All-Out Attack," was sculpted in Japan exclusively for North American collectors. Fans will be pleased with the attention to detail, from the blank, pupil-less eyes, to the four claws on each foot. Of course, the younger fans may simply enjoy unleashing his stomping 7" rage upon other unfortunate toys. The announcement for the second series of X-Plus´ Godzilla vinyls is scheduled soon.

.

AD
---






This lovely zombie action figure from "The Devil's Rejects" line, based on the 2005 cult film by Rob Zombie, hit stores this past July. Standing tall and fierce at 7", he's still Mommy's little baby. He wears a stunning ensemble of checked shirt, weathered overalls and fraying bandages.

.

AD
---






Kids are the master of Skull Island with this highly detailed playset environment, featuring numerous play features and areas to re-create scenes from the film. Scaled for use with any Kong 6" figures, the playset includes hinged gate, shaking log bridge, swinging crane, and river raft. King Kong sells well at Lulubell in Tuscson, Ariz., and World of Toys in Reno, Nev.

.

AD
---






.

AD
---






It´s always Friday the 13th when Jason Voorhees parks himself on your bedroom shelf. This 19" figure depicts the popular movie figure in the middle of a vicious fight with Freddy Krueger. Jason has been around since 1980 and is probably here to stay. Jason and other Friday the 13th figures are good sellers at Captain Spaulding´s Museum of Monsters & Madmen Gift Shop in City of Industry, Calif.

.

AD
---






Straight from 1974´s "The Texas Chain Saw Massacre," this 12" monster comes equipped with a bloody saw. It's authentically detailed, down to Leatherman´s maniacal grin through his mask of human flesh. "Our main concern is always to put out something that is cool," said Jon Goff of McFarlane Toys. "Monsters are now and will always be a large part of what McFarlane Toys does. Todd (McFarlane) loves them, our fans love them and, to be honest, everybody loves monsters." McFarlane Toys also produces lines of sports, film, music and animation figures, including action figures from Tim Burton's "The Corpse Bride" that will appeal to all ages and sexes. Leatherman´s a favorite at Meltdown Comics in Berkeley, Calif.

.

AD
---






.

AD
---






In 1931 Boris Karloff portrayed the lumbering, misunderstood monster in the Universal Studios film, "Frankenstein." In this non-speaking role, Karloff ended up stealing the picture from its leading man and became a star. His achievement is memorialized in this 21" Sideshow Exclusive Premium Format Figure sculpted by Mat Falls on a 1/4 scale and launched this past June. Sideshow figures are popular at Lulubell: A Toy Bodega in Tuscon, Ariz.

.

AD
---






From the Film Freaks line comes the razor-fanged plaything that terrified Oscar-nominated and 2-time Golden Globe winning actress Karen Black. Stabbings, near-drowning and immolation were all part of the game. This 12" all-too-living toy has been available since mid-September 2004. It includes a spear, charmed watch chain and a display stand. "Majestic is really coming into it´s own," said Del Howison, owner of Dark Delicacies in Burbank, Calif.

.

AD
---






These five ghoulish children have had trauma to spare – and aren't afraid to show it. This series debuts the Living Dead Dolls' new body style, plus a more realistic coffin exterior design. There's more articulation at the neck, shoulders and hips, which means you can pose these kids to look ever more adorably gruesome. The set includes Elisa Day, Purdy, Blue, Dawn and Toxic Molly.

.

AD
---






This 12" collectible doll depicts Buffy (as played by Sarah Michelle Gellar on the TV series "Buffy the Vampire Slayer") as she appeared in the episode "Prophecy Girl," wearing a leather jacket over her white prom gown. She is armed with a crossbow, wooden stake, and cross necklace, and she carries her trusty Vampyr book for those unexpected showdowns with the undead.

.

AD
---
THIS BANNER IS AN AD:
---
---