"Three months, and a movie is out of the theaters, and the sales of the toys decline. Our Speedeez sets take classic cars, cars that won´t go away, and build on that." — Michael Rinzler, Playmates Toys

Playsets come and playsets go, but the category is evergreen. In the article "Ready, Set, Playset!" TDmonthly looks at future trends, but here we look at what's selling Right Now. We polled more than 25 stores across the country (and in cyberspace) and even more parents to find out what's selling and why. Know what's being bought now to predict what will be bought soon.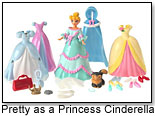 Disney Princess – Pretty as a Princess playsets for girls. Across the board, girls between the ages of 3 through 10 (though they tend towards the younger) have been buying each one in the series. Coming with dolls, mix-and-match clothes and accessories, some even have a child-sized purse as a container.
Toni Rooney, a mom, said, "My daughter received this for her third birthday three weeks ago. She literally has played with this toy everyday since." Amazon.com confirms the desirability of the playsets, as four of the Disney Princess playsets rank in the top 15 best sellers. Disney and Hasbro will unveil two new sets this spring.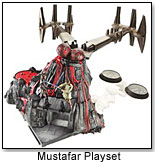 Another top playset, this time on the boys' side, is the Star Wars Episode III Mustafar Playset. Featuring the ultimate Star Wars duel, Darth Vader and Obi-Wan, this toy has lava, spinning battle disks, and the two key figures, Darth and Obi-Wan. According to the people at World Collectors Net, this is definitely a kid's toy, with little collector value. Ken Feinstein of New York, both a collector and a dad, concurred: "To an adult collector, this toy will likely hold little attraction … but my 4 year old was enthralled."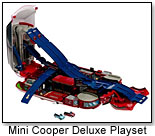 An ingenious two-in-one playset is put out by Playmates Toys: the Speedeez Mini Cooper Deluxe Playset. Out of the box, it´s a standard large model of a big red Mini, fully functional with rolling wheels and realistic detailing. But the larger car opens up to reveal a whole network of tiny racetracks, featuring two different levels of play using the micro Speedeez cars.
Michael Rinzler, director of marketing for boys' toys at Playmates, believes that Speedeez Mini Cooper Deluxe and the similar Speedeez Hummer H2 Speed City sets will have longer shelf-lives than media-license playsets: "Three months, and a movie is out of the theaters, and the sales of the toys decline. Our Speedeez sets take classic cars, cars that won't go away, and build on that. They're good to sell any time of the year, for years to come."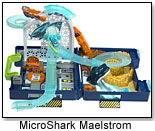 Mattel's perennial favorites, Hot Wheels and Polly Pocket, continue to do well with their newest playset incarnations: Hot Wheels Micro Shark Playset: Maelstrom, and Polly Pocket – Cool Careers Gift Set. With four dolls and 28 fashions, the Pollys can now get a job, which the little girls seem to like. As one kid at Toys "R" Us said: "Pollys need to go to work! They just can´t party or shop all day."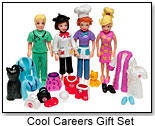 The Hot Wheels playset is a micro-sized version of the original — complete with a hungry shark and roller coaster elevator that sends the micro cars in to the shark´s jaws! Hot Wheels don't just sell well in the U.S. of A. They are also tops in Britain — placing #1 and #4 according to the NPD Group (as sold by unit).
One last note: although Play Along's Teletubbies Playsets are selling well on Amazon.com, Dana Amrogowicz of Play Along has confirmed that that company will discontinue all of their playsets. They are focusing on other products.