"A child will actually use a toy to act out what they´re going through, and this helps adults understand how children are processing what has happened."
— Arete Passas, CEO, Manhattan Toy Company
In the aftermath of one of the most devastating natural catastrophes in U.S. history, the toy industry has stepped up to help Hurricane Katrina survivors through fundraising and contributions. Terri Bartlett, executive director of the Toy Industry Foundation, told TDmonthly Magazine that her organization began soliciting donations for The Toy Bank (a TIF program that collects newly manufactured toys for underprivileged kids) after Labor Day weekend.
"We wanted to ensure to protect (children's) innocence in the face of such a catastrophe. Our mission is to support children in need," Bartlett explained. "When I see the smile that erupts on a child´s face when they realize a toy is their very own, that´s all the proof I need to know that we´re making a difference."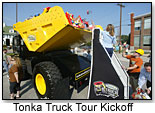 Karen Davis, vice president of community relations for Hasbro, stated that the company will donate over $500,000 in product and aid, continuing during the holidays, through the Tonka Truck Tour. Their initial gift was $50,000 to the Red Cross.
"Appropriate product can provide relief and comfort," Davis remarked. "Thought must be given to the longer term implications of the situation, and a company like ours can make a difference by having a thoughtful response." She added that they expect to announce additional help for the hurricane victims, focusing on the mental health needs of the children.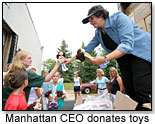 Manhattan Toy (ToyDirectory) has sent 60,000 toys valued at over $500,000 to the victims of Hurricane Katrina. They donated 50,000 toys through the Toy Industry Foundation for distribution in the Gulf Coast, and 10,000 were earmarked for evacuees through Hope for the City, a relief organization that will allocate toys to children making a temporary home in Minnesota. The remainder will be given to children throughout the affected region.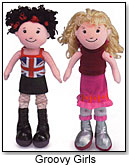 The company is well known for its Groovy Girls, a line of multicultural dolls that celebrates friendship. Arete Passas, CEO of Manhattan Toy, believes that toys can bring a sense of comfort and normalcy to children.
"A child will actually use a toy to act out what they´re going through, and this helps adults understand how children are processing what has happened," said Passas.
Passas encouraged companies like hers to get involved. "It sends a message of hope that there will be brighter days as people put their lives back together," she said.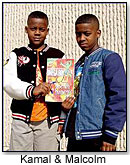 When the two sons of activist Alonzo Washington, Malcolm and Kamal, saw a girl almost die from diabetic shock during the news coverage of Katrina, the two decided to raise money to buy diabetes supplies for the victims. Kamaal, a diabetic, worked with his brother to write two comic books and design a trading card about type-1 diabetes.
Dana Washington, co-owner of Omega7, a comic book company created by Alonzo, told TDmonthly that they plan to visit the affected areas and give supplies to evacuee camps and medical organizations. Within one week of the ongoing drive, her sons raised over $3000 in diabetes products.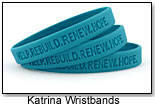 Rich Soergel, creative executive officer of the Pacific Sportswear and Emblem Company, created a teal blue wristband with the slogan "help – rebuild – renew – hope." His goal is to raise $5000 for the Salvation Army in 90 days.
United by toys and a positive vision of the future, we can make a difference.