"Though Klutz designed (Chicken Socks activity books) for the 4-to-6 crowd, older kids are buying them." — Denise Ramsey, My Little Red Wagon Toys

Crafting kits have always been good boredom-busters. To keep the category fresh, these days some combine two or more traditional craft mediums, some are smaller than their originals and some use artists' quality materials.

Sandy Hawson of Hobby Lobby on Sawmill Road in Columbus, Ohio said that "anything scrappy" is a big seller. Some people have so much scrapbook material that one of her best sellers is a $4.99 paper holder that looks like a magazine rack and holds up to 200 pages. Hobby Lobby is adding more of the craft supplies to its line. Furthermore, "teachers assign scrapbooks for kids," said Hawson, a sign of a must-have for school supplies. She said her youngest scrapbook customers are in their early teens.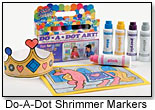 At One Two Kangaroo in Shepherdstown, W.Va., Paula Tremba does well with the Do-a-Dot (ToyDirectory) art sets. Similar to bingo markers, these applicator tubes with a sponge are popular due to their ease of use and washability. "You don't have to worry about the paint being spilled," Tremba said. The marker provides more manual control for young kids than a brush. She also sells the Door Easel by ArtSkills, a roll of paper that clips to the top of the door and then unfurls for young artists.
At My Little Red Wagon Toys in Stow, Ohio, Denise Ramsey has been watching the Klutz line of Chicken Socks craft items fly off the shelf. She said they are like other Klutz craft kit books, but smaller. Though Klutz designed them for the 4-to-6 crowd, older kids are buying them. "It's a take-along craft to do in the car or camping," said Ramsey. Totally Tape, $9.95, is a good seller for Ramsey. Anyone who has ever found a child playing with the last roll of tape in the house will totally understand.
Other good sellers at My Little Red Wagon, now that there's a touch of fall in air, include knitting kits My Chunky Funky Scarf and Granny Squares by Alex. According to Ramsey, they are staples at the store. Other good sellers are two products from Made by Hands since families can do them together and kids can give the finished products as gifts.
Peter Schwiers of Mr. Toad's Toy Company in Naples, Fla., had nothing but praise for the large-format Nana Banana Classics Coloring Books. Nana Banana uses high-quality artists' paper, tough enough for any coloring medium.
According to Jill Smyth of Nana Banana, the Classics Coloring Books are used for art therapy by nursing home residents. The company donates all profits to a variety of charities.
Schwiers favors watercolor pencils by Faber-Castell and also carries note card kits by the same manufacturer that include markers. Schwiers, who has a customer base of retired grandparents, is also fond of anything from Creativity for Kids, especially the Butterfly Canopy.

Lisa Ritchey of Faber-Castell, parent company of Creativity for Kids, said the Butterfly Canopy is a top-10 seller for them. They launched another craft product in September, Puzz-A-Model T-Rex Plasterasaurus, similar to their Legendary Dragon, which the modeler assembles out of slotted wood. The T-Rex will also have rolls of plaster gauze to fill out the skeletal form. Plaster gauze reacts immediately with water to become pliable, then hardens to a paintable surface. Another new entry is the Kool Kat Bobble Head. Already assembled, kids can paint and add glitter and rhinestone charms to the Anime-inspired cat, which gives the toy "a bit more of an edge," according to Ritchey.

Below are more details on the products mentioned in this article.

Klutz introduced eight titles of Chicken Socks activity books in February of 2005 and added six more in the spring. Totally Tape has four rolls of colored tape and an activity book. Kids use the tape to "color in" the black and white pictures.

.

AD

Nana Banana has 19 titles in the series, including two original stories about Buttercup the basset hound and his travels to New York City and Monticello. The 14" x 20" books tell a complete story with one line of text per page. The books illustrate familiar stories and fairy tales in original pen-and-ink drawings, the exception being "The Wizard of Oz," which reproduces the W.W. Denslow illustrations from the first "Oz" book.

.

AD

This room décor kit results in a sparkling canopy — and what little girl can resist a canopy over her bed? The kit includes tulle, sparkle paint, mini butterflies and flowers in tulle, and rhinestones.

.

AD

The wooden dragon, inspired by traditional Chinese design, is first assembled from pieces of slotted wood. Paint, glitter and feathers can adorn the finished product from the Creativity for Kids Puzz-A-Model line.

.

AD

.

AD

The Door Easel is a roll of paper that clips to the top of the door (clips included) and then unfurls for young artists. The kit comes with a door protector and 25 markers. Paper roll refills are available. It could also work as an alternative to the flip chart for office use.

.

AD

.

AD

Kids can learn to crochet these colorful squares just like Grandma. They then put them together to make a scarf, a hat and other cool accessories. The easy-to-follow instructions make it fun and fast. And the suitcase allows kids to take their work with them wherever they go. It also comes with 300 yards of yarn in six bright colors, a crochet hook, plastic needle and easy instructions.

.

AD

.

AD

This handy kit contains everything needed to create 12 unique puppets. It comes with 11 PuppetStix, 12 stands, over 600 Pop-Outs and a glue stick.

.

AD