"The industry has been declining 1-2 percent each year for the past three years. With all the competition from other things, that kind of trend is hard to reverse." — Hal Diamond, Standard & Poor

Are traditional toy retailers and manufacturers in trouble? Tough times for some of the country's largest companies have raised eyebrows around the industry, sparking speculation as to the immediate and long term economic future of the toy business.

Toys "R" Us, KB Toys and FAO Schwarz are among the retail companies that are currently treading through stormy waters, and many of the industry's leading manufacturers have also been seeing a decline in profits that seem to indicate a downward trend on all levels.

"It's the evolution of business," said Ken Troske, a professor of economics at the University of Kentucky. "Companies have to compete to stay on top. When Toys "R" Us became dominant, they did it by driving smaller specialty stores out of business. Their prices were lower, they were more efficient, they were more convenient, and they became the No. 1 name in the business. Now, they're the ones trying to fight it off."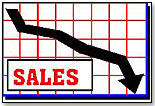 Toys "R" Us reported a loss of $359 million on revenue of $2.1 billion in the second quarter, according to a filing with the Securities and Exchange Commission. The company was taken private by a group of investors over the summer, and some analysts expect the new ownership to capitalize on its real estate assets by selling off some of the Toys "R" Us property locations.
But Geoffrey is not alone in his plight. KB Toys, a privately held company that filed for Chapter 11 protection last year, announced in August that it will be coming out of bankruptcy under new ownership and management (including two former Toys "R" Us presidents). KB Toys has already cut its locations in half during its time in bankruptcy, and it is possible that the new ownership may decide to cut back further. Even FAO Schwarz has sold off all but two retail spots after declaring bankruptcy in 2003.
Why the downward spiral for toy retailers? Much of the slide can be attributed to the changing market landscape. One need only to look at the top three toy retailers (Wal-Mart, Toys "R" Us, and Target, in that order) to understand why the traditional big box leaders are in trouble.
"Wal-Mart is famous for having the technology and the business plan to allow them to purchase and sell to consumers at a low cost," said Troske. "They're the most efficient, and that's why they're so successful. Toys 'R' Us and other toy stores have to adapt to compete with them. Wal-Mart has been out-performing other companies in other areas for a long time now, and now they're just applying that to the toy market."
Manufacturers are not faring much better. Although Mattel and Hasbro appear to be holding on solid ground and maintaining solid investment ratings, a gradual decline in sales (about 8 percent since 2002) may be a cause for concern among the manufacturing giants. Because of this, a Harris Nesbitt analyst recently downgraded Mattel's stock from outperform to neutral.
"Generally speaking," said Standard & Poor's investment analyst Hal Diamond, "the industry has been declining 1 to 2 percent each year for the past three years. With all the competition from other things, that kind of trend is hard to reverse. The industry is not as good as it once was."
One of the reasons why the hill may be too steep to re-climb is the apparent change in strategy at Mattel and Hasbro. After both companies were burned on acquisitions several years ago (Mattel bought the underperforming Learning Company, while Hasbro bought out Wizards of the Coast that made Pokémon, which quickly fizzled), they've remained static while watching their numbers deteriorate, Diamond explained.
"Neither company has decided to explore this route," said Diamond, "but one of the answers may be in making acquisitions to provide some growth. It's interesting that both Hasbro and Mattel are standing pat, when basically their strategy on the way to becoming the leaders was acquisitions. Mattel bought Fisher-Price and all these other companies, and you had Hasbro buying (Milton) Bradley's and Tonka. But then they got burned, and now they look a little gun-shy."
It looks like it will take more than one hot product providing a quick boost for manufacturers to regain their footing on Wall Street and begin moving forward again, but are retailers also on the same slippery slope? Can traditional toy stores reverse the trend and start winning back business? Troske believes that can only be answered on a company-by-company basis.
"It's an interesting question," he said. "Will these toy retailers rebound? It's all about adaptability. I wouldn't be sanguine about Toys ´R´ Us's chances, if only because they're an established company and it would be difficult for them to overhaul their entire business operation to compete. I think you'd be more likely to see a new toy company enter the fold, adopt some of Wal-Mart's strategies, and apply them to the toy industry. That's probably the only way to win customers back."