---
Toys Around the World: What´s Selling
What are kids plunking in Peru? What's hot in Hawaii and cool in Denmark? TDmonthly Magazine asked its foreign correspondents to find out what kids are doing outside the mainland.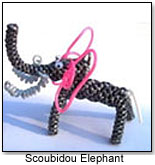 "Sadly, our toys are almost completely driven by marketing," said U.K.-born Toby Evetts, Web designer and co-owner of 8edge.com in Los Angeles. "Still we get the odd craze now and then."
Toys "R" Us in the United Kingdom calls Scoubidou by Scoubiloop Ltd. (ToyShow) "the latest craze to hit the playground!" and rates it #1 on its "What's Hot" page. A lanyard-type craft kit that kids can use to make bracelets, key chains and animal figures, it's available Stateside as "Scoubiloop."
The lightweight Street Gliders by Hy-Pro International Ltd. are a genuine U.K. hot item and sell well at Hamley's department store in London. These skates strap on the heels and allow wearers to walk or glide down city streets without the bother of heavy boot-type skates. Built-in lights give them night visibility, too.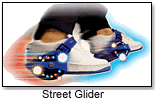 Over in Germany, engineering has turned its attention from the autobahn to the "water-bahn" with Wasserlandschaft by Simba Toys. A motorized boat rides up and down water-filled channels that are controlled with a pump and locks. This gigantic water landscape is making a big splash with kids at quelle.de.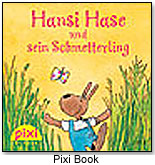 France , famous for its arts, literature and cuisine, holds its own in toy design, too. Colorful wooden Fantasy Blocks by the French company Djeco have made their way to Oompa Toys in Los Angeles, where they're a popular item.
Low-tech is still popular in Denmark, the land of LEGOs and Hans Christian Andersen. "They have something that kids really like in Denmark," said Frederikke Aspock, mother of a 1-year-old. "We call them Pixi books. They are these little books that cost a dollar."

In Italy, "Little babies play with Chicco," according to Michele Gagliardo of Padua. Chicco Toys has a U.S. branch for retailers looking to stock items for bambini.

Though girls from Spain were among the first to pledge allegiance to Barbie's fiercest competitor, BRATZ, they maintain tradition by taking Flamenco lessons in school. Kids such as 9-year-old Alexandra Flores Sormaz and her 5-year-old sister Claudia, of Madrid, also love to play "dress-up" with their frilly frocks. Retailer Zebra Hall is betting that American girls will feel the same, and is offering a Flamenco costume as part of their dress-up line.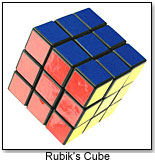 Tradition is also the name of the game for those born and bred off the mainland. According to Kahili Dumayas of Maui, ukuleles and book and plush sets about native animals are some of the toys that "locals get for their kids, when they no longer live in Hawaii."

Kids in Peru and Zimbabwe make their own music with beautiful handcrafted instruments. American kids can try them out, too, in specialty retail stores across the nation.

Even high-tech Japan is going low-tech with an old craze that's found its way into new hands. Rubik's Cube — a ubiquitous puzzle in the 1980s — has made a comeback, according to the September 3 issue of "Japan Today."

Japan's not losing its technological edge, however. It's just released a 3-foot high robot that can recognize 10,000 words. The 'bot can act as a house sitter while the family's away … shopping for more toys.


Here´s a glimpse into worldwide play patterns:










This hand-carved wooden board with 11 flat metal keys produces melodic, soothing sounds when plucked with the thumbs. A 9-minute video features footage from deep in the heart of Zimbabwe. Watch as the artisans chop, carve, and play the thumb piano.

.

AD
---






Covered with glossy colorful paper designs, these sturdy cardboard stacking blocks let kids build high without the risk of being clocked on the head with heavy wooden blocks. The colorful designs on each block were created by L. Bayrounat. The 14-piece set includes 9 cubes, 3 bridges and 2 roofs. Wooden animals and figures can be bought separately. The blocks range in size from 2.5" to 5".

.

AD
---






Designed by artist Lily Scratchy, this game presents four artists who are looking for their costumes so they can put on a show. Using dice and strategic thinking, players try to find the necessary props and costumes for the characters in order to win. Though the game comes from Paris, it includes English instructions and game variations. Game pieces include a lion, elephant, rabbit and giraffe. The board is approximately 15.5" wide by 21" long.

.

AD
---






.

AD
---






These 8 new colorful wooden pieces shaped like pieces of clothing can be threaded on a bright yellow cord. Kids can learn dexterity and feel like they´re helping mom or dad with the wash.

.

AD
---






Kids with a hankering for real German sausage will appreciate this wooden toy. A grocer's rack is hung with frankfurters, bratwurst and other delectables — including a wooden mouse who appears to be green with envy at some kid's good fortune.

.

AD
---






Written and illustrated by Tammy Yee, this tale of a baby Pacific sea turtle comes with its own plush toy and is a best seller for the publisher. Kids can learn about the life of sea turtles as they follow Baby Honu as he faces predators and makes his way from his nest to the open ocean. This hardcover book is 11" x 8-5/8" and 32 pages.

.

AD
---






These lovely piggies must have been rolling in the island flora because they're bedecked with hand painted flowers. Made of ceramic, each piggy bank measures approximately 4-3/4" x 3-3/4" x 3-3/4". Piggies keep their coins in place with the aid of a stopper. Once removed from the pig's underside, the money can flow. Pigs are available in Hibiscus Pink & White, Hibiscus Purple & White, Hibiscus Blue & White or Tropical Fish.

.

AD
---






Talk about Spaghetti Westerns: This little cowpoke came all the way from the land of Pinocchio. It´s finely crafted of wood and painted with bright colors and imaginative designs. When Baby pulls her toy, the little cowboy raises his arms and holds the reins. Sevi has been producing wooden toys since 1831 — longer than any other European company — and is best known for its Pinocchios. Available in the United States as Trudi and Sevi North America.

.

AD
---






.

AD
---






1980, the year Olympic skater Michelle Kwan and pop-singer Christina Aguilera were born, President Ronald Reagan was in the White House and millions of Americans were tuning into the TV show Dallas, was also "the year of the Cube!" Now a pop-culture icon, the first Rubik's Cube made its debut at the American International Toy Fair in New York in 1980, and within just two years, 100 million "Cubes" were in households from Peoria, Ill. to Paris. The cube has 43,252,003,274,489,856,000 combinations and can be solved by true aficionados in as few as 16 seconds. It's a great time to pick up the Cube again. The 25th Anniversary Edition Rubik's Cube comes in a collectable silver packaging and with a free Rubik's Cube stand.

.

AD
---






.

AD
---






Starting February 2006, these little anime action figures will be available in the United States, through Diamond Distributors. They're based on the anime series "Keroro Gunso," better known here as "Sgt. Frog." Each 3" to 4" tall action figure includes bonus parts and faces and a poseable display stand.

.

AD
---






This is a simple Peruvian wind instrument (these have animal shapes painted on them) constructed of terra-cotta. The mouthpiece is an important component of an ocarina. Some variations have as many as 10 holes. Ocarinas are an obscure instrument but interest in them has stirred through their use in many popular games. Sidenote: The following games have ocarinas in them - Legend of Zelda: Ocarina of Time, Lunar: Silver Star Story, Grandstream Saga, Jade Cocoon, Vandal ~ Hearts, Wild Arms.

.

AD
---






Recipient of Parents' Choice and Oppenheim Gold award, this is a great starter set of instruments from around the world. Authentic, rich-sounding instruments handcrafted by village artisans in Peru and Bali include a pair of claves (wood rhythm sticks), shaker (carved dried gourd), and drum (double headed goat skin stretched over wooden bark frame). Audiotape, rhythm cards, 30-page activity guide, and carrying bag are included.

.

AD
---






This frilly, polka-dot poplin dress has three ruffles on the skirt and ruffled sleeves, edged with satin bands. It has a v-neck line and comes in four different sizes. Available colors include turquoise with white dots, white with turquoise dots, red with white dots and white with red dots. It's available for 38 euros.

.

AD
---






This authentic U.K.-made product is a 2-wheeled light-up skate that straps onto the back of shoes and sneakers with an adjustable strap. To go, kids or adults lift the balls of the feet and balance on the wheels. To stop, the wearer puts down the balls of his or her feet. They're lightweight and much easier to carry around than in-line skates. The motion of the wheels makes the skates light up. Protective gear is recommended.

.

AD
---






Scoubiloop strands are a colorful collection of plastic hollow strands that can be braided into key rings, friendship bracelets and even animals. The high quality, odorless strands come in packs of 25 (rainbow), 30 (original or glow in the dark), 50 (glitter) and 100 (original). Each pack comes with an instruction book. Since 2004, the product has caught on with children across Europe, with 30 million packs already sold.

.

AD
---






Pixi is an immensely popular series of small square-cut books beloved by children and parents alike. Readers of all ages are attracted by the imaginative, lavishly illustrated stories. They are published in series of eight titles, but rights are available for individual titles as well. Each Pixi-book has 24 pages with full-color illustrations throughout, soft cover with wire stapling. "Hansi Hase und sein Schmetterling" ("Hansi Rabbit and his Butterfly") is one of the new 2005 Pixi titles. Each book measures approximately 3" x 3". Carlsen Publishing, headquartered in Hamburg, Germany, launched the Pixi series in 1954. Since then, they've published more than 1,300 titles with a total print-run of more than 250 million copies.

.

AD
---
THIS BANNER IS AN AD:
---
---