Mattel

has chucked out the old template for fashion dolls and come up with something new. The 17"

Teen Trend

dolls (

Watch Video) that hit the shelves this August have more points of articulation than traditional fashion dolls, stylable hair and a gamut of pop-culture references. Each doll in the line was designed with a distinct look, personality, list of style and music preferences as well as her very own "Look Book."
Will tween girls respond? TDmonthly Magazine spoke with Stephanie Cota, vice president of girls marketing at Mattel, to learn more about Teen Trends.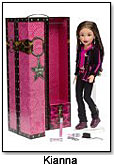 TDmonthly: What was the impetus for this radically new line?
Cota: Our goal was to look for a gap in the marketplace, such as dolls for pre-tween/tween girls, and fill the void. We also wanted to create something that was inspirational but attainable, with fashion and hair play that girls could relate to.

TDmonthly: Why did you decide to go with a larger size?
Cota: We knew we could better play off the details older girls were looking for in a larger scale and could really make the dolls ultra posable.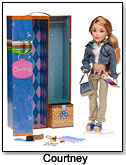 TDmonthly: How long did it take your creative team come up with this new look?
Cota: From inception to research to production, it was less than a year. The goal was to work on a shorter timeline so we could ensure we were capturing the latest and greatest trends into our products.

TDmonthly: Did you hire new designers or consultants for this project?
Cota: Our incredibly gifted internal design team nurtured this project from inception to the final designs. The team came up with a few different looks for each of the four dolls to share with girls 6 to 12 years of age and get their insights.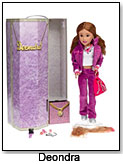 TDmonthly: What has been the feedback from tween girls?
Cota: Exceptionally positive. As girls get older, realistic details, such as working zippers, earrings and buckles on shoes, become extremely important. They also appreciate the distinct personalities of the four dolls and continually say things like "that's so me" or "that's just like me." They also really like that each doll has a personalized Look Book and "walk in closet," which doubles as the package.
TDmonthly: How have the dolls been selling so far?
Cota: They're exceeding our initial expectations. We are very pleased with the results thus far, especially for being so early in the selling season. Plus, we are getting strong feedback from girls that they like the dolls because they are new and different from anything else out there.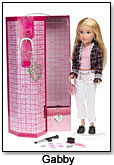 TDmonthly: Is there any doll in the line that´s more popular than another?
Cota: Kianna and Gabby are slightly more popular than Courtney and Deondra but not by a lot. The dolls were designed to have distinct personalities and unique attributes from fashion to hair color to accessories. The goal was to parallel a girl's life/personality or, in essence, what a girl aspires to be.

TDmonthly: Will there be new releases for early 2006?
Cota: Absolutely. Spring 2006 has a lot of new news!