The Learning Shop, a successful six-store chain in Wisconsin, started as an educator supply source in the early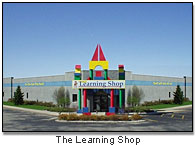 1970s. Sharon Merryfield developed this concept into a parent-teacher destination by focusing on the customer´s needs.
Today, her son and company president, Todd Merryfield, credits this family-owned business to her intuitive skills. "She really was passionate about expanding the educational toy area. When we were growing up, we did not get a lot of toys and games as gifts, but the things we received had serious value," he said. "We very rarely let toys and games lie dormant in the closet. This combination of attitude and product mix kept the fire of growth glowing."
Merryfield has been involved in the business since 1988. He attributes the company's good fortune to practicing the theory of having fun while you work. "We train everyone to succeed. With their success comes our success," says Merryfield. "Anyone can put the same products on the shelf in a storefront and wait at the counter for it to sell. It´s what you do to get the customer in the door, to make their visit an event rather than a chore."
The Learning Shop caters highly towards two core markets. "Our business is almost evenly split between the educators and the parents," says Merryfield. "Competing with stores that play pricing games to garner market share create a challenge. Generally, we focus on what we do well, which is the service during the shopping experience. We price our product fairly and appropriately. We invest our time being aware of what the competition is doing, not panicking over what they are doing. Focus on your strengths and capitalize on them."
Although the stores carry materials for newborn to high school age, their core market is the 3- to 10-year-old range. "The early elementary grades are most successful for us. As far as gender is concerned, we wrestle with our product mix frequently. While girls are a big segment of our sales, the lion´s share of our inventory would be characterized as leaning towards boys. Brio, Thomas the Tank Engine, Playmobil, Lego and Rokenbok make up a huge portion of our mix."
Flexibility and the ability to ride out economic fluctuations have kept The Learning Shop alive and strong. As Merryfield puts it: "The downturn in the economy showed us, and a number of our now departed competitors, that you can never become complacent with what has always been."