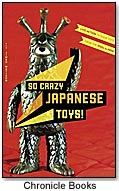 Book Chronicles Live-Action TV Show Toys from the 1950s to the Present
Jimbo Matison's So Crazy Japanese Toys! by Chronicle Books takes a look at campy toys based on Japanese TV show characters, from Ultraman and Space Giants to Battle Hawk and Johnny Sokko and His Flying Robots. Each chapter is devoted to a different class of Japanese toy. Extended sections include full information about each character shown in the book.
Chronicle Books has also come out with The Wonder Woman Organizer, a weekly, undated calendar that features the distinctive Wonder Woman logo at the top of each page. The brilliant red vinyl cover is also embossed with a mighty "W."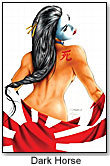 Dark Horse Comics Releases Shi Mini-Series
Just in time for the 10th anniversary of Billy Tucci's original mini-series, Shi: The Way of the Warrior, Ana Ishikawa—better known as Shi—is back. The avenging angel torn between two ways of life returns in Shi: Ju-Nen, a new limited series from Dark Horse Comics. Shi: Ju-Nen is a four-issue, standard format mini-series created by Tucci and is scheduled for a spring 2004 release.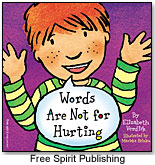 Board Books That Teach Life Lessons
Free Spirit Publishing, Inc. (ToyShow) is releasing a new book in its series of board books that teach children valuable life lessons, called Words Are Not For Hurting. The book teaches young children that they are responsible for what they do and say through simple words and full-color illustrations. Other books in the series include Hands Are Not for Hitting and Teeth Are Not For Biting.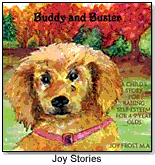 New Bedtime Stories Designed to Raise Self-Esteem
Joy Stories™ (ToyDirectory) is a series of bedtime stories and positive messages designed to raise self-esteem in children ages 3-9 years old. Each story, which is accompanied by soothing background music, contains powerful messages for raising self-esteem. The newest title released, Buddy and Buster, is a story created by an educator that allows a child to relax by creating a feeling of safety and comfort at bedtime, while encouraging a child to try new things, solve problems and work towards achievement of positive goals. Other titles in the series include Believe in Yourself and Trust Yourself.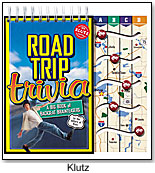 Leader In Activity Products Introduces New Books
Klutz, creator of innovative kid´s activity products, introduces their line of new Spring books. The books feature inspired takes on classic arts and crafts themes with Spool Knit Jewelry, Twirled Paper and The Klutz Book of Paper Airplanes; journal-keeping with Me and My Friends; to backseat boredom-busters with Road Trip Trivia and the shockingly colorful Rainbow Hair Styles.
Amazing Babies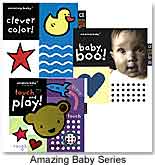 Conceived as a unique publishing program for parents to share with their babies, the Amazing Baby series from Silver Dolphin Books features a range of formats designed to grow with the developing minds of amazing babies. Amazing Baby I Love You, Amazing Baby Squeak Squeak and Amazing Baby Baby's Day continue in this tradition, providing parents with a great way to spend quality time with their babies as they learn and have fun. Each title features bold graphics, rhyming text, interactive activities and manageable formats that deliver a stimulating experience for children and parents alike.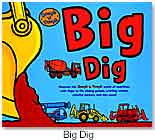 New from Silver Dolphin Books

Inside Big Dig from Silver Dolphin Books, you can get up close and personal with the tough and exciting world of construction vehicles. Pull the tabs, lift the flaps and slide the panels to find out such things as how a bulldozer works, how a crane reaches up high and how concrete is mixed. Reusable stickers take the fun further as kids use them to decorate the different machines and create their own scenes.

Humpty Dumpty Cloth Book

Read, play, and listen to this soft and squeezable cloth book from Silver Dolphin Books. Each page features a classic nursery rhyme with bright and colorful artwork. This egg-shaped book has arms, legs, and surprise squeakers in the hands. Pull the string and listen to the musical lullaby.

Totally Sea Creatures

Totally fun and engaging, Totally Sea Creatures is the newest title in Silver Dolphin's best selling Totally series, a build-your-own-kit collection that combines factual reading, realistic graphics, and imaginative play for a complete learning experience. In the newest title, budding oceanographers learn about the fascinating life found at various depths in the sea, including mysterious events that occur so deep down that humans can only speculate about them. Kids can then create sea creatures of their own, such as a Crab, Squid, Hammerhead Shark, Seahorse, and Orca.
Snappy Little Splashers

From the library of Silver Dolphin's most cherished series, Snappy Little Pop-Ups, comes Snappy Little Splashers, a charming story featuring a cast of lovable ocean dwellers that pop-up to play with young readers. Incredible adventures, lovable characters, bold bright graphics, engaging rhyming text, and big, fun pop-ups await the hands of each little tot.

Uncover a Shark
Uncover It from Silver Dolphin Books combines the best elements of a book with that of construction kit to guide kids through a three-dimensional journey to "uncover" the mystery behind fascinating subjects. In Uncover a Shark, kids get up close and personal with the alluring Great White. Readers learn about everything from the species' behavior and fascinating dentition, to its complex digestive and sensory systems, to general shark populations and shark fin soup.
Interactive Books That Rise Above the Rest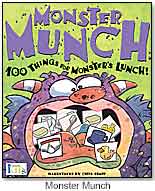 Innovative Kids (ToyDirectory, ToyShow) have recently been winning awards left and right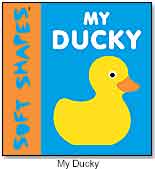 for their outstanding children´s books. Sure to earn more accolades, their new Spring 2004 list includes Monster Munch: 100 Things for Monster´s Lunch, a wonderfully illustrated book that will have kids learning, laughing and having fun feeding the cover´s goofy monster; Here and There(TM) : Sounds on the Farm, is a cute farm animal sound book for pre-schoolers that will have them learning about life on the farm in no time; Soft Shapes (R ): My Ducky is a classic storybook that comes with a fun surprise inside: four pop-out floatable 3-D ducks; and Spin Read & Play: Your World Start Here!, a book and 5 action-packed board games all rolled into one that helps children explore their world, from home to the universe and beyond!