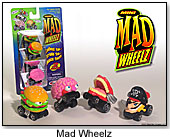 Mad About Mad Wheelz
Mana-Tee Concepts creates a new category with Mad Wheelz, a line of micro character vehicles that includes Cheesie Rider, Brain Drain, and Jolly Dodger. These humorous collectable vehicles are sold in both 2-packs and 4-packs. Mana-Tee has play sets and accessories planned for spring release as well as a Series 2, with an additional 12 styles.
Atomic Toys Launches Super Small RC Airplane
Atomic Toys has launched a super small radio control airplane that is literally flying off shelves. Z-Planes feature a wingspan of less than 12 inches, and the unique propeller design in the tail section works like a helicopter, spinning both directions. This proprietary design allows the airplane to work without any moving control surfaces.
Simple to fly, Z-Planes can be hand launched or taken off from the ground. The easy-to-use controller has only three buttons: thrust and left/right directional control. The RC unit's functional range is about 200 feet, and the Z-Planes come in black or red, with stylish flame designs and matching controller, charger and an extra set of wings!
Silverlit Launches Micro RC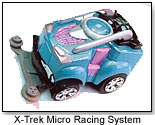 Just when you thought micro RC´s couldn´t possibly get any smaller, Silverlit Toys (ToyDirectory) launches the X-Trek Micro Racing System, the smallest-sized programmable RC yet. And no need for annoying recharge time-X-Trek provides a clever charging station that´s built right into the track, letting players recharge as often as they like without stopping the action. But wait…X-Trek is the first and only system of its kind that lets players instantly incorporate programmable stunts within the standard RC movements on or off the track, plus it offers also 2 speeds.