---
Fiesta Sees Growth in Plush Manufacturing
Longstanding Employees Are Keys to Success
"The success of Fiesta is due to the dedication of our employees." — Michael Lauber, Fiesta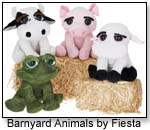 Fiesta's (ToyDirectory) growth in the amusement, gift and toy industries may be attributed to the popularity of plush, but the experience of the company's president Michael Lauber along with the dedication of long-term employees has brought this manufacturer high sales. It takes more than a winning product to succeed in this competitive niche.

Founded by Harold Kleinman in 1972, Fiesta originally imported plush for skill games on the Santa Monica Pier in California. Kleinman purchased retail closeouts to give as prizes and sold his excess to amusement parks around the country. Fiesta entered the retail business when Rich Rossi, a manufacturing representative, asked Kleinman for permission to sell their products to the gift market, and steady growth followed.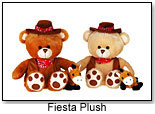 Fiesta's transition from amusement parks to toy stores was a gradual process based on the combined knowledge of a loyal staff. Lauber had sold plush for Benji Meyers and Ace Novelty, an amusement company, in 1988. Play By Play bought Ace in 1996, and Lauber remained as senior vice president for four years before taking his current position with Fiesta in 2000.
"The success of Fiesta is due to the dedication of our employees," Lauber told TDmonthly Magazine. "We have many employees that started with Harold on the pier and are still here."
Their average employee has been with Fiesta for more than ten years. "They know their jobs and how to do them, and more importantly, they know our customer needs."
The company's biggest setback was the loss of their product development manager Del Clark, who passed away on New Year's Eve in 2000. Tom Hoppe, Fiesta's executive vice president, took over for Clark.
Hoppe has a team of product development people that work with him daily. "We do work with a few artists that submit concepts, but most of the creative work is done in-house," Lauber said.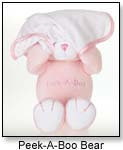 Fiesta is known for designs that combine function and fashion, such as their Animal Rockers and Transformables, pillows that convert to standing plush animals. Back Pack Trolleys with matching handbags and hats as well as plush banks have distinguished this company from their competitors.

In addition to the manufacturing of their popular products, Fiesta does custom and private label work for an undisclosed list of clients. They signed licensing agreements with Vimrod and Co-edikit Live Out Loud, introducing a limited line at the Atlanta Gift Show in July with plans to expand by January 2007.

Last Lemon, a U.K. based cartoon production and licensing company, created Vimrod along with the Pea Tree and Harold's Planet. Live Out Loud by Co-edikit is similar.

"These are both social expression lines that we think have a lot of appeal," Lauber remarked.

As Fiesta expands into more sophisticated gift items, their success will depend not on luck or timing, but experience.

What follows is information on the most popular Fiesta products.









When Velcro tabs on this 18" transformable pillow are fastened at the tummy, the giraffe stands. Unfasten the tabs, and it becomes a pillow once again. Leopard, Tiger and Alligator are also available.

ToyDirectory Product ID#: 8325

(added 6/20/2006)

.

AD
---






These plush 6" purses with 23" shoulder straps come with a Velcro closure. Leopard, White Tiger and Tiger are also available. Matching hats sold separately.

ToyDirectory Product ID#: 8326

(added 6/20/2006)

.

AD
---






These 14" embroidered plush pillows come in three colorful designs: Dreamer, Angel and Princess. They're especially made for little girls.

ToyDirectory Product ID#: 8327

(added 6/20/2006)

.

AD
---






This 5 1/2" piggy bank is a plush toy. Frog, Monkey, Alligator, Penguin, Turtle, Clown Fish, Dolphin and Whale are also available.

ToyDirectory Product ID#: 8329

(added 6/20/2006)

.

AD
---






Famous for their plush dolls, Fiesta is now applying that strength to a new line of rocking horses. Available in the shape of a giraffe, elephant, horse, unicorn, lion and Mother Goose, the toys stand 27" high. Not only will they provide many joyous moments for their riders, but the animals themselves greatly add to a room´s décor with their elegant, classical design.

ToyDirectory Product ID#: 5042

(added 10/12/2005)

.

AD
---






The rectangular animal packs are approximately 12" high by 10" wide and 6" deep not including the retractable handle. Each must-have piece of luggage holds just about anything a little girl or boy could ever need. Use as a traditional backpack or extend the handle and use as a rolling backpack on wheels. The backpack can be easily unsnapped from the trolley wheeled frame if needed and the straps are easily pulled out to use as a conventional backpack. Each has a zippered coin purse tummy. Animal Trolley Backpacks will be available in January 2006 in three styles — giraffe, elephant and tiger.

ToyDirectory Product ID#: 5326

(added 11/2/2005)

.

AD
---






The latest plush accessory from Fiesta, these Jungle Fun plush bucket hats are safari chic and totally cute. One size fits all, and they're not just for kids.

ToyDirectory Product ID#: 5945

(added 12/14/2005)

.

AD
---
THIS BANNER IS AN AD:
---
---