---
TDmonthly's Toy Sleuth
Racing Robots and Jaded Dolls Smash Onto Toy Scene
"Despite the turmoil in the collectable doll industry, there are still going to be new companies, and this one is fun." — Debra Forte, Wilde Imagination

The search for the "new" is all-encompassing.

TD

monthly Magazine

scoured the globe for the latest and greatest. Sometimes it's a sure thing from a major manufacturer spoken in confidence; at other times, it is a mere blip on the radar.

TD

monthly

looks at all of them and tries to shine a little light on what's coming down the pike.

Hasbro: How new can they be? Plenty. This Fall, Hasbro will take their old-school marketing and manufacturing power and back one of the hottest concepts around: nitro-burning radio-control. Hasbro's Nitro XRC Revolution and Ricochet radio-controlled vehicles take the hobbyist's craze into the mainstream. The vehicles, which can go up to 25 miles per hour and sound and smell like a real engine, mark Hasbro's re-entry into the RC category after a multi-year absence.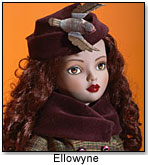 Robert Tonner has been boutique doll-designing with the best of 'em.

TD

monthly Magazine

has reported on and videotaped the Tonner Doll Company's (ToyShow) elegant and playful lines (Watch Video). But there's a new doll-maker out there, Wilde Imagination, and the first doll out of the chute? Designed by Mr. Robert Tonner, who's the creative director for the company.

Debra DeForte, marketing and sales director for the new company, explained that, "Despite the turmoil in the collectable doll industry, there are still going to be new companies, and this one is fun. Our doll Ellowyne Wilde has an amazing back-story."


Science Kits have been a mainstay with kids since Popular Mechanics first became popular. The Playful Invention Company is finally taking them into the now of the 21st century with the PicoCricket. Like an electronics lab on steroids, it actually integrates a computer into all of its experiments, making it the "funnest" science project since Galileo dropped balls from the top of the Tower of Pisa.

Soccer/Football is supposedly the biggest game in the universe. What happens when you cross soccer with another global pastime, RC? Shantou Shinespring's RC Football Game: Two RC controllers, one soccer ball, two goals and a lot of foot-to-foot competition. It's like having the World Cup on the dining room table.

New and expensive, MANOI, the "Athlete Humanoid Robot" from Kyosho is set to rampage high-end boutique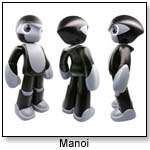 shops this fall. Based around the Kondo KHR-1 skeleton, MANOI can do almost anything from standing up after a fall to balancing on one foot to being an all-around track star that can compete in global tournaments held by the company. The schematics show that MANOI's head and hands are mostly hollow, perfect for housing instruments of death and destruction, or just plain tools. This is one fine robot.





MSRP: $179.99

Age Range: 16 and upGender: Boys





This nitro-fueled rocket of a car can go up to 25 miles per hour, all controlled with a touch of a button. The Nitro XRC Ricochet is Hasbro's return to RC after far too long.

ToyDirectory Product ID#: 8648

(added 7/21/2006)

.

AD
---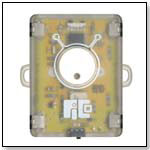 A PicoCricket is a tiny computer that can make things spin, light up and play music. Lights, motors, sensors and other devices can be plugged into a PicoCricket, which can be programmed to react, interact and communicate. For example, it can be used to make a cat and programmed to purr when someone pets it. It can be used to make a birthday cake and programmed to play a song when someone blows out the candles. The PicoCricket Kit is designed for making artistic creations with lights, sound, music and motion.

ToyDirectory Product ID#: 8649

(added 7/21/2006)

.

AD
---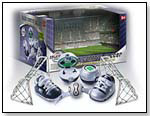 MSRP: $14.95

Age Range: 8 and upGender: Boys





This fast-action radio-controlled soccer game is a cross between racecars and bumper cars as the RC shoes battle to kick the ball into the goal. With two controllers, two RC shoes, one ball and two goals, it's a complete World Cup in a box.

ToyDirectory Product ID#: 8650

(added 7/21/2006)

.

AD
---






It bends, it kicks, it dances, it stands on one foot. The Manoi is the most sophisticated robot under 25 pounds. And it's cool-looking, too — a 1/5 scale athlete humanoid that looks like a character from a 1960s cartoon. The company behind this specializes in RC cars, and the robot is an extension of that business. The idea is that people will buy a Manoi and enter it into tournaments run by the company 3 or 4 times a year — like people race RC cars in tournaments.

ToyDirectory Product ID#: 8651

(added 7/21/2006)

.

AD
---






She's not quite depressed, rather just eternally bored. She dresses differently than girls her age, but doesn't care. She lives on whipped cream and edible flowers on a fault line in San Francisco. Her story is a little dark, yet funny and intriguing. She's not the perfect fashion diva... but then again, who is? This is Ellowyne, the first doll in the Wilde Imagination line created by Robert Tonner. The price is for the basic doll. Dressed dolls run from $110 to $149. Outfits will also be available separately. (EDITOR'S NOTE: Video gives Ellowynne's age as 13, but she's actually 18.)

ToyDirectory Product ID#: 8652

(added 7/21/2006)

.

AD
---
Writer's Bio:
Mark Zaslove is an entertainment industry veteran in developing content (writing, directing and producing television and feature films) for the major studios, including Disney, Universal and Warner Bros. A two-time Emmy Award winner for writing and recipient of the Humanitas Prize (for writing uplifting human values in television and movies), Mark is also Head of Content Development for Nice Entertainment.
Read more articles by this author
THIS BANNER IS AN AD:
---
---