"We craft our furniture with longevity in mind." — Courtney Bowman, Bratt Décor

First-time parents are generally money conscious and also tend to do their homework before purchasing furniture for babies. Retailers told

TD

monthly Magazine

that many parents who are trying to get the most for their money are opting for "evolving furniture," or pieces that will grow as the child grows, eliminating the need to purchase a separate crib, toddler bed, and "big kid" bed.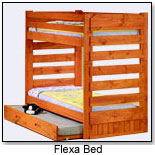 "One of our best sellers right now is Flexa bedroom furniture," said Paula Bolte, owner of Imaginations Toy and Furniture Company in Blacksburg, Va. "Flexa is very flexible and starts with basic pieces. Then you can add things like a slide and bunk bed. They're also versatile, so you can use the same bed throughout the child's time at home. People are very conscious about their money right now."
Flexa furniture is also popular at Kids Room in Bowie, Md.
"It's a new line from Denmark," owner Olga Pogossian told TDmonthly." The whole idea is that it's different. They're doing something that nobody else does. For example, you can transfer a bed with various pieces into bunk beds; it can grow with the kid."
Vanessa Miranda of Million Dollar Baby, another manufacturer of evolving furniture, noted that they try to offer as much versatility as possible throughout all of their categories of nursery furniture.
"Currently, four of our collections include a daybed conversion kit with an option to buy separately the adult bed rails to convert to a full sized bed when necessary. The remaining collections are single drop-side cribs with an option to buy separately the daybed conversion kit."
Bratt Décor, a manufacturer based in Baltimore, told TDmonthly that all of their cribs are convertible "in one way or another." Courtney Bowman, who works in the wholesale end of the business, explained that "the wooden ones have a toddler bed conversion kit to extend of the crib, and the iron ones can be converted into daybeds. We also offer a dresser changer with a removable top tray."
Bowman noted that they are constantly adding to their collections, and new additions include a sleigh crib that converts to a toddler bed and a matching armoire that can travel with the child into adulthood.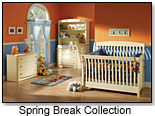 "We craft our furniture with longevity in mind," she said.

At Baby-2 Teen Furniture in Manassas and Fredericksburg, Va., owner Susie Woomer noted that 90 percent of the cribs in the store are sold with matching computer desks, which are definitely not on the list of newborn needs. Some of the top brands in her store are Morgieau, AP Industries and Legacy, but Woomer noted that basically all of their manufacturers make accessories that grow with the child and cribs that convert to larger beds.

"We're called Baby-2 Teen for a reason," she said.

Another twist on versatility is the option of changing a former crib when you want to hand it down to another sibling — possibly of a different gender.

"With our Heritage cribs, you have different venue options," said Bratt Décor store manager Carrie Benney. "For example, if the parents choose airplanes for a boy, they can come back and change it to flowers if they have a girl — a whole new look."

When it comes to versatility, parents have plenty of choices in baby furniture to fill their needs.

Here is some of the furniture that retailers and manufacturers are confident will last from cradle to college … and perhaps beyond:

Made for that special Little Princess! The Princess Bed 1 Package features a separate ladder and slide. The ladder and slide can be installed on either side of the bed depending on the child's room configuration. As with other Flexa beds, this bed can later be converted to other bed combinations such as daybed, loft bed, bunk bed with the purchase of the corresponding connectors and ladders. This bed is twin sized and will accept any twin Flexa mattress.

.

AD

This 4-level mattress spring system can adjust to a child's growth. The crib comes with a day-bed conversion guardrail as well as a full-size headboard and footboard. The full-size bed rail kit is sold separately. Assembled, the crib measures 54" by 34" by 42". It's available in Baby Blue, Cherry, Coffee, Ebony, Honey Oak, Natural, Navy, and White finishes.

.

AD

Based on a 1940's retro design, the Heritage crib is modernized and given a fun color boost. Heritage's solid construction uses discreet hidden hardware for its drop side, offers multiple levels for the mattress, and is hand painted and distressed for a slightly vintage finish. Add the optional toddler conversion kit to extend this crib's life. The crib comes standard with ball finials, but for a more designer look, flowers, airplanes, bunnies and stars are also available. Finials can be changed with each child, allowing for a new look. Available in the following finishes: black, cherry red, navy, white.

.

AD

Capturing the classic appeal of sleigh bed styling, the Generation Next crib has a drop-gate front that allows easy access to baby. The crib converts into a youth bed and then into a full-size adult bed with the addition of adult rails. Generation Next is an entire collection of fine furniture that is designed to last for generations.

.

AD

Durable and versatile, this collection is designed for the little girl who already wants to be a doctor as much as for the boy who sees himself as an airline pilot. This furniture will grow with them. Made with North American wood species, the furniture exceeds the industry's highest stands of quality and has been designed by craftsmen who bring an artist's passion to their work.

.

AD