---
From the Minds of Babes
Capitalizing on Kids' Creativity
"[Kids] are smarter than we are about what they want." — Mary Aloe, BKFK

In the 1880s, a teenager founded his own toy company based on a game he invented. Over 100 invented games later, George Parker and his company, Parker Brothers, were an institution, and Monopoly, introduced in 1935, is arguably the number one board game of all time.

TDmonthly Magazine spoke with inventors and inventors' helpers (everyone from parents to companies that specialize in aiding young entrepreneurs) to find out what makes a kid create a toy and how it's brought to market.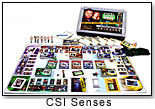 "I was the ultimate Las Vegas latchkey kid: my mother was a blackjack dealer and my father was a maitre d'," explained Anthony Zuiker, toy inventor and creator of the CSI: Crime Scene Investigation television franchise. By 14, he'd created his first dice game. "The end of this year, the beginning of next, I'm going to come out with a dice and card game based on World Football. It only took me 25 years." Zuiker most recently worked with Specialty Board Games to create the game CSI: Senses. (View article)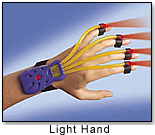 Wild Planet found a new inventor among a group of homeless children.
"Shahid Minapara was living in a homeless shelter when representatives from our company brought a playgroup by for the children," related media rep Kim Bratcher. "Our president threw a question out about inventions and if anyone had one. Shahid grabbed a piece of paper and drew lights on his fingertips so he could read under the covers at night. With the help of our designers and production people, it became the Light Hand, one of our best sellers."
BKFK (by kids, for kids) is a whole company founded on the principle that kids' innate creativity and ingenuity can be profitable. They help kids from idea to shelf. Mary Aloe, director of public relations related how "we want to aid a child's natural creativity, not stifle it. They're smarter than we are about what they want."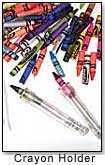 One of BKFK's success stories is that of Jerrilee Geist, age 9. She wanted to create a special birthday gift for her older sister, who loved word games. With the help of her mother Becky, an educator for 20-plus years, Jerrilee brainstormed ideas and developed Speed Spell (ToyDirectory), a fast-paced game of spelling and vocabulary. It has done so well that Jerrilee is setting up Speed Spell Tournaments in schools across the country and making herself available to do Meet the Creator assemblies in Bay Area schools.
Jacob Dunnack's mother, Elizabeth, told how he was born with a rare congenital heart disease. Related surgeries led to a stroke that lost him the use of his right hand. But he still pursued his favorite sport: baseball. When he had trouble carrying both the bat and the ball home from his grandmother's house, he came up with the idea of storing the ball inside the bat so he could carry it all with one hand. Thus was born the JD Batball.
There are hundreds of these success stories. A child sees a problem, comes up with a solution and then develops it, all the while having fun. They have help from parents, grandparents, or entrepreneurs along the way, since it takes time, money and manufacturing skills to make a really great toy.

But creation is play, and the end product is fun to play with. And that's the key to their ideas and to their successes.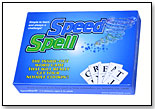 Wholesale Price: (Log in to view)

MSRP: $12.00

Age Range: 8 and upLaunch Date: October 2004Gender: Boys And Girls





In this fast-paced game, the players race to complete words from multiple letter groups, building from the inside out. The more words players complete — or steal — the more points they earn. The rules contain several versions including the Solitaire, Switch, Molasses and the highly competitive Challenge versions. "[Speed Spell is a] unique blend of competition and cooperation that is super fun and helps build spelling skills without working at it," Becky Geist, creator of Speed Spell, told

TDmonthly

. The greatest educational benefits are reaped as kids play "out loud," naming possibilities for all that the less-skilled may not recognize. Jerrilee Geist, selected by By Kids For Kids as one of their kid inventors, created this game at age 9 with assistance from her mom. This game is a winner of the 2005 Dr. Toy Smart Play/Smart Play Children´s Products Award. Launch date: October 26, 2004.

READ MOM REVIEW

ToyDirectory Product ID#: 4165

(added 8/15/2005)

.

AD
---






The Spy Light Hand provides illuminating power at fingertips´ reach. This kid-invented product is designed for spies of the next generation. The hand-mounted tool features four red glowing tubes with light-piping technology and ambidextrous usability. Wearing the Spy Light Hand allows kids to read secret messages in the dark.

ToyDirectory Product ID#: 4734

(added 9/22/2005)

.

AD
---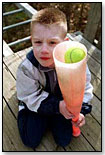 This plastic baseball bat has a removable cap to store the balls inside so they won´t get lost. This handy invention helps kids carry their bat and balls with one hand. Kids will never worry about forgetting or losing their baseballs again.

ToyDirectory Product ID#: 1726

(added 12/8/2004)

.

AD
---






Now kids can have private conversations underwater with these cool Water Talkies developed by an 11-year-old after a trip to Hawaii. Before going under water, kids need only take a deep breath, hold Water Talkies against their mouths, and then go below. From there they can start talking, speaking slowly and loudly with friends. The sound travels up to 15 feet.

— "We've always done well with the water toys from Wild Planet," said Tricia Cooper, buyer for Le Jouet in Metairie, La. "The underwater walkie talkies have a great price point for presents."

— Wild Planet has lots of underwater toys that are "very fun and popular," Markie Carlson, owner of Children's Gift Shop in Northfield, Ill., told

TD

monthly

.

— Seven of 18 retailers said that their most popular water toys involved being under, rather than just in, the water.

ToyDirectory Product ID#: 8393

(added 6/27/2006)

.

AD
---






This game of cat and mouse is the winning entry from the National Young Game Inventors' Contest. Designed by a 6-year-old from Kansas, it features simple game play, a colorful game board and creative characters. You're a cowboy cat traveling around the game board, trying to rope mice in your lasso. Spin the spinner to take your turn. Land on a ball of yarn space? Your cat is too busy to catch mice. Lose a turn. Land on a mouse space? Yeehaw, you got one. But be careful: the alley cat wants to steal your herd.

ToyDirectory Product ID#: 8436

(added 6/29/2006)

.

AD
---






Created by six-year-old Kylie Copenhagen, who fell in love with ladybugs during a school science project, The Ladybug Game is designed for interactive play between parents and children. Players help the ladybugs find their way home after a windstorm blows them to a faraway dirt pile. Along the way, the ladybugs encounter various hazards such as tall grass, praying mantis', aphids and ants.

READ MOM REVIEW

ToyDirectory Product ID#: 4170

(added 8/15/2005)

.

AD
---
Writer's Bio:
Mark Zaslove is an entertainment industry veteran in developing content (writing, directing and producing television and feature films) for the major studios, including Disney, Universal and Warner Bros. A two-time Emmy Award winner for writing and recipient of the Humanitas Prize (for writing uplifting human values in television and movies), Mark is also Head of Content Development for Nice Entertainment.
Read more articles by this author
THIS BANNER IS AN AD:
---
---