"Our whole store is a personalized experience." — Philip Judd, Painted Horse

It shouldn't take a new study claiming social isolation to be at an all-time high to remind us that people appreciate a little one-on-one. That may be one reason smart retailers say that business improves with personalized gifts and care.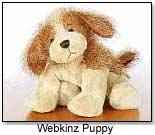 Phil Hueber, owner of Cedar Chest Kids in Northampton, Mass., said his store uses small gardening pots to create a unique shopping experience. "With the price of the pot, the kids get to paint it. Then parents can put plants in it later." Tables are set up with paints at the store so little gardeners can spruce up their plant holders. He said it has helped to make his store a "fun, destination-oriented store."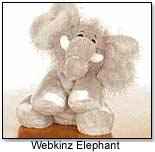 In addition, he began stocking Webkinz by Ganz (ToyDirectory) "as soon as he could get them" after discovering how successful they'd been down south. "It's a unique personalization product," he pointed out, as once kids purchase the plush animal, they can use a code to access the animal's online persona. From there, they choose a sex, a name, "purchase" furniture for its room and become responsible for its happiness, health and feeding.
"Our whole store is a personalized experience," said Philip Judd, owner of Painted Horse in Augusta, Maine. "We have what I call an 'open store' — people come in and read books, they sit on the floor and ask questions." Rather than just pop in for a birthday present, he said his customers have developed a community around his store.
"We're like a church," Judd explained. In a small town of 17,000, he draws customers from 60 miles out, which means gas prices, bad weather and poor road conditions have a large effect on the kind of foot traffic he gets from out-of-towners. "But we have a terrifically loyal following," he noted, which has kept him in business for the past 30 years.
Online toy store ToysCamp.com carries several personalized infant products, from blankets to piggy banks, in addition to their general toy offerings. Operations manager Ami Amin, said, "We had very little (personalized products) last year, but we expanded a little bit this year." While these particular products aren't necessarily driving the majority of business to the site, "every little bit helps."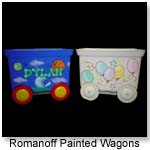 However, going the extra mile to create unusual personalized items has meant everything to Linda Ross, owner of Just a Dream in West Orange, N.J. She stocks everything from vanities to buggies that are then painted, monogrammed or in one way or another fashioned according to customers' needs. Gift Giant and Romanoff Products are two of her top suppliers out of the hundreds she uses. She has no problem matching designs and fabrics to those already used in a child's room or designing party favors for a child's birthday or other special occasions. She's sold one-of-a-kind rocking chairs to the wealthy vacationing in the Hamptons and created pieces for the governor of New Jersey.
The only toys without a personal touch are those used to accent the personal products: She may set a few children's books between two hand-painted bookends or add cookie mix and a small wooden spoon to a uniquely designed cookie jar. She stresses that every customer is important.
"There's so much customer caring that it's far more than a store," she explained. Repeat shoppers will even pick her up doughnuts on their way to visiting her shop. What accounts for such behavior? "We have a New York store with a mid-western attitude," Ross gushed.