"Corolle tried the collectible market, but that market went soft, and now we know to keep our focus on the child." — Beau James, Corolle Dolls

The collectible doll market is alive and well, retailers of one-of-a-kind and limited-edition dolls insisted to

TD

monthly Magazine

. Nevertheless, the start of the 21st century has seen a decline in the collectible doll market, and many manufacturers and retailers are once again focusing their products toward children. It's a lesson that's had to be learned more than once.

"Little girls will always want dolls, but the collector market can be fickle," Madame Alexander told the author back in 1984. Ruth Handler, the inventor of Barbie, also had little girls in mind when she designed her iconic doll. "Before they want to become mommies, they want to be teenagers going to proms, be cheerleaders and date," she said in 1994.

Each of those designers lived long enough to see their dolls become collectors' items, drawing unbelievable prices in the secondary market. But when each of these designers created their first dolls, they had one customer in mind: the child.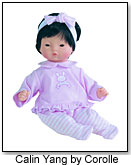 Beau James, North American director for Corolle Dolls (ToyShow) told TDmonthly, "Corolle has been around for 27 years. We present Corolle as a brand, not just as a doll, but with fashion accessories and everything a little girl needs to play dolls. Corolle tried the collectible market, but that market went soft, and now we know to keep our focus on the child."
Deborah Thompson, owner of Shenanigans for Kids, a toy store in Peachtree City, Ga., agreed with James: "Corolle is our best seller. Children love it and mothers appreciate the quality. I think all dolls should be designed with children in mind."
Gretchen McGinnis, director of marketing and operations at Terri Lee Dolls, said her company is also revisiting the children's market. "We brought back Terri Lee (ToyDirectory) in the 1990s because collectors were asking for her. Collectors had exhausted the secondary market of dolls in good condition," she explained. "We did well for the first few years, but that market is soft right now."
Collectors have felt the drop. "I have collected dolls since 1973. I stopped collecting last year when I saw the dolls that I have collected selling for ridiculously low prices on eBay," said Barbara Smith of Acworth, Ga. "But I still buy Lee Middleton, Madame Alexander and American Girl dolls for my grandchildren."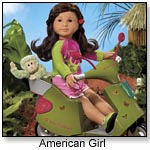 Alisa Benaresh of Alisa's International Doll Art in Toms River, N.J., commented, "I think the collectible doll market dried out because the media educated collectors on the fact that a mass-produced doll is not a good investment. Collectors ran out of space. They were buying a $200 doll every month, when they could have been making $200 payments on a OOAK (one-of-a-kind) or limited-edition doll."
"In the 1990s, I went wild collecting dolls," Sooz Thomas of Kennesaw, Ga., told TDmonthly. "When Princess Di was killed in 1997, I asked — never believing I would receive — $3,000 and got it. Some of my friends who had the doll decided to hold out for more money. There was such a big demand for the doll that the very next month the company reproduced it because they own the molds. I'm glad I sold when I did."
Becky Richardson, director of marketing for Lee Middleton Dolls, is confident that the children's market and collector's market aren't so far apart after all.
"Parents start giving our dolls to their children when they are babies, and they grow up with them," she said. "As the children get older, they are given a little more expensive dolls every year, and perhaps as adults they will become collectors."
As the doll artist Robin Woods once mused, "A plaything today ... a treasure tomorrow."