---
Sit on It … Forever
Parents Want Kids' Furniture That Lasts
"We've spotted a lot of children's furniture that are painted and have a lot of different colors, but we really like the 'natural look.'" — Dan Marshall, Peapods Natural Toys & Baby Care

With reporting by regional correspondents Brenda Ruggiero and Terri Lazzell

They sit on it. They sleep in it. They play all over it. Furniture may be the biggest toy kids have. And the most expensive.

TD

monthly Magazine

's regional correspondents talked to retailers across the country to find out what parents shop for when they're shopping for furniture … and high-quality wood was on their minds.

Peg Scholtes, owner of Capitol Kids, Madison, Wis., discussed one of the latest trends: "Companies that talk about where the wood came from and is it from a sustainable source. Since these are large purchases, customers ponder on this purchase for weeks and months sometimes, and this information is important to some of them."

Small World Toys' CEO and president Debra Fine explained, "We manufacture some things in Thailand because of the quality and type of wood we find there."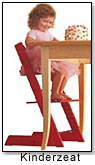 Scholtes also pointed out one of the most unique kids' pieces: "Stokke's KinderZeat is absolutely a wonderful chair. It lasts a long time, so it has value. It's nicely made with great colors that are bright."
Kelly Monkevich, a sales associate for Lullaby Baby, Columbia, Md., said that parents look for brand names, such as Dutailier and Morgieau-Lepine. "People like them because they are solid wood and have a variety of finishes and a variety of styles, ranging from clean-line modern to traditional."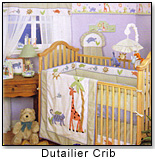 Dan Marshall, co-owner of Peapods Natural Toys & Baby Care, St. Paul, Minn., said, "We've spotted a lot of children's furniture that are painted and have a lot of different colors, but we really like the 'natural look.' Little Colorado Inc. has some great products that we've spotted that we think will be great sellers."
Susan Stanowiski, a sales associate at Kids Quarters, in Nottingham, Md., noted that. "Baby's Dream, which is all solid wood, sells well because they have reasonable prices. Also, they are convertible and meet safety standards. They also have a limited lifetime warranty — 15 years — which is very good."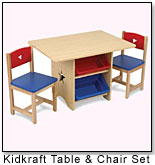 Miles Altman, owner of King Arthur's Court Toys, Cincinnati, Ohio, told TDmonthly that "KidKraft is our best selling furniture line. We only sell tables and chairs in two to three different sizes and price ranges. That's what people seem to want."

Barbara Baron of KidKraft explained a little more of their philosophy: "We're also staying in step with contemporary styles and color trends to keep products current and exciting. These renovations let children emulate real life situations and be just like Mom and Dad." And wood is what Mom and Dad have.

Which leads us to the all-time best-selling piece of children's furniture: "People still want the wooden rocking chair for their child," pointed out Sue Wrzesinski, owner of Toy House and Baby Too, Mich. "That wooden rocking chair, something that lasts, is still what people are looking for."

The following is more information on quality children's furniture.









.

AD
---






This coffee table is made of solid hardwood and built to last. It has storage and display features that will add a "just like home" warmth to any preschool or school-age furniture grouping. Some assembly required. A matching End Table (FET320) is available separately.

.

AD
---






For ages 6 months and up, the KinderZeat grows with the child, from infancy through school age to adult. The attractive, sturdy wooden construction comes in several colors.

.

AD
---






Ranked a Best Buy by Consumer Digest, the Round-up Modular allows parents to mix and match pieces. Also available in this line are bunk bed, ladder, desk end, chest end, dresser end, shelf end and computer desk.

.

AD
---






The best selling Dutailier Glider Rocker is now child-sized. It measures 17 1/4" by 23" by 29 1/4" and is available in either natural or white finish. It uses the same tough bearings that are used in adult rockers. This is stylish, durable and safe furniture designed to evolve with a child's needs. "It's very important that dealers and consumers know that all our gliders are available with a selection of styles, mechanisms, finishes and fabrics. Consumers can custom made their own glider. On top of that, if they don't find a fabric that matches their need they only have to ship us their own fabric and we will make cushions out of it," explained David Fontaine, marketing manager.

.

AD
---






Based on the classic Adirondack style of furniture established in the mountains of Upstate New York in the 1870s, this KidKraft Adirondack Fan Back Chair in Sky is the perfect piece for lazy days in the sun with little ones. The sturdy all-wood construction and soft, sky color make this item popular among kids and parents alike as it effortlessly blends in with just about any outdoor furniture. It's made from outdoor Shanmu wood. It measures 19" by 22.5" by 24" and the seat is 9" tall.

.

AD
---






This is a natural combination of Little Colorado's best-selling Kid's Bookcase and Toy Organizer products. It has the advantages of both in one efficient storage unit. Six plastic bins with lids are included. It is available in natural finish and unfinished. Personalization, up to 12 letters, is available in red, blue, black, white, green and pink.

.

AD
---






The perfect complement to the Time to Read Rocker with its "mystical" motif and coloring, the bookcase revolves for easy access and features two shelves to hold favorite books. It includes two photo frame bookends as well (each holds one 4" x 6" photo).

.

AD
---






This deep purple and midnight blue wooden rocker comes equipped with a clock on the back head rest so little guys and gals can keep track of time (if they so desire) when they open their book and prepare to rock. It also comes with a sturdy wooden book rack attached to the right chair arm so kids can switch up reading material without having to leave the comfort of their removable padded seat cushion. A poem on the chair back encourages young readers to rock and read. It can hold children up to 100 pounds.

.

AD
---
THIS BANNER IS AN AD:
---
---