---
Bears and Penguins on the Catwalk
How Plush Pals Stay in Fashion
"Typical and unique is what everyone wants." — Sue Wrzesinski, Toy House and Baby Too
With reporting by regional correspondents Virginia Davis, Pennie Hoover, Terri Hughes-Lazzell and Brenda Ruggiero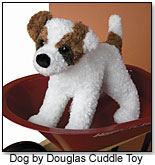 This month, TDmonthly Magazine spoke with retailers across the country to determine what's selling in the squeezable land of plush and why. Most agreed that Douglas' Pet Saks and Aurora World's (ToyDirectory) Pet Carriers continue to be all the rage, while penguins have joined the ranks of cats, dogs, bears and horses to outsell other animal varieties.
"The pet sack is a trend I see becoming more popular. … Douglas' Pet Sack is the best," noted Earth Explorers Toys owner, Terri Bracken, in Zionsville, Ind.
Erika Radich, marketing manager at Douglas Cuddle Toys (ToyShow), said, "Handbags and purses are a big trend right now and pets are a big trend. These saks are a marriage between an accessory and a toy."
"Outfits and accessories for plush pets are in with people now," agreed Emily Bieritz, manager of Toys on Main in Downers Grove, Ill.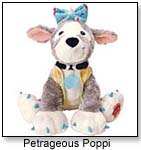 Manhattan Toy's (ToyDirectory) Petrageous line is fast becoming a best seller because of this trend, she noted.
Hugh Kennedy, vice president of business development at Manhattan Toy, explained that the Petrageous line utilizes the same fashion exaggeration that has helped to make Groovy Girls so popular.
"Also, it introduces a new play pattern in terms of nurturing, which is very appealing," Kennedy explained.
It's more than just fashion that moves fuzzy figures. At Capitol Kids in Madison, Wis., owner Peg Scholtes pointed to Mary Meyer and Jellycat as top-selling brands, because "both companies pay a lot of attention to detailing, including fabrics and features, and have a wide range of offerings."
And, at Let's Play in Hillsboro Ore., Shirley Reilly said that Ty is her best seller because of the affordable price and cute critters. Many retailers mentioned super soft Gund (ToyDirectory) as an evergreen brand. Others noted that factors such as location and seasonality play a large role in product selection.
"I primarily stick to sea-life type of plush since we are at the beach," said The Sky's the Limit owner Kathy Cortez in Pismo Beach, Calif.
"I avoid holiday plush," added Pam Byers, owner of The Ark in Berkeley, Calif. "I don't want to get stuck with a bunch of Christmas things." She's noticed a sales decline overall in this category.
In general, "Typical and unique is what everyone wants," summarized Sue Wrzesinski, owner of the Toy House and Baby Too in Jackson, Mich. "People are looking for aardvarks, and they want bears."
And they want penguins, several retailers mentioned. Why?
"I think because of 'Madagascar' and all the penguin movies that just came out," said Natalie Reese, manager of Angel's Toy Barn in Cocoa, Fla., who added that the Melissa & Doug model has been quite popular at her store.
Classics are still safe bets.
"There were companies that were not even making teddy bears anymore, but now they're coming back. It seems that people want more of the basics," according to Steve Nordhus, owner of Toy Zone in Rochester, Minn.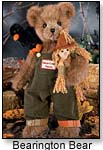 "Not only do our designers create top selling teddy bears, but their designs have been nominated for 52 industry design awards over the past few years," said Alicia DeThomas who handles marketing for The Bearington Collection.

Overall, "Children love the animals because they are so soft, and if they are humorous or ridiculous or realistic it makes no difference, just what catches their eye," noted Dolls N' Things owner, Alyce Nicholson, in Cartersville, Ga., of plush in general.

While other toy lines have gone high tech, The Toy Store buyer Kevin Hart explained that with plush, they "don't have to do things like light up for kids to love them."

Even baby blankets have been merging into the plush category. Plush doll heads incorporated into the material continues to be a popular design, with new products for 2006 emerging from Aurora, Douglas, Jaag and Fiesta (ToyDirectory).

What follows is more information on popular plush items, plus a few new TDmonthly finds.









These plush pillows come in three distinct color variations: ivory with dark cinnamon, light cinnamon with dark cinnamon and light cinnamon with ivory. Each 16" square pillow has a large heart stitched in the center with the words "Lean On Me" scrolled across the front. On the bottom left hand corner is a smaller stitched heart. Hanging over the top right edge of the pillow is a cuddly teddy bear peeking over as if making sure the pillow user is quite comfortable.

.

AD
---






This 15" off-white baby blanket is edged with either soft pink or baby blue satin and has a plush lamb head and arms attached to one corner. It appears as though the little lamb is keeping watch over baby while baby sleeps. Each Comfie is packaged in a tulle bag and can be personalized with custom embroidery on a satin heart near the corner opposite the little lamb head.

.

AD
---






This 28" soft plush dog belly flops on the floor with her paws stretched out and goofy eyes staring straight at the ceiling. She has plenty of room on her flat back for wee ones to lounge, get changed or pass out from receiving too much attention. And, because Dafney knows that babies have a tendency to get bored with too much loafing around, she comes equipped with rattle sounds in her back paws, squeak sounds in her front paws and crinkle sounds in her ears. She is truly a young gal's best pal.

.

AD
---






New designs for these silky soft baby blankets are Pink Bear, Chocolate Monkey, Spotted Brown Horse and Yellow Duck. These ultra-soft security blankets incorporate a 13" by 13" square of plush fabric and a sleepy plush animal head with embroidered eyes. Lil' Snugglers are intended to be carried everywhere toddlers travel and for that reason they are completely machine washable.

.

AD
---






Sassy Saks found their fame when they made their debut at Toy Fair 2004. The line continues to grow in choices and popularity. Girls will go bananas over the new jungle chic bag holding a mischievous brown monkey. This 9"-wide bag is safari cute in bright bold hues.

.

AD
---






Expanding upon the already successful babyGUND brand, babyGUND Nursery line explodes onto the scene with pale colors of pink, blue and yellow. The Bear Tales Collection offers exciting new nursery décor products for the infant and preschool child and is sure to add that special touch to any baby's room.

.

AD
---






.

AD
---






This new Beanie Baby subcategories is proving to be one of the company's most popular. These 5" mini Beanie Babies with top lock and clip allow kids to attach them to keys, purses or backpacks. Poofie, a black and white dog, Dizzy the Dalmatian and Luke the black lab, have been some of Ty's most popular traditional Beanie designs.

.

AD
---






This fantastic colorful plush dragon inspires children's imaginations while staying soft and snuggly. He measures 40" by 20" by 12".

.

AD
---






This 14" plush figure has a timer on its belly that can be set for up to 60 minutes. Kids can use it to do their homework or just take a break. This "is one item in particular that I love," said Cheeky Monkey Toys manager Amanda Scadina in Menlo Park, Calif. "It's kinda fun and it has been selling pretty well."

.

AD
---






This very furry bunny comes in two sizes, 6" and 9". He is floppy, sits upright with two little extended paws and has a cocked head. He looks very curious and concerned about a kid's well-being.

.

AD
---






This favored toy dates back to 1915 when Johnny Gruelle invented pictures and stories to entertain his daughter during a childhood illness. Raggedy Ann, along with her counterpart Raggedy Andy, has been the subject of numerous stories in the generations since. This particular plush toy, part of the Applause Dakin Signature Collection, stands roughly 12" high, has button eyes, a blue dress and a white apron bearing the doll's name embroidered in red. Raggedy Ann is a lovable, huggable addition to any plush toy collection.

.

AD
---






New for spring 2006 is this cute little pig who is very pretty in pink. She wears a bright pink bow in her hair and has big feet that she finds a little wobbly to walk on. But lucky for Piggy Sue she is adorable enough for little girls to be more than pleased to tote her wherever she needs to go.

.

AD
---






This stuffed animal monkey is a smiling interactive toy whose stunning purple, yellow and green patterns attract babies' eyes. When the infant or toddler claps the monkey's hands together, the monkey plays the song "If You're Happy and You Know It." Launch date: 2006.

.

AD
---






.

AD
---






This extremely relaxed animals is from Mary Meyer's Flip Flop line of extremely floppy, squeezable and silky plush pets.This flip-flop giraffe has a soft short pile coat, a happy smile and is long on lovability. His hooves have stitching for a little added shape. He is surface washable and 14" from nose to rump.

.

AD
---






.

AD
---






This fuzzy green frog comes attached to a soft off-white baby blankie with green trim. It is sized just right to snuggle up a sleepy little bed bug.

.

AD
---






These two bears are among Bearington's most astounding designs this season. Lady Flurry stands 16" tall and wears a stunning beige dress with a champagne mink fur trim. She flaunts a gold bow and carries a matching stocking in her paw. Grandfather Frost also stands 16" tall in a cream color gold embroidered robe. He wears a matching stocking cap with champagne mink fur trim. Also in this photo are 10" tall Bell V. Deer ($12.00) and 12" by 9" Gilded Sleigh ($21.00).

.

AD
---






Bo is an adorable new bear from Bearington that is available for the fall 2006 season. He stands 14" tall and holds a mini scarecrow under his arm. His cute corduroy overalls and his little friend Crow are sure to catch everyone's attention this season.

.

AD
---






Holly stands 14" tall and wears a gorgeous clementine colored corduroy dress. She wears her hat with a big beautiful flower on it as she picks out her pumpkins in Bearingtonville's Pumpkin Patch. Being one of the newest editions to Bearingtonville's family, she is sure to be a great seller for this fall season.

.

AD
---






.

AD
---






This 8" tall emperor penguin, aptly named Admiral, is so realistic looking kids might get a chill! "Penguins are the trend in wildlife now and we're sure that Admiral will lead the fleet in this category," said Scott Wehrs, COO at Ty.

.

AD
---






.

AD
---






It may take another ice age to get baby off Danny Dinosaur. Fun and discovery will never be extinct as long as Danny is around. Danny has a friendly melody and is loaded with squeaks, rattles and crinkles to entertain children as they rock their way through the ages. Danny can support children ages 9 months to 3 years, or 50 pounds.

.

AD
---






Little explorers will never forget rocking for hours through the lush jungle of their imagination. Elijah's big crinkly ears, luxurious materials and soft multi-patterned padded seat make for a comfortable ride. Don't be afraid of his little friend following him through the jungle, even though Elijah might be! Elijah can support the weight of children ages 9 months to 3 years, or 50 pounds.

.

AD
---
THIS BANNER IS AN AD:
---
---