The push for eco-consciousness is evident everywhere from bans on plastic to Al Gore's alarms on global warming. TDmonthly Magazine talked to retailers and manufacturers in our industry and found that toys are becoming eco-aware as well, both in what they're made of and what they are playing at.
Carolyn Deal, owner of Sum-Bo-Shine, a purely eco-conscious retailer in Woodstock, Ga., has been looking to organic products since the '70s. "There's definitely more awareness out there, growing over the years, simply because there are more items out there."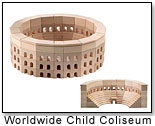 Steve Spangler, owner and creator of Steve Spangler Science in Englewood, Colo., sees that when kids have a product where they "have the ability to help the environment — it's really, really important, from a parent's and teacher's perspective. There's a huge push to be environmentally safe or conscious. ... It's the new mantra, and it gets us sales in schools that we couldn't normally get."
Bridgett Nicol, owner and creative director of Worldwide Child in Seattle, Wash., found that "products that can be reabsorbed are huge! People are getting away from the glut of the plastic non-reusable toys. They've figured out real quick how much of an impact plastic has."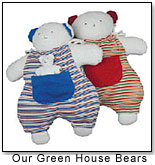 Pam Davis, creator and owner of Our Green House in Newtown, Conn., sees a big trend in parents asking for organic fabric in toys for the younger ones — things like organic cotton. "So many little kids put things in their mouths, and parents are now more aware. They don't want pesticides, or non-natural fibers. We get a lot of our products from Europe. They are more environmentally aware over there. But we're catching up."
Jonelle Raffino, president of SWTC Inc., also found that materials were important to parents, who "seem to love the idea that we can create luxurious, earth-friendly products from soy, which is a renewable resource. Like me, they are aware of the impact certain products and chemicals have on our health and the environment."
Frank Zuuring, president of Savita Games Inc. (ToyDirectory), has found his game, Antarctica — which deals with global warming, weather patterns and Armageddon — gathering huge momentum. With Al Gore's "An Inconvenient Truth" making people more alert, "whole different avenues of cross-promotion are opening up. Educational markets are now buying our game."
Charles Erdman, president of Dervish Toys (ToyShow), is attacking the eco-consciousness from both ends. His Fairy Folk line is innately ecologically minded (as fairies are a nature people) and inspires children to take their imagination and transfer it outdoors. But Erdman isn't simply resting on his message; he's putting his money where his dolls are.
"We're not a green product yet, but we will be. It's really important to us to not only have a message/story line and activities that are eco-conscious but a product, too.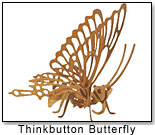 It's a challenge for small companies, but as the big players ramp up, then the manufacturers in China and India start seeing a financial incentive, and hopefully in five years time, it will be easy to get things done green."

Margaret Smith, owner of ThinkButton in Charlotte, N.C., may sum up the overall feel of parents these days and environmentally conscious toys: "It's a combination of parents wanting the experience of being outside to be something educational and more environmental and how to deal with our planet, as well as just plain fun."

The following is more information on eco-conscious toys.

Global warming has melted the great ice sheets. No polar caps remain. The oceans are free. Gone are the magnificent harbours that once dotted the shores of every land. The waters have risen more than 80 meters. Land is everything! Millions are starving. Fertile plains are no more. The great grain belts of the world have been tightened. Tension runs high yet there is hope. Four rallying hosts prepare in haste. One dominion can save but a few ... the race is on. Armies are raised with every man coming forth. Unite and fight ... conquer or be lost. Combine your forces, assemble your fleets and breach the storms. Clouds clear for one last stand. The prize is yours ... Antarctica.

.

AD

These dolls are part of the Legends of the Faery Folk property that consists of an expanding doll line, book series, Web site and future DVD series. The dolls are magical interpretations of the fairies that inhabit gardens and forests, and each character is supported by a rich back-story that has a strong environmental message. The Web site includes craft projects and downloadable fairy tales.

.

AD

Young children will delight in this fun version of the adult game, Yahtzee. Five dice have pictures of animals on each face. Roll the dice, count how many of each animal are face up and add up the points. Whoever has the most points at the end wins.
— "I went to International Toy Fair in Germany and brought back Haba. It's high quality and beautifully made. They make wooden toys, fabric toys, fabric blocks and pull toys, wooden food and wooden board games," said Valla Wagner, co-owner of Teaching Toys & Books in Tacoma, Wash.
— She added, "I was surprised that so many people recognized how fabulous they were and that we've sold as many as we have."
— Lea Culliton of Haba USA spoke with TDmonthly about the unique attributes of Animal Yahtzee: "[It's] a dice game that amuses players with native safari animals: camels, monkeys, snakes, elephants and tigers. Players decide to try their luck at rolling three Camels and two Tigers to make their 'full house.' Whoever has the most luck with the dice wins."

.

AD

Organic cotton makes for great toys. This toy has a 100% organic cotton shell filled with unbleached cotton clippings and embroidered eyes for added safety. The 11" foundling elephant is an environmentally safe toy.

.

AD

Teachers and students will discover much useful material in this upbeat entry in the Kids Can! series. The book begins with an overview of the water cycle, the ocean's composition and earth's ratio of water to land. Subsequent sections explore waves and currents, life in the ocean including a chart of the ocean's animal kingdom by phylum and class, and conservation issues. Activities that illustrate the concepts — how blubber works and how to clean up an oil spill, for example — are creative, illuminating and easy to follow. Lighthearted cartoon art adds to the appeal of this fact-packed title.

.

AD

All cozy in her colorful jumper, Charlotte has her eyes closed and is ready for bedtime. Her soft hands and feet provide extra comfort, along with that fluffy tummy, to make her a perfect friend for bedtime. The concept of organic refers to the creation of something that originates in nature, a pure product from the environment. Organic products eliminate unnatural herbicides and pesticides, use biodegradable and natural fertilizers, follow crop-rotation standards and soil-management procedures, undergo specific harvesting procedures and have regulated storage procedures.

.

AD