"Specialty is our core market." — Len Simonian, Only Hearts Club
With reporting by regional correspondents Virginia Davis and Pennie Hoover
Groovy Girls and Only Hearts Club went to Target, Lee Middleton's has gone to JCPenney … are there any specialty dolls left for the specialty market? Manufacturers said yes, but ensuring dolls' specialness as they grow keeps everyone on their little vinyl toes.
"The best way to maintain value on a product overall is try to deal with retailers who value it in the same way you do," said Mary Beth Jefferds, vice president of sales and marketing for the Tonner Doll Company (ToyShow).
There's a limit to how much control a company can have, however. While they may suggest a retail price, anti-price-fixing laws prevent enforcement. It's up to a dealer (or a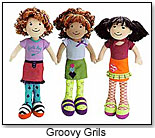 collector) to set the sales price, she told TDmonthly Magazine.
"Robert Tonner dolls are selling online for wholesale ... how do people do that?" wondered Lucille Island, owner of Doll World and Surroundings in Columbus, Ga.
Tom Courtney, director of marketing at Tonner asks retailers who've noticed this practice, "Have you tried to buy it? What the closing bid is may be quite different. The other thing we look at is how many are they selling at that price? If an edition has 1000 or 2000 pieces, but only 1 or 2 are selling wholesale, that should be taken into consideration."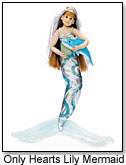 Some might argue that online exposure could even help Tonner sales. Though specialty retailers' forecasts were gloomy when Manhattan Toy's (ToyDirectory) Groovy Girls first hit Target (VIEW ARTICLE), the dolls continue to do well in specialty stores, even though they've been available at Toys "R" Us since February.
"Specialty retailers who've stayed with the brand are ordering more Groovy Girls than last year," Hugh Kennedy, vice president of business development for Manhattan Toy told TDmonthly. "We've actually experienced a double-digit growth in terms of what average specialty retailers are ordering today."
"Young girls seem to really like Groovy Girls," noted Kevin Hart, buyer for The Toy Store in Atlanta.
Only Hearts Club also went to Target earlier this year and Len Simonian, president of Only Hearts, said the dolls are selling four to eight times their projections per SKU and the brand now has its own aisle end-cap. That prime real estate is important, he continued, because customers begin to differentiate Only Hearts from other fashion dolls and to realize that they are based on real little girls with distinct personalities and values that both parents and kids can appreciate.
"We've got consumers saying, 'I saw the dolls at Target, but they don't have the pets,' or 'this accessory I want … Where can I find it?' And that's what we wanted. Specialty is our core market," he said.
Even the Lee Middleton Original Dolls Company is seeking greater exposure for their products by entering JCPenny's in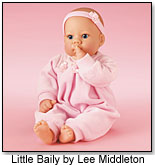 August with a line of play babies that start at around $20.

"The play babies are developed for younger children to get a sampling of what a Middleton doll's like," explained Becky Richardson, director of marketing for Lee Middleton.

Once the child's hooked, she'll be able to find plenty of higher priced collectible dolls at specialty stores across the nation, assured Richardson.

Tonner's Harry Potter license has proven so popular with kids that the company is developing a whole new audience. Girls and their parents are even buying Tyler Wentworth as a play doll. However, though they're developing several new lines for 2007, Tyler Wentworth will always be "special," stressed Courtney.

"The quality of the clothing and the fabrics just can't go into the mass market," he told TDmonthly.

Beau James, North American director for Corolle Dolls (ToyShow), agreed. "For the present time, we're staying strictly specialty."

Increased exposure, limited mass market SKUs and high quality will ensure that these dolls continue to be special for specialty retailers. Here are some of the latest releases:

Wigged figure with hand-painted face detail wears white formal shirt and velvet bow tie underneath vest with black pants; all under the 'vintage' tapestry robe with lace trim. The doll comes with a wand, socks, shoes and custom stand. Ron is approximately half an inch taller than Harry. "Ron is my personal favorite [of the Harry Potter series] because there's something about that smile that he has that really makes that character," commented Tom Courtney, director of marketing for the Tonner Doll Company. Launch date: 2006.

.

AD

.

AD

Clara is 13" and has red ponytails that match her little red outfit. A sweater with a ribbon tie, a flounced flowered skirt, ballerina sandals and a pink shoulder bag complete her outfit.

.

AD

Chouquette Blonde is one of Corolle's award-winning Chouquette family. She is 14" with blue sleeping eyes and beautiful rooted hair that can be brushed and styled over and over by little girls three years and up. She comes with her own brush.

.

AD

Everyday is a fashion show with Oki who has black pigtails with blue and white highlights. She wears a multi-colored tank top and white skirt with aqua trim, blue and brown polka-dot leggings and knee-high brown faux-suede boots.

.

AD

.

AD

The voice of the Only Hearts Club band makes a real fashion statement in her amazing pink and purple camouflage pants and shimmering top. Doll and outfit come with a mini-guitar and a purple boa for the doll. The outfit can also be bought separately.

.

AD