"These are lasting toys with opportunity for great add-ons, and they change with the child as he develops." — Peg Scholtes, Capitol Kids
With reporting by regional correspondents Brenda Ruggiero and Terri Hughes-Lazzell
Dollhouses date back at least 400 years, and although times may have changed and prices come down somewhat (the original dollhouses, according to the Hampshire Museum Services, could only be afforded by wealthy patrons, usually titled) the idea behind them has stayed the same. So what has changed? Though the classics carry on, open-ended houses that appeal to both boys and girls are the best sellers, retailers told TDmonthly Magazine.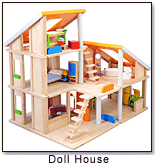 A majority of retailers pointed to Plan Toys as their number one manufacturer.
Peg Scholtes, owner of Capitol Kids in Madison, Wisc., explained that Plan houses "promote open-ended play, role playing, things that children like doing, that's what makes it popular. And it's not just the dollhouses but firehouses and other pieces. People want to have something to pass on. These are lasting toys with opportunity for great add-ons, and they change with the child as he develops."
Dan Marshall, co-owner of Peapods Natural Toys & Baby Care, St. Paul, Minn., thinks that Plan is popular because "the design makes it so that more than one child can play with it at a time."
Hot on the heels of Plan were
Small World Toys/Ryan's Room
and
KidKraft L.P.
, retailers told
TD
monthly
.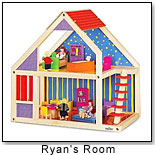 Miles Altman, owner of King Arthur's Court Toys in Cincinnati, Ohio, iterated: "Kidkraft was huge last year. It was the first time our customers had seen the large-scale, non-plastic house with all the furniture. We expect the same this year."
KidKraft's Barbara Baron told TDmonthly, "We continue to expand on this line and have developed My Sweet Dollhouse with larger pieces, which are easier for small children, ages 18 months and up, to grip and manipulate."
"Ryan's Room is successful for us," said Emily Bieritz, manager of Toys on Main in Grove, Ill. "The house is plain and can be geared to boys or girls because you buy rooms and accessories separately and make them as you want."
Small World Toys' CEO and president Debra Fine pointed out that her company aims for the gender-neutral products. "The boys get the products, the fathers and sons will paint and do architecture on them; the girls will do more overall, imaginative play inside the house."

Bieritz also pointed out that Alex has a "new playmat they call a dollhouse that you use on the floor, flat. When you open it up, there's a design of a house on it and there's accessories to play with. We just got it in a couple of weeks ago and it got a lot of attention."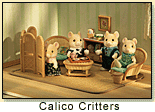 Steve Nordhus, owner of Toy Zone of Rochester, Minn., suggested Calico Critters by International Playthings, as did Terri Bracken, owner of Earth Explorers Toys in Zionsville, Ind. "Calico Critters is really big for us. They keep adding new items."

Most anticipated dollhouse of the year, however, has to be the Melissa & Doug Victorian House.

"Victorian House is something I'm excited for this Christmas," Bracken told TDmonthly. "It's big and expensive, but it's a classic."

As for the future? Marshall predicted: "I think multicultural dollhouses will be great."

This spacious two-story dollhouse has a charming A-frame design and six large rooms. There's easy access through the roof, sides and front sliding doors, so that little hands can reach in to play, and the upstairs balcony has two rows of colorful flowers. There's lots of floor space, more room for fun… and a built-in handle for carrying.
— "I like the Ryan's Room dollhouse sets by Small World," said Kristen Fennell, manager of Kids R Kids in West Roxbury, Mass.
— "We also do well with Ryan's Room dollhouse by Small World," added Roger Lee, co-owner of Olney Toys in Olney, Md.
— Three of 51 retailers specifically cited the Ryan's Room dollhouses as favorite wooden toys in their stores.

.

AD

This dollhouse/playmat can be taken anywhere. It comes with a family of five. Open it up and play house. The mat measures a giant 36" by 36" and zips up neatly. It makes a great take-me-along gift.

.

AD

It's every girl's dream home, the beautiful Victorian Dollhouse. Decorative detailing throughout the interior and exterior of this amazing dollhouse makes it a high-quality heirloom to be cherished for years and years to come. Matching room furnishing sets are also available.
— "Melissa & Doug Victorian dollhouse with dolls," Helen Ulrich, assistant manager of Hardware Center Inc. in Paoli, Pa., told TDmonthly when asked about best-selling furniture and playhouse items in summer 2008. "This time of year, we don't sell as many (it's more of a Christmas item) but we sell pieces or dolls."
— "We have a three-tiered [dollhouse] display as you walk in the door. I have all [Melissa & Doug's] furniture around it. The kids love that doll house," said Jeanne McCullough, owner of Children's Store Inc. in Boise, Idaho.
— Six of 62 retailers mentioned doll houses by Melissa & Doug as a strong seller in the furniture and playhouses category in June 2008. Three specifically referenced the Victorian design.

.

AD

For hours of fun and imaginative play, KidKraft's PGA Tour Toy Clubhouse and Accessories is a great gender-neutral dollhouse. With a mini wood golf cart and three golfers to complete the set, kids will enjoy hours of open-ended play — just like mom and dad!

.

AD

The Calico Critters' Townhome is a large, four-room home with a room divider that can create a fifth room. The house can be opened and closed for lots of decorating and pretend-play fun. There is a movable staircase and an extra floor area to create larger rooms. When closed, the house measures 12" by 12" by 12". What makes this house even more special is that there are lights inside that can be turned on or off with the flip of a switch. It recently won a 2006 Oppenheim Platinum Seal Award.
— Seven of 32 specialty retailers named Calico Critters in October 2008 when asked which items they expect to be their hottest holiday sellers. In late November/early December 2009, two of 44 retailers cited Calico Critters as one of their overall best sellers.

.

AD