Lost in Cyberspace. That's where most toy industry business owners were back in 1996, when ToyDirectory.com first came online. Even those who had their own Websites often lacked the time and skill to attract new clients and suppliers.
ToyDirectory.com has helped retailers and manufacturers find each other on the Web for 10 years. Today, when even 8-year-olds have their own blogs, directing the right kind of traffic to your Website requires more know-how than ever.
That's why ToyDirectory has spent the past decade building a community of manufacturers and retailers in the toy and gift industries. Each year, another 3,000 retailers register with us to receive information on our vendor partners and the 6,000+ products on our site.
We now have 26,500 registered retailer readers who receive ToyDirectory's TDmonthly Magazine and new product updates in their e-mail each month. TDmonthly keeps them informed about the latest toys with trend articles, reviews, videos and an Inquiry Basket that lets them request information from vendors.

Our hard work's paid off for everyone. ToyDirectory is now the #1 online presence in the Toy Industry:
Yahoo has been ranking us as the most popular directory of toy manufacturers and wholesalers for the past five years:
http://dir.yahoo.com/Business_and_Economy/Business_to_Business/Toys/Directories/
And Alexa.com ranks us as having significantly more daily reach per millions than other Toy Industry Web sites: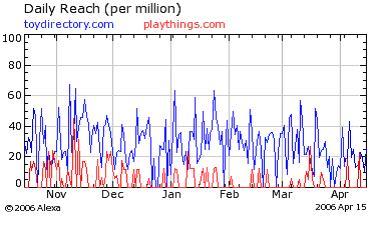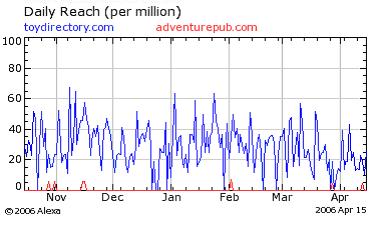 Our registered retailers find the toys they need by searching ToyDirectory and TDmonthly Magazine:
"I research to see who's doing what, what's coming out, who's the distributor, where I can get the merchandise."
— Carolyn Stevens, owner of Collectibles N Toys in Wayne, N.J.
"I go onto your site when I'm looking for information on new toys, anything new to the market and any news relative to the toy industry."
— Sherrie Cannon, owner of Discovery Depot in Cookeville, Tenn.
"I went through and found several things I was interested in, including Fanny's Playhouse (ToyShow). … I've ordered and they're great things, and I wouldn't have heard about them otherwise."
— Mary Sisson, owner of Kazoodles in Vancouver, Wash. (Opening March 2006)
And our manufacturer partners profit by the exposure and leads that ToyDirectory and TDmonthly Magazine generate:
"It's as if I have my own advertising creative staff supporting me and helping me to maximize our marketplace exposure. In today's highly competitive marketplace, every manufacturer of toys, games and gifts needs an Internet marketing strategy. For b. dazzle, inc., that Internet marketing strategy, simply stated, is ToyDirectory.com."
— Marshall Gavin, executive vice president, b. dazzle, inc. (with ToyDirectory since 2000) (ToyShow)
"Since we opened our Web site www.dandme.com six years ago, approximately 98 percent of our Web business is a result of our listing with you."
— Don and Mary Hurley, D and ME Wood Toys (with ToyDirectory since 2000) (ToyDirectory)
"TOYDIRECTORY = RESULTS."
— Stan Block, Teddy Bear Stuffers (with ToyDirectory since 2002) (ToyShow)
But we're not finished. As the needs of the toy industry change, so do our services. In the past year, TDmonthly Magazine added a Homeschooling Roundtable, teamed up with child development professionals for Expert Reviews, and uploaded TDmonthly Videos so that retailers can see toys move before ordering.
What's next? That depends on you. Whatever you need to help your business grow stronger, ToyDirectory and TDmonthly Magazine want to hear about it. Post a suggestion on our Forum. Let us know what you need. We're here to help, to keep vendors and retailers connected, and to make the next ten years more profitable for everybody in the toy and gift industries.
Have a question about this article? Having trouble finding a product? Post your question on our
Forum.
We'll attempt to answer your question within 3 days.