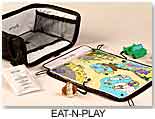 Baby Picnic on the Go
The Eat-n-Play Activity Cooler by Homegrown Kids, Inc. (ToyShow) holds up to four baby bottles, cups or water bottles, and has three mesh pockets, a reusable ice pack and three outside storage pockets for keys, wallet or diapers.
What sets this cooler apart? It folds out to reveal a detachable zoo-themed playmat that has coordinating tethered toys to interact with the playmat, making it ideal for restaurants, travel or home. The playmat has suction cups that attach to most flat surfaces and keep it in place. Three replacement Eat-n-Play Playmats will be sold separately and feature the My Town, Alphabet Soup and My Pretty Garden themes. Available in March 2004.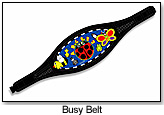 Busy Belt keeps Toddlers from Fussing
Invented by a mother who wanted to keep her young children occupied on backseat bike rides, the Busy Belt ($24.95, ages 0-2) is made of adjustable neoprene and comes with a safety buckle, interactive toys, zipper pocket, and adjusts to fit sizes 32-38 inches. Made of soft, washable fabric, the Busy Belt can be used for biking, car seats, carrier seats, table tops, shopping carts, strollers and cribs.
Floppy Plush Farm Animals For Baby
Bestever Inc. (ToyDirectory) is launching Confetti, their latest plush creation featuring farm animals sprinkled in pastel colors. Cute animals include a yellow tie-dyed chick, a pink tie-dyed pig and blue and lavender tie-dyed cow, available alone (retail $10) or clinging to a 3.5" by 5" square plush frame (retail $11) for baby´s picture. The entire Bestever selection can be found at specialty gift stores nationwide. Check out their new line at Toy Fair booth 2281.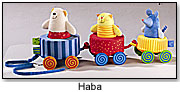 HABA Introduces Infant Toys
HABA (ToyDirectory, ToyShow) has come out with a line of infant toys, including Big Voyage, a three-part soft mobile for pushing, pulling and sorting skills. The figures are delightful cuddleskins which make different sounds. "Wagons" can stack and animals are safe and cuddly to take to bed. Wonder Dice are fabric shapes that are full of surprises. Their textured sizes are made of different materials that encourage touching and exploring. Happy Quartet are fabric cubes that each make a different sound, and beg to be touched. Fidelia, a soft cloth rattle, is a blossom wreath that can be detached from the center. Surprise—the stem turns out to double as a butterfly!
Shelcore Toys Unveils New Preschool Products
New preschool toys from Shelcore Toys include a seven-piece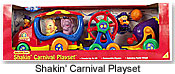 Shakin' Carnival Playset, which brings the sights and sounds of the fairgrounds directly into the home. The Sort 'N Shake Dump Truck is a toy that features real truck sounds and action, with four dump and sort shapes in different colors and textures.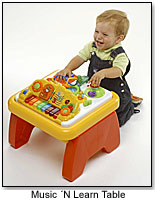 Music ´N Play Fun
The electronic Music ´N Learn Table by Chicco (ToyDirectory) features may activities to help develop baby´s coordination and musical skills, including an electronic piano with large colorful keys, flashing lights and fun melodies that is removable and can be carried everywhere; an activity center with woodland animals which has a matching sounds; and a construction base to create many combinations with the 10 building blocks included.


RC2 Corporation Debuts New Line of Infant Products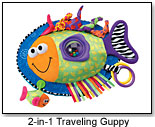 New infant and toddler products from RC2 Corporation (ToyDirectory) include the Lamaze line, which enlightens babies through three key stages of development, using toys that grow with baby. The Lamaze Grow with Baby Collection feature items that are designed to grow with baby through each stage from birth through one year, including Grow with Baby Busy Birdhouse, 2-in-1 Traveling Guppy and the Grow with Baby Discovery Island. The Lamaze Development System fosters physical, emotional and cognitive skills, and includes items such as Music and Me Spinning Mirror, Octivity Time and the Water Wonders Turtle.

Splish Splash, I Was Takin´ A Bath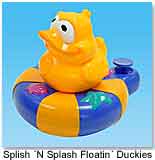 Silverlit Toys (ToyDirectory) is expanding its innovative line of toddler products with their new line of Splish ´N Splash Bath Toys, including everything from silly, squirting cartoon characters to mind-stimulating activity sets. For wee ones there´s the Splish ´N Splash Pals Collection, a series of collectible cartoon-like characters that float on multicolored tubes, as well as the Splish ´N Splash Floatin´ Duckies, a play set that includes a squeezable mother duck and her three squeaking baby duckies. These are sure to cause a big splash! For the toddler set, Silverlit offers the Splish ´N Splash Fishing Set, a realistic, easy-to-grip magnetized fishing pole, as well as two activity sets-the Splish ´N Splash Tug Boat and the Pelican Bath Set, each with suction cups to attach to a bathtub or tile.