---
How American Girl Became an "Experience"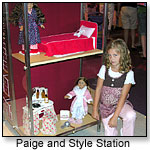 On August 18, 2007, girls from North Carolina, South Carolina, Alabama, Florida, Tennessee and other neighboring states flocked to the Atlanta, Ga., American Girl store, celebrating its grand opening as it joined locations in New York, Chicago and Los Angeles.

Many dolls, such as the new 21" Karito Kids by Kidsgive or those made by Carpatina, offer storybooks or clothing collections. But the 18" American Girl doll has reigned as the Queen of Dolls for elementary school-age girls since 1986. What has brought the brand such widespread success?

PLAYING WITH EDUCATION

For one, said parents and grandparents, American Girls offer a welcome alternative to other mass-market fashion dolls, such as Bratz and Barbie.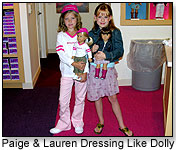 "My daughter won't let her girls play with those punk-looking dolls, but American girl offers a wholesome image that the child can embrace, and I think they are educational," grandmother Barbara Smith told

TD

monthly Magazine.

"My girls loved to read, and the dolls came with books," mother Debbie Mercier added, pointing out that although her girls are too old for the dolls now, they'll always keep them as favorites from childhood. "The girls could dress the dolls like the ones in the books and act out the adventures."

Other lines that have followed American Girl, including Karito Kids and the more established Only Hearts Club Dolls, have capitalized on this trend of mixing imaginative doll play with reading.

GOING BACK IN TIME

Another part of the line's appeal is its ability to capture different time periods.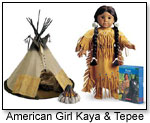 "Kids always brought their American Girl dolls to school on National Doll Day," said June McPherson, a former teacher in Lithia Springs, Ga., "Teachers really encouraged parents to buy these dolls for their girls because each of the dolls was a living history lesson."

The collection of dolls also portrays the distinct heritage of various ethnic groups, as do newer doll lines such as Only Hearts, Karito Kids and the Mixis from YNU.

Ruby Sims, an African American, pointed out that "the Addy doll helps my grandchildren know how our people lived back in the time of slaves."

And Lea Diamond, 8, is a Native American girl who loves Kaya. "The doll even has its own tepee, and it helps me understand how my ancestors lived," she told

TD

monthly.

SOMETHING FOR EVERY GIRL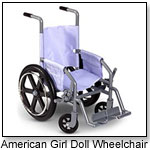 Dressing like the dolls is an attraction for many little girls, including 6-year-old Paige McQuirt, who loves the American Girl line of girls' clothing.

The dolls can even help girls encountering difficult situations in life. Lee Sorrows, confined to a wheelchair due to a broken leg, said that American Girl "has a wheelchair and a feel-better kit that includes crutches."

FORCED SCARCITY = POPULARITY

"The fact that now some dolls are being made for only one year, like Niki, and some are going away like Kit, makes the doll very limited, adding to its popularity," Carmen Resse told

TD

monthly on her visit to the new Atlanta store from Florida.

"American Girl encourages girls to dream, grow, aspire, create and imagine through a wide range of engaging and insightful books, age-appropriate and educational products," Spokeswoman Julia Parks of American Girl summed up. "It is not just purchasing a doll; we call it the American Girl experience."

Read more about dolls in Move Over Playstation and Dolls Won't Let Up. Or, to buy cool new dolls straight from playzak, go to our Holiday Gift Guide!

Following are some American Girl products, plus offerings from new companies that also offer a lifestyle approach to doll play.

First photo: Paige McQuirt and Lauren Hogg







Eighteen-inch Julie and Ivy come from way back in the 1970s, ancient history to most little girls, but not to their moms. In this collection, each doll is dressed in '70s fashions and accessories. It comes with two books: "Meet Julie" and "Good Luck, Ivy." Separately available are other 1970s fashions, such as top-stitched cowboy boots and peasant blouses.

.

AD
---






With a little luck o' the Irish, an 18" American Girl doll can become a serious step dancer in this costume.

.

AD
---






These summer dresses are made to fit any one of Carpatina's 18" all-vinyl dolls. The designs of the dresses have a vintage 1950's look. Launch date: May 2007.

.

AD
---






.

AD
---






Briana Joy sports a fur jacket, muff and hat to keep warm this winter. Her outfit can be bought separately, too ($10.00). Launch date: February 2007.

.

AD
---






Only Hearts Kids feature six adorable (4" tall) little siblings of the Only Hearts Girls and offer increased family play. Like the Only Hearts Girls, Only Hearts Kids are soft and poseable, and have glass eyes and rooted, combable hair. The assortment includes 3 Melody (Caucasian-blonde), 3 Kristy (Caucasian brunette), 3 Jessica (Caucasian-red), 1 Chelsea (Asian-American), 1 Sydney (African-American), 1 Trevor (Caucasian-boy).

.

AD
---






.

AD
---






Mixis™ collectible play dolls have been delicately designed with varying skin tones, realistically painted eyes, unique facial characteristics, fully articulated body parts and a naturally proportioned body. The focus is on the blending and fusion of races, ethnicities and cultures, encouraging a dialogue between children and their families that explores the richness and diversity of their individual backgrounds.

.

AD
---
THIS BANNER IS AN AD:
---
---