Jason Prince, vice president of sales for Sterling, confirmed the sock-monkey-and-beyond craze: "The Sock Doll Workshop," another Lark title, has already sold out of its first printing.

Have you noticed the fuzz-blowing soft-animal-stuffing machines showing up in the cards and gifts section of the local mega-supermarket? It could be time to try something similar in your own shop by providing books and materials to host a creative happening.

How-to books on toys have projects that range in complexity from simple paper boxes requiring three folds to wind-powered whirligigs that need power tools and adult supervision.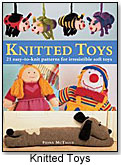 Book retailers don't always differentiate among make-it-yourself titles. Sally Oddie of Cover to Cover in Columbus, Ohio carries toy-making books with the rest of the activity books. However, at bookseller Borders, toy-making is a category within the larger crafts section. Good sellers for Borders, according to Beth Bingham, media relations representative in Ann Arbor, Michigan, include "Knitted Toys: 21 Easy-to-Knit Patterns for Irresistible Soft Toys" by Fiona McTague, in addition to wood-working books (e.g., "Making Heirloom Toys" by Jim Makowicki and "Making Toys That Teach" by Les Neufeld) that require some skill and dexterity.
The glue-and-scissors crowd can handle pretty much anything in artist Marilyn Scott-Waters's self-published, "The Toymaker: Paper Toys That You Can Make Yourself." However, one project, the Marble Mouse, gets its locomotion from a marble, of which most households usually have a spare or two. "And if the toy gets smooshed by a monster truck," explained Scott-Waters, "well, that's OK." The book is available in a children's bookstore and antique stores near Scott-Waters's home, and on Amazon.com, as well as directly from Scott-Waters.
Puppets are a natural, both as cherished toys and as projects. North Light Books, an imprint of F+W Publishers, provides a little help from author and former Jim Henson muppeteer John Kennedy in "Puppet Planet," according to Greg Hatfield of F+W. Some of Kennedy's designs are definitely Muppet-esque, with big mouths and limber arms and legs. Socks and plastic bottles are on the materials list.
Meanwhile, the humble sock monkey, once the gift of grandmas, has become an urban icon appealing to design-conscious people in their 20s, according to Leigh Ann Abrosia, director of marketing and publicity for Sterling Publishing Co. Popularity among young adults could indicate a trend for kids. And kids can make more than monkeys with "Stupid Sock Creatures" from Sterling's Lark imprint, creating a zoo of imaginary monstrosities.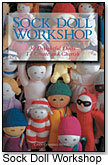 Jason Prince, vice president of sales for Sterling, confirmed the sock-monkey-and-beyond craze: "The Sock Doll Workshop," another Lark title, has already sold out of its first printing. Prince said that Sterling publishes great complementary books — books that enhance gift and toy company stock. Toy store owners don't have to become booksellers; instead, they can be very selective, carry only a few titles that relate to their specialties, and sell a lot of books, according to Prince.

Both F+W and Sterling carry Harry Potter-inspired craft books — "Wizard Crafts: 23 Spellbinding Toys, Gifts, Costumes and Party Decorations" from F+W and "The Book of Wizard Craft" from Sterling's Lark. One of these titles would display nicely next to wizards, dragons and other fantasy stuff.

Tried-and-true book publisher (and Sterling competitor) Dover Books specializes in the basics and the classics. "Easy-to-Make Old-Fashioned Toys" and "Easy-to-Make Whirligigs" are two moderately priced titles that could enhance or even spark a theme for the retailer.

The following books can be used to spruce up sales:

Norman Schmidt, a prolific author of several books on flying things made of paper, combines history and how-to for 19 different designs. The designs are on grids for ease in reproduction. Full-color photographs give kite-makers some idea of how the project should look at the end.

.

AD