Celebrating U.S. History with the Patriot Challenge Game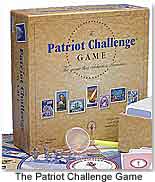 A new game from Patriot Challenge, Inc. (ToyShow), the Patriot Challenge Game takes stamp collecting to a whole new level of fun. Slated as the first game about America to feature unique stamp art from the U.S. stamp collection, this new board game brings American history alive to both children and adults. Players ages 10 and above can meet famous people, relive historical events, and experience the country's culture. Included among the miniature works of art in the game are the Pilgrims arriving on the Mayflower, the Boston Tea Party, the Signing of the Declaration of Independence, and the moon landing.
Aristoplay Gets You Playing
Aristoplay is launching a series of fun games for the whole family to enjoy. Buzz Off™, is a game of matching with a twist. It´s a fun way for kids to learn and match colors with the use of Fly Swatter. Missing Link™ lets players uncover the Missing Link to win the game. Contains over 590 questions from a variety of topics including music, literature, geography, sports, movies, television, history and more.
Proverbs, Fibs and Fun
New games for 2004 from Talicor include Proverbial Wisdom®, a game where players are challenged to sketch a proverb for teammates to guess, choose the correct meaning or origin of a proverb, or guess what proverb is represented by a pre-drawn picture; and Fib-Or-Not?™, an outrageously funny party game where players tell stories, learn funny things about each other, and see what their friends will believe. Just how well do you know your friends, and how well do they know you? Players take turns telling stories based on provoking subjects they select. But, it´s up to the storyteller to decide if they peddle the real deal or cook-up a tall tale. Then everyone secretly votes whether they think the story is a FIB...or NOT.
Sci-fiers, Rejoice!
Fleet Games, Inc. (ToyDirectory, ToyShow) is betting that space is the new frontier in board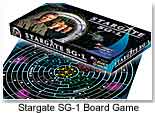 gaming. Their board game, Fleets…A Game of Galactic Conquest, is the first of their line of novel space-age strategy board games. Fleet allows players to command a fleet of starships, moving to and capturing star systems, and building and placing new starships to conquer the universe. Fleet Games also recently licensed the top-rated Stargate SG-1 series from MGM Consumer Products to create the first ever Stargate SG-1 Board Game based on the popular science fiction television series.
Superhero Puzzles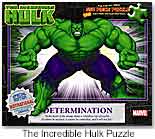 MasterPieces Puzzle Company (ToyDirectory) is introducing a line of puzzles based on Marvel's most recognizable superheroes, including Spiderman, The Incredible Hulk, Captain America, and the X-Men. The complete line of unique puzzles, offered in 550 (adult $14.99) and 100-piece (kids $8.99) versions, features superheroes with motivational and inspirational messages for both children and adults. Once completed and laminated with the protective glue offered by the company, these high-quality collectible puzzles are ready to frame and display. Each puzzle package contains a special offer for the puzzler to order a unique frame to display the completed puzzle.
Pirate Battles, Mutinies, Desert Islands and Buried Treasure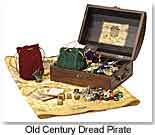 Rich in detail, history and good ol' fashioned fun, Old Century Dread Pirate is a slice of adventure gaming for the entire family. Created by Front Porch Classics (ToyDirectory, ToyShow), a manufacturer of "Coffee Table Games," Old Century Dread Pirate comes in an a cool authentic wooden treasure chest and is played on an illustrated and "aged" treasure map with cast metal playing pieces, replica doubloons, knuckle bones (dice), treasure bags and pirate treasure. The game was recently bestowed the Toy of the Year Award (T.O.T.Y) by Family Fun Magazine for the second year.
Games Abound at R&R Games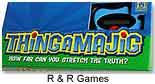 R&R (ToyShow) will showcase its new lineup of award-winning games at the Toy Fair, including a card game and three party games inspired by their runaway hit party game, Times Up!. Flea Circus (retail $15.95, ages 6 and up) lets players use their best Flea Cards to attract the most cats and dogs; whoever ends up with the most animals at their circus show wins the game. R&R party games include: Smarty Party (retail $24.95, ages 10 and up) gives players a chance to prove they´re the smarty-pants (literally!); First-Hand (retail $9.95, ages 6 and up) is a game that requires the sharpest eyes and fastest fingers; and Thingamajig (retail $19.95, ages 7 and up), a portable electronic game that has players trying to figure out a secret Thingamaword.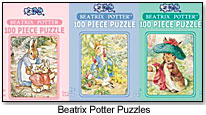 Welcome Back Potter for 2004
The new 100-piece Beatrix Potter puzzles from AMG will remind parents of a simpler (and quieter) time, before video games ruled the parlor. Each boxed puzzle measures 9" x 12" assembled and features one of Potter's famous illustrations from the Peter Rabbit books. Ages 6 and up.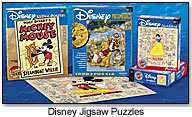 Buffalo Games Assembles New Disney Puzzles
With names almost as long as long as Disney's history, Buffalo Games new Disney Vintage Posters Signature 1000 Jigsaw Puzzles ($16) and Disney Sketchbook 500 Collectible Jigsaw Puzzles ($10) are sure to attract attention at Toy Fair this year.
The Vintage Posters series will feature recreations of the colorful lithographic movie advertising that was prevalent in the first half of the 20th century. The series will include Steamboat Willie, Winnie the Pooh and the honey Tree, Pinocchio, and 101 Dalmatians. The Sketchbook collection gives kids a peek at timeless characters such as Mickey Mouse, Goofy and Snow White while in their developmental stages of animation.

Vida Games Rolls Out Three New Games for Toy Fair 2004.
New from Vida Games, Birds & Binoculars ($9.99, ages 6 & up), is an entry-level strategy game for children that features over 20 bird species. Players use their memory, strategy and listening skills to collect flocks of birds. Bonus: the Binoculars card allows players to "cheat" by looking at other players' cards. But watch out for the "Dirty Bird!"
The new bilingual Spanish/English Green Alligators, or El Lagartito Verde ($9.99 ages 4 and up), features colorful illustrations and definitions in an English-to-Spanish format (i.e., sun/sol). Game play remains the same as the original and instructions are printed in both languages.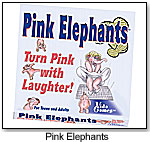 Pink Elephants ($15.00) is a party game for adults with colorful graphics and comic characters. More than 200 cards depict celebrities, unusual jobs and funny objects. Players draw a card and act, dance, sing, pantomime or whatever it takes until someone guesses your Elephant. (Javits Booth #6013)

Exciting New Board Game is the Rebirth of a Classic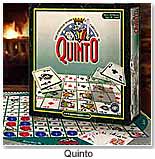 When the ancient Romans played their version of this game they didn't use playing cards or chips, they used stones. Quinto serves as the new and improved version of that Roman classic. The object of the game is for players or teams to gather enough points to defeat their opponents by aligning five chips in a row, either horizontally, vertically, or diagonally. Opponents will attempt to block and capture another player's pieces. This intelligent, strategic, and enjoyable game for ages ten and up is made by the Quinto Game Company (ToyDirectory, ToyShow).
Don´t be Afraid of the Dark
The Straight Edge´s new Night Animals Inside/Outside puzzle ($6.99) gives children the thrill of a little spookiness, along with a dose of education. A 12-piece, two-layered tray puzzle, the outside shows a spooky image of a patch of woods at night, with glow-in-the-dark eyes peering through the trees. Removing the pieces of the puzzle exposes an illuminated image of the same patch of woods, but with each of the night animals shown clearly. Easy-to-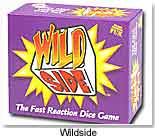 read captions describe the sleeping and eating habits of each animal.
Out of the Box Goes Wild
For a twist to the old "wild cards" games, Out of the Box Games (ToyDirectory) offers a new dice game called Wildside ($12.99), a game in which all players roll especially designed dice, and race to find a match. This new version of the game creates an exciting on-the-edge-of-your-seat experience, perfect for the whole family to enjoy.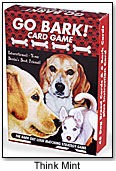 New Game Has People Barking
Dogs decorate the cards of Go Bark, a new game offered by Think Mint Incorporated. Billed as "Bark Out Loud Fun," the game features 48 full color pictures of 12 different dog breeds. Players try to collect four of each breed or a "dog pack." The game can be played like traditional Go Fish or with the more advanced Go Bark Rules. Special Bark Cards allow players to bark out loud (woof, yap, howl, etc.) to throw players off their "scent." The cards feature dog portraits by Wisconsin artist Sally Berner and include information about each breed.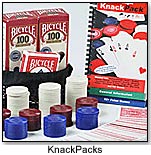 Poker On the Go
The Poker Night KnackPack (ToyDirectory) is a travel kit complete with a deck of cards, 200 poker chips and a handbook on poker basics, variations and rules to over 50 games, along with information on poker strategy, etiquette and more. This kit is perfect for an impromptu game of Poker during a road trip.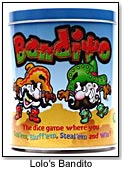 LoLo Premieres Four New Raucous Family Games
LoLo (ToyDirectory, ToyShow) has launched a series of family games, including Don't Make Me Laugh, Jr. Super Silly Pack, an add-on pack for the Don't Make Me Laugh, Jr. game featuring 300 additional cards; Bucket Blast, a versatile game that keeps the action moving at any party or gathering; Bandito, the hot new salsa supreme of dice bluffing games; and Pool Pirates, an outdoor game turns any pool into an ocean of hidden treasures.
Chinese Chess Gets Global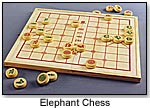 Chinese chess is one of the world's most popular board games and has been played throughout East Asia for over 1,000 years. The playing pieces have traditionally been identified using Chinese characters, so only those who could read Chinese could play. Now Elephant Chess Club (ToyDirectory) has launched a Chinese chess set in which pieces are identified by symbols on one side and Chinese characters on the reverse side, so that anyone can play this challenging game of strategy. Elephant Chess has also come out with a global version of Shogi, a unique chess variant developed in Japan. The sets come complete with an illustrated instruction manual.

New Board Game Challenges Golfers and Non-Golfers Alike
Shindig Productions has just released PUTT under PAR, a board game that tests golf knowledge and lets players navigate through sand traps and water hazards, score a hole-in-one or influence the game's outcome with golf trivia knowledge, challenging both golfers and newbies to the sport.

WizKids Launches First Game for Young Players
WizKids is taking a walk on the gross side with the release of Creepy Freaks, a 3D collectable game targeted at younger players. Creepy Freaks characters include Frosty the Snotman, hairball-spitting Spitty Kat, and Monster Under the Bed wailing the "Moan of Doom." Though the characters confront each other with nauseating imaginary moves, the game is geared toward nonviolence. The object of the game is to scare opposing characters in Freak Out contests and send them running away in horror. The game cards are also collectable and tradable. There are 56 Creepy Freaks, each one grosser than the next.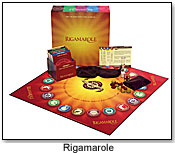 Rigamarole: Social Interaction in a Box
Challenges such as having to make the sound of a hairball, pantomiming a wedgie and getting blindfolded and taste-testing two kids of merlot make up Rigamarole (ToyDirectory), a new board game that continues the "variety game" trend. Rigamarole takes the variety to the next level with five categories of fresh games.
Rio Grande Releases Series of Historic Periods and Figures Board Games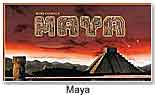 Rio Grande Games (ToyShow) has released a series of board games that teach children ages 12 and up about important historical periods and figures. The board games include Nero, where kids can learn about the last of the Julio-Claudian Roman Emperors; Age of Napoleon, a games that introduces two players to the Napoleonic times; Alexandros, where players can become Alexander's generals and control lands; The Prince, a card game in which players represent one of the great, powerful Italian families in Renaissance Italy; and Maya, a family board game set in middle America long before Cortez came to conquer the area.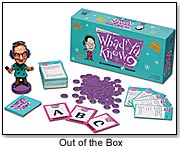 Out of the Box Introduces Eight New Innovative Family Games
Out of the Box Publishing (ToyDirectory), is gearing up to introduce a handful of new games for the family: Whad´ Ya Know?® — The Party Game, based on Michael Feldman´s public radio quiz show, lets players earn points by guessing the answers to outrageous questions based on general knowledge and opinion polls; WILDSIDE™ is the dynamic dice game where players roll specially designed dice, and race to find a match; CLOUD 9™, where the higher the balloon rises, the more points players can score; TUTANKHAMEN™, where riches and fame await the archeologists who chooses the best path; in a wave of challenges and bluffs, players compete for control of the sea in FISH EAT FISH™; 10 DAYS IN AFRICA™ and 10 DAYS IN THE USA™ are the unpredictable games of making connections; and BALANCING ALIENS™ will test players skills as they decide where to place the aliens on a wobbly spaceship.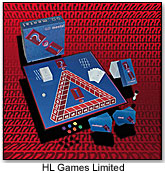 GO mental™ Hits the Toy Market
The U.S.-version of GO mental™, the new board game from HL Games Limited, has been recently launched. More than a trivia game, GO mental™ is a game of strategy and cunning, mixing together a kaleidoscope of famous people and ordinary objects, common knowledge and rare information.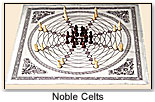 Noble Celts Revives the Joys of Pagan Chess
Noble Celts™ Chess by Dream Green takes the game back to its pre-Dark Ages origins, when the familiar checkered board was round rather than square. This ancient form of chess has gained popularity in recent years, and though the rules are the same as the modern version, the lack of side edges on the Noble Celts board brings new life to a timeless game. The board is decorated with Celtic/pagan designs on faux leather measuring 26" x 26." The chess pieces are cast resin. Facts and history on the development of chess are included.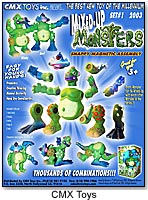 Mixed-Up Monsters
A recipient of Creative Child Magazine's 2003 "Top Creative Toy Award," Mixed Up Monsters by CMX Toys (ToyShow) is both a toy and a game. A child can create thousands of different monster designs using the magnetic limbs. Mixed Up Monsters can be played with toddlers as pattern recognition game, or with older children, a timer can be used to see how many variations a child can construct using all the pieces or only the hands and feet.
123 Find the Bee Makes a Buzz
Winner of a 2003 IParenting Media Award, 123 Find the Bee by Funlearning (ToyShow) is a hide-and-seek game with 96 miniature wooden objects—baseball bats, ladybugs, clothespins and jars—and 20 Riddle Cards. Objects include. Players spread the objects onto a table, read the Riddle Cards and start seeking. Since most of the objects are unfinished, children can paint or decorate each to their own taste. The game has three levels of play and is great for K-3 classrooms, or for parents looking for a rainy day activity.
Days of Wonder Launches Pirate´s Cove Game

Fans of last summer's Pirates of the Caribbean will go for this new game from Days of Wonder (ToyDirectory, ToyShow). In Pirate's Cove, players battle to become "the most famed and feared Pirate the world has ever seen." It's all about winning battles; burying treasure and generally being the swashbuckling-est pirate in the neighborhood. The game includes a colorfully illustrated game board and playing cards, dice, game pieces (tiny pirate sloops) and more.


Late for the Sky Productions Launches KISS and Cat in the Hat-inspired Board Games
Veteran board game maker, Late for the Sky Production Company, announces its release of KISS-OPOLY, a real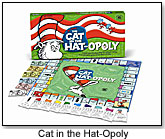 estate-style board game based on the longstanding music group KISS. This property game celebrates the achievements of the band, allowing players to own many of their greatest hits, their merchandise, and their albums while trading their Gold Records for Platinum Records. All the while, players must not get stuck in Sold Out Show, Lose Their Ticket, or Get in Trouble for Disturbing the Peace.
In conjunction with the Cat in the Hat movie release starring Mike Myers, Late for the Sky also has launched the Cat in the Hat-Opoly board game, featuring Dr. Seuss´ delightfully off-kilter characters.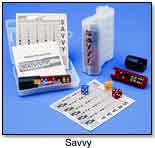 Kopptronix Gets Savvy With New Game
A hidden code game, Savvy by Kopptronix (ToyDirectory) employs six different dice set-up in a unique duce holder. The Code Breaker must guess the hidden dice code sequence, first in dots and then in colors, that was secretly set by the Code Maker. No need to buy extra score cards-they are free to download from any computer.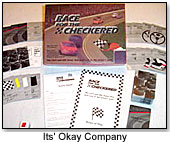 New Game Puts Players in the Driver´s Seat
Itsokay Company has recently released Race for the Checkered, a playing card and die game that transports players into the world of stock car racing. Bonus Points, Penalty Points, and other unexpected "surprises" give players a chance to encounter what professional drivers experience while racing for the Checkered Flag and the Championship. Ladies and Gentlemen, "start your game."
Games for All Reasons Strikes a One-Two Punch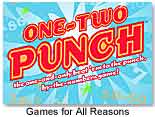 Games For All Reasons, LLC, the award-winning manufacturer of educational board and card games, is introducing its sixth game, One-Two Punch. A game of knowledge, strategy and luck, One-Two Punch has players matching number combinations with a roll of the dice and guessing from "by-the-numbers" clues. The game can be played by two to six players or teams, and features 500 clues, 140 numbered tiles and five different sets of winning combination cards.

Learn How to Communicate Better in Your Jungle
Howling Monkeys is a colorful communication board game that helps make its players more aware about how they communicate, including eye contact, non-verbal language and choice of words and imagery. Based on building self-confidence and positive teamwork, the game is suitable for any occasion, from late-night parties to family reunions, and players ages 9-99.
New Games from HABA
A new line of games and activities from HABA (ToyDirectory, ToyShow) include Dancing Eggs, which lets kids play a variety of games using rubber and wooden eggs; Wooden Magnets come in 95 classic wooden HABA shapes and colors, and are sure to entertain and inspire creativity; and classic beech Wooden Blocks are specially sized to integrate with HABA's award-winning Ball Track Construction Set. Ranging from 26 pieces to the giant size with 102 pieces, each of these sets and accessories are heirloom quality and good for hours of open-ended play.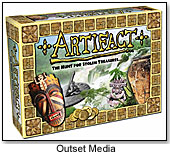 Outset Media Gets Into the Game
A new strategy game released by Outset Media (ToyDirectory) called Artifact requires strategy, memory, negotiation skills and luck to contribute in repatriating stolen artifacts to their rightful country. Things is a highly addictive party game of provocative topics, where all players participate in every turn. Players write down answers, all responses are read aloud, then players take turns guessing who said what.
Building upon their collection of award-winning educational children´s games called Professor Noggin´s Card Game Series, Outset Media has released the following titles: Reptiles and Amphibians, Wildlife Safari, Earth Science, American Civil War, American Revolution and National Parks.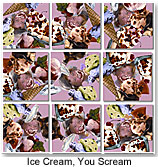 b. dazzle Continues to Dazzle With its Puzzles
Continuing with their hugely popular line of Scramble Squares puzzles, b. dazzle (ToyDirectory, ToyShow) plans to release a variety of new styles in 2004, including: Alaska!; American Native Flowers; Boating; Boston; Bunnies; Chili Today, Hot Tamale; Classic Cars; Covered Bridges; Fly Fishing; Hot Air Ballons; Ice Cream, You Scream; Red Hats and Retrievers.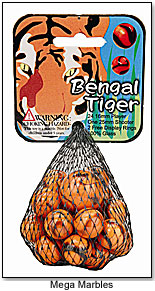 Even More Mega Marbles
Mega Marbles (ToyDirectory) has recently introduced seven new styles as part of its extensive toy marble selection. The new styles include Bengal Tiger, T-Rex, Stegosaurus, Iguana, Tiger Shark, Cockatoo and Wizard. Each marble game net contains one shooter marble, 24 players and an eye-catching header card.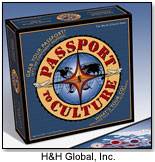 Passport to Culture™ Board Game
Along with highlighting cultural similarities and differences, Passport to Culture™ by H&H Global, Inc. promotes the importance of cross-cultural understanding as a foundation to enhance communication and acceptance of all people. The game tests knowledge of world cultures with fascinating questions about people and places, food and drink, world treasures, greetings and gestures, and customs and traditions.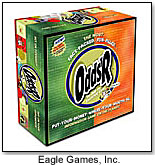 New Board Game Answers Hilarious Questions
Eagle Games, Inc. (ToyDirectory, ToyShow) is meeting the demand created by the current board games craze by answering all sorts of hilarious questions with its newest product, Odds ´R™. The game turns the trivia genre on its head by offering players the chance to answer humorous questions (written by professional television comedy writers) that are based on common sense rather than memory. The added twist is that players wager chips on whether their opponent will answer correctly. This adds a whole new level of game-play as betting, bluffing, and psychology are added into the traditional question and answer format. The creator of Odds ´R is Roger Schlaifer, one of the minds behind Cabbage Patch Kids, the mid-´80s toy phenomenon.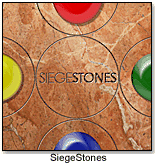 Live Oak Games Gets Into the Classics
Just released from Live Oak Games (ToyDirectory, ToyShow), SiegeStones is a new abstract strategy game for 2-4 players. In the tradition of the classics, this wooden game both looks great and is a blast to play. Players win by using stones to capture four towers. Looks easy…but think again. Also from Live Oaks Game is Ice Lake, which has won Creative Child Magazine´s Seal of Excellence.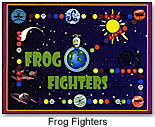 BLOCK-IT-POCKET GROUP Adds New Games
The BLOCK-IT-POCKET GROUP has introduced two new games, including BLOCK-IT-POCKET, an original billiard-board game that offers the fun and challenges of a real billiards game; and FROG-FIGHTERS, a board game for children ages 5-12 that helps kids learn about math, space, planets and more.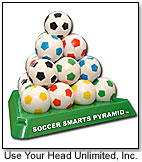 Smart Pyramids
Use Your Head Unlimited, Inc. (ToyDirectory) are enjoying much success with their recently released Smarts Pyramid, a brain teaser that is available in six of the world's most popular sports themes, including golf, soccer, baseball, football, basketball and tennis. Teachers are using the puzzle as a "warm up the mind" activity before tests as well as a classroom break. The puzzles are recently finding use as a replacement for the traditional trophies given by youth sports, as well as a great gift idea or corporate premium. Creative Child Magazine recently awarded the puzzle with a "Seal of Excellence."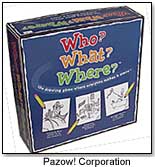 Pazow's Who What Where™ Makes Fun of Bad Drawing Skills
Named "2003 Best New Game of the Year" by The San Francisco Chronicle and #2 in The Chicago Tribune's annual list of "Top 10 Cool Games" Pazow! Corporation's new drawing board game, Who What Where™ allows players to have fun with their poor drawing skills. Each player takes a Who card, a What card and a Where card and tries to draw the scene described therein in about four minutes. Players might have to draw "Bill Gates Sumo Wrestling In A Trailer Park" or "Elvis Presley Riding A Pogo Stick In Paris" or thousands of other ridiculous combinations. When they're finished, players pass their drawings around and let others try to guess what the scene is for points. There are an incredible 1,728,000 unique scenes for players to draw in every game. The worse artist you are, the more fun the game! For three or more players, ages 12 and up.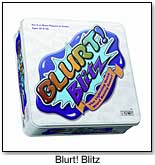 Patch Products Debuts Updated Games for 2004
After 10 years of selling its popular Blurt! board game, Patch Products, Inc. is extending its word racing game play to Blurt! Blitz, which adds team play and an electronic timer. It is a race against fleeting time, worthy opponents and your own brain. In Blurt! Blitz, two teams scramble to collect cards by describing words to their teammates and getting their teammates to blurt them out. Players may explain or act out the word however they wish, and the electronic timer keeps the game full of suspense. Blurt! Blitz includes 1,000 cards. The game is for 4 or more players in teams, ages 10 and up.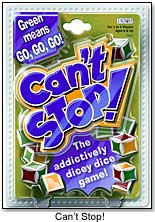 Can't Stop dice game from Patch Products, Inc is a simple, but addictive game that's perfect for families, kids and young adults. In Can't Stop, players roll 10 dice that have green, yellow and red sides. If on any roll, you don't get any greens and get one or more reds, your turn is over. The goal is to get to 100. Can't Stop takes a little luck, a little strategy and a whole lot of dice throwing. Packaged with colorful graphics in a 3-D clamshell, Can't Stop includes 10 dice and a reusable plastic click case. The game is for 2 to 6 players, ages 8 and up.

After fourteen years and three million games sold, the classic TriBond board game now has improved game play, a three-dimensional game board and triangular-shaped packaging. TriBond is known for its Threezer™ riddles, which are a list of three things that have something in common. The TriBond game's new game play uses a three-dimensional game board with three levels of play and divides players into two teams. Each level of the game will increase the difficulty and add new twists like hints and switching positions on the game board. On the third level, teams must answer three Threezer riddles in a row to win the game. TriBond is for 4 or more players in teams, ages 12 and up.

Giant Spoons makes the classic spoons card game bigger than life. The game comes with a deck of playing cards and seven GIANT spoons. Players race to pass cards and get four of a kind. Once you do, grab a giant spoon from the middle of the table. Now, all the other players have to grab a spoon to stay in the game. Each round someone will be left without a spoon and will be eliminated. Giant Spoons is for 3 to 8 players, ages 8 and up.

Patch Products, Inc. has added the award winning Hedbanz for Kids game to its current line of children's games. This classic game was originally introduced to the United States in 1993 and is currently available in 22 countries. In Hedbanz for Kids, players ask questions in order to figure out if the cartoon on their head is an animal, food or a household item. Am I a pet? Do I have wings? What noise do I make? Players can ask any question except, "What am I?" Hedbanz for Kids includes 72 cards and six plastic headbands. The game is for 2 to 6 players, ages 7 and up.

Patch is introducing Magnetic Puzzles, Fish Addition™ Puzzles and Color Train™ Puzzles. Magnetic Puzzles can be stuck to your refrigerator or any other metal surface. Each box has two 9" x 9" puzzles and each puzzle has nine-pieces. Choose from colors, farm animals, fruits and pets (ages 1 and up). Fish Addition™ Puzzles include 25 individual puzzles, each containing a basic addition problem. When kids put the pieces together, they solve the addition problem and the puzzle at the same time (ages 3 and up). With Color Train™ Puzzles, all the colors in the rainbow link up to make a 12' long train (ages 3 and up).
Imperial Patriotic Poker Playing Cards will join the current line of Poker, Pinochle and Outdoorsman™ playing cards that were introduced in the spring of 2003. Imperial Patriotic Poker Playing Cards are made with a high-quality linen finish. There are two versions: an American Eagle with the United States flag and the Statue of Liberty with the United States flag. Both read "United We Stand."

Go Ask Anyone Gets People Gabbing
Go Ask Anyone, Inc. (ToyShow) has recently launched their line of unique conversation card games with six new versions: Go Ask Your Father, Go Ask Your Mother, Go Ask Your Grandparent, Go Ask Your Teenager, Go Ask Your Girlfriends and Go Ask Anyone. The decks consist of 52 entertaining, interesting and enlightening questions for sparking great conversations for the targeted groups, such as "What musical group do you think will be around in 20 years" and "What magazine´s cover would you want to be on?"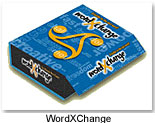 Prodijeux Gets Wordy
Prodijeux (ToyDirectory) will be unveiling at Toy Fair 2004 its new French version of its award-winning games, WordXchange and WordXchange Junior, and will be showcasing those games as well. Both games help build vocabulary and increase logic skills in everybody from children to adults. It´s so fun to play no one will realize they are actually learning!

Fantasy Flight Games Produces New Collectible Card Game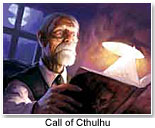 Fantasy Flight Games is proud to announce that it has acquired a license from Chaosium, Inc. to produce the official Call of Cthulhu collectible card game.

The role-playing game and related merchandise have been perennial favorites in the hobby games industry since the early 1980s. Originally derived from the works of the author H.P. Lovecraft and other novelists, the Cthulhu Mythos genre has inspired products as diverse as movies, plush toys, board games, role-playing games, novels and many more.

Fantasy Flight's Call of Cthulhu Collectible Card Game will present new and innovative game play, which will be simple, fast, and yet provide a deep and dynamic experience for players. The Call of Cthulhu features the flavorful "pulp" feel of the 1930s, filled with arcane tomes and secrets, paranormal investigations, the elder gods and their terrible servants, dark sinister plots, inhuman conspiracies and dangers from beyond the stars.