To view fresh arts and crafts products for the holidays, click here.

Girls love to make things and show others how creative they can be. They love to sew, bead, make jewelry and so much more. A little more than 300 tween girls were polled on what kinds of crafts they like to do. With this information, it was clear where they were headed: They love to make things that are good for them, whether it's using homemade soap to get clean in the shower or sewing patches onto their old boring jeans to liven them up a little bit. Arts and crafts by the girls, for the girls, is the way to go.
Beach Beads
by
CREATIVITY FOR KIDS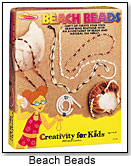 Not only can one have fun while doing this, but the end result is just so cute. These beads are perfect to give oneself the "I just got back from some really tropical island in the middle of the winter" look. Or if it is actually nice out, they add to the flair of your warm, sunny day outfit.
Winter Breeze Wind Catcher Kit by BJ CRAFT SUPPLIES
Bad dreams? Not anymore. An assortment of feathers, some pretty leather and string is all it takes. With this Native American-inspired craft, people all over are hanging these dream catchers over their beds to ensure a good night's sleep.
Modeling Wax Candles Kit by HEARTHSONG
So you like flowers … you like hearts … you are totally obsessed with Christmas. Whatever you like, whatever you want to make, you can make it with this kit. Use the wax to create candles of the things you love. Give them as presents, display them in your room … and maybe even light one.
THE HOUSE OF HEMP
If you check out their Web site, you can customize exactly what you want in your "hemp kit." If you think the brown color hemp is ugly, then get all pink! And if you want big shell beads instead of small ones, then add those in there too. It also teaches you different stitches and cool techniques so you can get the job done better and faster, and have way more creative pieces.
Sterling Calligraphy for Kids

by

STERLING PUBLISHING CO. INC.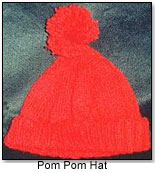 The art of calligraphy is one that is very hard to master. But once you've got it down, everything is so pretty! There's the book, the tools and all the right techniques included here that start kids out slow, but get them pretty advanced!
Knitted Hat With Pom-Pom by KIDS KITS CRAFTS
As it begins to get colder, everyone is in need of a hat. It's great for just about anything whether you want to rip down the slopes on your twin-tip skis, or have a "peaceful" snowball fight with some friends. The best part about it is, you made it.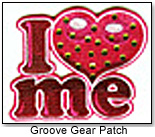 Groove Gear Patches

by

GROOVE GEAR INTERNATIONAL LLC
After a while, those plain jeans you've had for a couple of years can get kind of boring. Instead of getting rid of them, spice them up! Sew or iron on patches that express your personality and style. From butterflies to smiley faces to dragons to motorcycles … it's pretty easy to find what suits you.
Jacquard Original Tie Dye Kit

by

RUPERT, GIBBON & SPIDER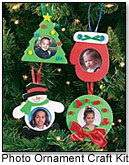 Socks, T-shirts, underpants and shorts … you name it, it can be dyed. Play around with different patterns and fun colors to create the ultimate original shirt. Some say copying is a form of flattery, but in this case, I guess you'll never know!
Holiday Photo Ornament Craft Kit

by

ORIENTAL TRADING COMPANY
With Christmas just around the corner, nothing gets you into the holiday spirit more than listening to some Nat King Cole, watching those chestnuts pop and making some Christmas tree ornaments. These ornaments allow your creativity to shine as well as look cute on the tree.