In addition to raising two girls, ages 7 and 2, Maryam Seyedhosseini has a degree in child and adolescent development from the
California State University
, Northridge. She currently teaches the arts to pre-kindergarten children and has previously counseled at-risk youth. Her background as a mother and as a childcare professional gives her a unique insight into toys. Here she shares her impressions of new toys with TDmonthly Magazine.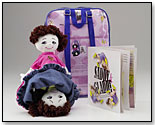 Saddy and Gladdy Doll and Book by IVY HILL BUNCH'
Age: 3 to 12
Gender: Girls
Price: $19.99

First Impressions
This soft rag doll is dressed in colorful clothing. She has a happy face on one end, but flip her and her dress over, and a sad face is revealed underneath. The doll is floppy and lightweight, which is perfect for a small child. The accompanying book has very appealing illustrations. Both items can be carried in a little clear vinyl backpack.
Developmental Stage
The Saddy and Gladdy doll and book help young children understand and cope better with their emotions. They can use it to communicate how they are feeling in a simple manner. Reading the book and showing the doll to the children helps them visualize an emotion and its consequences at the same time. Because they see the doll's reaction, the result is reinforced.
Skills Reinforcement
The toy teaches children that it's okay to show and talk about their feelings. They realize that there's nothing wrong with being sad sometimes; even a doll may feel sad. The story talks about the doll's day, which has its ups and downs, just like a child's day. If old enough, the child can then draw about her own feelings. She will also learn about what kinds of things make a person either happy or sad.
I asked a couple of 4-year-olds who are not very sensitive about others to join me and play with the doll. After playing and reading the book several times, they become more aware of each other's feelings. Every time they did something thoughtless, I reminded them about Saddy and they stopped right away.
Playability
The realistic situations presented by the doll and her book make it a good toy to enact some of the child's everyday feelings. Children can come up with their own skits and show the happy or sad face, depending on how the character feels.
Recommendation
I recommend this toy highly, especially to parents whose children have difficulty expressing themselves. It's a great tool for educators and also therapists to use when working with children who are in difficult situations. The book is very good, but the doll also works well by itself.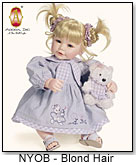 Name Your Own Baby
by
ADORA INC.
Gender: Girls
Price: $70.00

First Impressions
The doll is very heavy and life-sized. It is more of a collectible than a toy. It is not the sort of doll that a little child would want to play with. My 2-year-old daughter was afraid to touch it, perhaps because the face and body posture were too realistic, or perhaps because it was just too big. My 7-year-old said that the doll was not cute. She did, however, love the clothes, which she examined thoroughly.
Recommendation
This is a great doll for an older child or adult collector.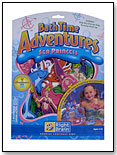 Bath Time Adventures Sea Princess by RIGHT BRAIN (ToyShow)
Age: 4 to 8
Gender: Girls
Price: $9.99

First Impressions
These soft, nicely cut shapes have very appealing colors and are easy to handle. The underwater castle motif gives girls plenty of room for imaginative play.
Developmental Stage
This toy is not only a puzzle but also a tool for developing a child's imagination skills. Although there is a certain way to put the puzzle together, children can also construct their own imaginative castle.
Skills Reinforcement
Children can use the pieces to tell their own stories and further develop their fantasy lives. The puzzle aspect of the toy develops their problem-solving skills.
Playability
Since the characters live underwater, my children enjoyed playing with them in the tub. The soft foam pieces nicely adhere to the wall and shower door of the tub. My 2-year-old's favorite figure was the dolphin, because she could throw it out of the water, and then it would fall back into the water, like a real dolphin. Putting the puzzle together was a bit difficult and confusing for the first time so my daughter decided to choose another way of putting the pieces together. There are holes for the character pieces on the castle, but if a child adds them all, the castle topples over.
Recommendation
I love this toy. It has a nice design, it's a good learning tool and it helps children create a story. It also has a nice and practical storage net, so the pieces dry without mildew.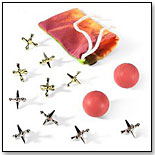 Jumbo Jacks by CHANNEL CRAFT & DISTRIBUTION INC.
Age: 5 and up
Gender: Girls and Boys
Price: $7.00

First Impressions
This little game comes in a nice travel-size package. The thin case protects the game from damage.
Developmental Stage
Playing with jacks helps a child develop eye-hand coordination, pace and speed.
Skills Reinforcement
This is a very practical and traditional game. It is a great learning tool. Children learn how to count, take turns and concentrate on playing the game.
Playability
The jacks are very sharp and pointy, which could make them dangerous for young children. Because of the metal part, it isn't as useful as it should be for children; I hide it from my kids. I wish all of the parts of the game were as soft as its squishy red ball.
Recommendation
I recommend jacks for teenagers and adults but not for children.