---
TDmonthly's Top 10 Most Wanted Stocking Stuffers
What's small, fun and fits in a Christmas stocking? Throughout the past few months, TDmonthly Magazine has been on the lookout for things smaller than a breadbox that could keep kids quiet until the big gifts are ready for opening. We also asked retailers what some of their best mini items were. Here's the outcome: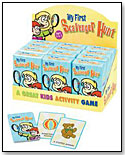 My First Scavenger Hunt is a great activity for energetic youngsters. The cards ask the players to find the object shown, such as a toy, a sock or something red. At the end of the game, kids are challenged to try to put everything back as fast as they can. My First Scavenger Hunt is great for improving vocabulary; teaching color, shape and number recognition; encouraging creativity; fostering listening and observation skills; and reinforcing good cleanup skills.
— "You know what I love? Scavenger Hunt sets," said Terri Bracken, owner of Earth Explorers Toys in Zionsville, Ind.
— It's also available as a Travel Scavenger Hunt for ages 7 and up and an Indoor Scavenger Hunt for ages 8 and up. All of the sets are selling very well in Bracken's store and would make perfect last-minute holiday gifts, she told TDmonthly Magazine.
— This game was launched in Summer 2005.

ToyDirectory Product ID#: 5640

(added 11/21/2005)

.

AD
---






Satisfied Pet Carrier owners will be thrilled that the number-one Aurora product is now available as a key chain or decorative accessory. Great for backpacks, purses or even existing Pet Carriers, the mini Pet Carriers are 3.5" and available in 12 styles. Each mini Pet Carrier includes a removable, lovable pooch (i.e., Poodle, Chihuahua, Beagle, etc.) and is embroidered with "Diva," "Sweet," "Princess," "Girls Rule," "Precious," "Charmed," "Super," "Chic," "Cool," "Rockin," "Best Friend" or "Dream."
— "For little girls, a cute stocking stuffer is these little pets in a purse," said Mark Slotin, owner of Imagination Station in Spartanburg, S.C.
— Pets in a purse has been a trend in plush this year, retailers agreed.
— The full-sized Fancy Pals were one of Aurora's best sellers for 2005, said publicist Dan Grody.

ToyDirectory Product ID#: 4122

(added 8/9/2005)

.

AD
---






These tiny 3" vinyl dolls resemble workers you would expect to find in Santa´s workshop. The first series of Ice-Bots include 14 different characters. One secret design has yet to be released. The dolls are packaged blind, so the character's identify is a surprise when the box is opened.

— "Mostly adults buy these," noted Tory Middlebrooks of Lulubell: A Toy Bodega in Tucson, Ariz. "They're usually collectors of art toys."
— Another retailer pointed out that collectors start young. These Bots make a good start.

— The Bots were launched in Summer 2005.

ToyDirectory Product ID#: 4575

(added 9/13/2005)

.

AD
---






In the Gloom card game, the goal is to suffer the greatest tragedies possible before passing on to the well-deserved respite of death. There are horrible but winning mishaps such as Pursued by Poodles or Mocked by Midgets that lower a player's Self-Worth scores, or happy, but losing events such as marriages. The player with the lowest total Family Value wins. Printed on transparent plastic cards, Gloom features an innovative design by noted role playing game author Keith Baker. Multiple modifier cards can be played on top of the same character card; because the cards are transparent, elements from previously played modifier cards either show through or are obscured by those played above them. You´ve got to see (through) this game to believe it.
— Gloom is a great seller at the Wizard's Chest in Denver, Colo., said owner Kevin Pohle.
— "It's a darker humored game, but well-adjusted children will understand and enjoy it," Eric of Gamescape in San Francisco assured TDmonthly Magazine.
— "I have high hopes it will do really well; it's the first time it's been available at Christmas," John Nephew, president of Atlas Games told TDmonthly. "It's ideal for older kids and teenagers who are at the point of appreciating things morbid and ironic — especially surly teenagers with a Goth bent!"

ToyDirectory Product ID#: 4153

(added 8/15/2005)

.

AD
---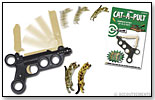 Do cats really always land on their feet? With the Cat-A-Pult you can put the old saying to the test by flinging felines across the room. Just load one of the 1-3/8" plastic cats into the 5-3/4" plastic shooting device and pull the trigger. You may question the concept at first, but after propelling a few kitties across the room the company claims you'll be a believer too. Each shooting device comes with ample feline ammo for a full-fledged cat-flinging party! Four cats are included. The concept is also available in Chicken Chucker, Boss Toss, The Wedding Slinger, Baby Shower, Ninja Attack, Love Gun and the best-selling Pig Catapult.

— Kids love this toy, said

Jordan Walden, manager of Finnegan's Toys and Gifts in

Portland

,

Ore.

— It's also a great seller at Golden Aspen in Flagstaff, Ariz., noted sales associate Sherri Anaya.

— Cat-A-Pult is No. 4 on Accoutrements' 25 top-sellers list. Chicken Chucker is No. 2.

ToyDirectory Product ID#: 4805

(added 9/26/2005)

.

AD
---






These Painted Tip, Inside-Out Balls come in two sizes. When flipped inside out, the painted tips reveal an array of color. They were introduced in January 2005 and have exceeded the company´s retail expectations.
— Virtually every retailer who has these products has told TDmonthly Magazine over the past year that this is a hot-selling product.
— "Are you kidding? They love them!" Chuck Susmilch, owner of J.T. Puffin's in Madison, Wis., responded when asked how well they were selling at his store. "We always sell a lot at Christmastime." He said that other stretchy products, such as the Urchin Ball and Glow-in-the-Dark, Inside-Out Ball from Play Visions, were also great sellers.
— It's a ball … it's a wig … it's anything you want it to be! Retailers want best sellers and the Inside-Out Ball is that, too, which is why it was chosen for a TDmonthly Top Seller 2007 award.

ToyDirectory Product ID#: 2673

(added 1/31/2005)

.

AD
---






These 6" guns transform potato pieces into flying pellets. When the tip is pressed into a raw potato, it breaks off a small piece that becomes ammunition. The harmless pellets can travel across a room. One potato can provide hundreds of shots.

— The potato gun can be taken apart for cleaning, but kids should be careful not to lose the spring, advises a "Kid Reviewer" on Amazon.com, who calls the gun "awesome!"

— The potato shooter was recommended as a great stocking stuffer by Mark Slotin, owner of Imagination Station in

Spartanburg, S.C

., because it's inexpensive, small and fun.

— Popguns were also touted as fun stocking stuffers by retailers across the country.

ToyDirectory Product ID#: 3783

(added 6/15/2005)

.

AD
---

Writer's Bio:
ALISON MAREK is an award-winning writer, director and cartoonist whose work has been published by Fairchild Publications and DC Comics (Piranha Press), broadcast on Showtime and other cable networks, and viewed worldwide in film festivals. See her short films and print work on www.alisonmarek.com. Watch her nefarious villains in the web series www.MuggsMovers.com. Get inspired by her cartoons "Daily ARFFirmations to Unleash Your Inner Fido" at www.ARFFirmations.com. Phew! And then ...
Read more articles by this author
THIS BANNER IS AN AD:
---
---