"In these days of online ordering, sometimes you can't talk to a real person. Stan and Annette always pick up the phone." — Sharon Reynolds, Hanai Bear

Teddy Bear Stuffers (ToyShow), the brainchild of Stan and Annette Block, has enticed many an entrepreneur to join the highly lucrative stuffing machine business. Even though they come from diverse backgrounds, these stuffing machine owners can all agree on two things: Sales are strong and the Blocks are ideal business partners.

A Family Affair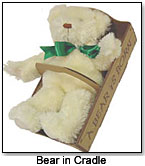 During a trip to San Diego, Ron and Sharon Reynolds saw one of the Teddy Bear Stuffers machines at a mall. They struck up a conversation with the owner, then got in contact with Stan and Annette Block. They now own Hanai Bear in Honolulu and two stuffing machines.
"I thought it would be fun to do. I brought it up to my two sisters and brother and their spouses, and they agreed," Reynolds said. She resigned from her teaching position to run the company full-time, with the help of her son and one sister, while the rest of the family helps out however they can.
"People can't believe we still speak to each other," she quipped.

Opening up shop barely a month after September 11 in a high-end Honolulu mall frequented by tourists, "the timing was not good," Reynolds admitted. "Tourism stopped."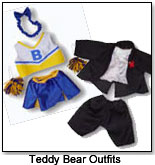 Yet, the company managed to stay in business, perhaps, as her husband noted, because "we came at a time when people needed something warm and fuzzy."
Since then, the company has moved to a more inland location frequented by local families and military personnel. Business has been solid, with customers commenting on the high quality of the animal designs and plush material. Reynolds expects to sell around 4,000 bears between Thanksgiving and Christmas.
Fun Never Fades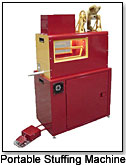 Randy Meese, president of R. Meese Inc. and operator of four Teddy Bear Stuffers retail locations throughout Ohio, had been an entrepreneur who wanted a change of pace. The year was 2002, the 100
th
birthday of the teddy bear. "I figured the product had staying power," Meese said. He began looking at different teddy bear stuffing companies, and found Block's operation to be "the most stable."
"[Stan] was able to answer our questions," Meese said. "He told us exactly what we needed to do."
Meese branched out to an additional three stores and has plans for another four stores in 2006. Each of his present locations is focused around just one stuffing machine, though one store includes a few additional products.
Mike Alford, a licensed Teddy Bear Stuffers operator has two stuffing machines at his Katy, Texas, in-line mall location. A nurse who is a self-proclaimed workaholic, Alford met Block at the 2004 Dallas Market and bought his first machine shortly thereafter. These days, Alford's daughter, Jennifer Neal, runs much of the operation.
Going the Extra Mile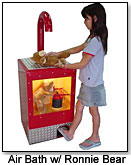 "What sold me on Stan was his honesty," Alford explained. "He does great customer service. I'm glad I bought my machine from him," he continued.
Reynolds echoed this sentiment. "They're really upfront, sincere, and take suggestions to heart," she said. "In these days of online ordering, sometimes you can't talk to a real person. Stan and Annette always pick up the phone."
Not only does Block make sure that Meese has enough inventory, he takes care of the details, too. "I could call him and say a couple of little tiny light bulbs have burnt out and know that he'd send new ones within two days. He'll do whatever it takes to keep that business running," Meese raved. "He's 100 percent involved with the people who have the machines."