"The Pond Investigation Kit would be great for homeschool study." — Lynn Costine

Five homeschooling moms in

North Carolina

and their nine tween daughters evaluated six toys for TDmonthly Magazine. Whereas Respond! by Jax Ltd. (ToyShow) was tops for pure playability, Treasure Box Press's Pond Investigation Kit got the highest marks for being both fun and educational, followed by Norman & Globus's Energy Wiz. (Click here to view the full results of the survey: Homeschooling Moms Rate Toys

)

Evaluators were Lynn Costine and Sarah (12 years), Anna (10) and Emily (8); Julie Petoia and Cabot Lee (11), Talia (9) and Malynne (8); Susan Ledford, Victoria (10) and Joe (6); Shawna Hughes and Alexa (10); and Allison Seagle and Sara (11).

Respond!

by JAX LTD. INC.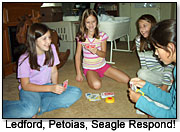 Moms Hughes and Seagle found the instructions convoluted, but the play easy and fun. The Ledfords liked racing the timer and finding unusual words. Victoria and Joe hunted insect guides for bug names.

"Mom and Dad can be coaxed into playing easily," Mom Costine enthused.
"Let's play again!" cried Alexa.
The Ledford, Petoia and Hughes moms hope that Jax Ltd. will offer extra category cards. Both Petoia and Costine moms want to buy more games from Jax. "My kids would definitely request a toy like this," concluded Petoia.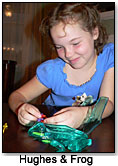 Sam's Science Adventures Pond Investigation Kit by TREASURE BOX PRESS LLC (ToyDirectory)
"The lesson booklet is very organized," commented Mom Costine. "The Pond Investigation Kit would be great for homeschool study."
"I can't believe there are things in that water!" cried Malynne.
"The [model] frog is so cool!" said Anna.
Victoria designed her own experiment, to see if she could filter the pond water. "It worked!" she exclaimed.
Moms Ledford, Petoia and Hughes would be "very, very likely" to request another toy similar to the Pond Investigation Kit. "This was a great learning tool," concluded Mom Hughes.
Energy Wiz
by NORMAN & GLOBUS INC.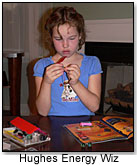 Moms Costine and Ledford were impressed with the accompanying booklet. Petoia's kids were excited to find so many different projects in one kit.
"Let's make the buzzer again!" cried Sarah.
"Energy Wiz is the best kit I've ever had!" enthused Alexa. "I got it to work by myself!"
"It was fun, except one of the gears was too small," commented Sara. Her mom said the kit entertained Sara for hours.
"This would be a great toy to use as a homeschool unit study," concluded Mom Costine. "We would look at any other toys this company made."
Electric & Magnetic Combo Kit by HUNTAR COMPANY INC.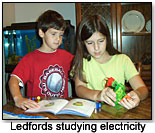 (ToyDirectory)
"I could use the Electric & Magnetic Combo Kit in a million different ways to explain science concepts," said Mom Costine. "The kids play with it voluntarily. They fought over making the circuit."
"It wasn't quite challenging enough for me," commented Sara. "I think younger kids would like it more." Mom Hughes agreed.
"My oldest daughter found a larger set in a toy catalog and added it to her Christmas list," concluded Mom Costine.
Weather Station
by SMARTLAB TOYS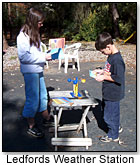 All of the kids were able to set up the station outside. Moms Costine and Petoia noted that the materials seemed lightweight.
"This is so cool! The wind is blowing 1 to 5 mph!" exclaimed Cabot Lee.
"It was easy to put together, without even looking at the instructions," commented Alexa.
Mom Costine recommended Weather Station as a gift, though "… there aren't enough activities to make me buy this as a homeschool item." Moms Hughes and Ledford concurred.
"My girls loved this set," concluded Mom Petoia, adding that they'd be "very likely" to request a similar toy.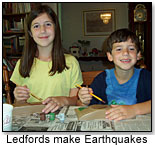 "Our Amazing Earthquakes would be a good homeschool product," said Mom Costine. "The activities are interesting and easy to facilitate." Moms Ledford and Petoia agreed.

Costine's kids wished that the required modeling clay was included. She also said the earthquake didn't always move as described.

"Mom, I can't get this to work!" cried Victoria. Alexa had the same problem.

"The EarthQuake Science Book is good, with interesting activities and information," concluded Ledford. "However, the model pieces were flimsy and our experiments disappointing."

Here are the products the homeschoolers evaluated, plus other toys by the same manufacturers:

The first player lays down a category card from her hand and says a word from that category. She then starts the timer and the next player must lay down a card from his hand and name a word from his category card — but it has to start with the last letter of the word that the first player mentioned. Cards with yellow borders permit any player to respond once the timer has been set — including the person who played the card. If the timer buzzes before a word has been named, the player must draw another card from the deck. The first player to put down all of her cards wins. Most of the five families from the Homeschooling Roundtable said they played Respond! "pretty regularly" between November 2005 and July 2006. But at the Petoia household, the six kids have played the game "at least 50 times," said Mom.

.

AD

Kids can learn where the "margin" is located in a pond habitat. They can study pond life from the water cycle to water-skimming insects. The water testing kit lets them determine the pH of the water and measure the presence of nitrogen and ammonia. Seeds and a potting mix are included so that children can discover why the carbon dioxide cycle is important to life on Earth. A step-by-step mock dissection includes a plastic frog and his inner organs. There are 14 activities in all. A Pond Life Field Guide is also included. "It's really neat to see the inside of the frog," said 10-year-old Alexa Hughes. She also enjoyed planting the flowers. "This was a great learning tool," commented her homeschooling mom, Shawna. "Any excuse to get wet is good," added Lynn Costine, another homeschooling mother.

.

AD

Kids can design their own electric circuits that really work with this electricity kit. Each kit includes a battery power source, connecters and electrical indicators, such as light bulbs, a speaker and a fan. The kits also come with an activity booklet that guides kids through the creation of simple circuits to the completion of more complex designs. Once they've mastered these, they can begin creating their own electric circuits. "This was so easy to put together that even my 6 year old could follow all of the diagrams," said Susan Ledford, who homeschools her daughter and son. "This kit demystified electricity for my girls," added Julie Petoia, another homeschooling mom.

.

AD

Learn everything about earthquakes that rock our world with this fun educational kit. Simulate your own earthquakes using the landscape base, landmasses and lever arm. Measure your earthquake with the included energy meter. The kit also comes with a booklet of facts and suggested activities.

.

AD

.

AD

Search for shark´s teeth in a fossilized soil sample from the coast of North Carolina. Kids will also find coral, shells and fossils. They can then plot the findings on the enclosed graph and identify the types of shark teeth with an identification chart. They´ll learn about seven distinct characteristics of sharks and complete a build-a-shark project. The kit includes a student notebook, materials for recommended activites and a topic-related book. Though designed for kids, teenagers love to use this kit, too. Sam´s Science Adventures Shark! is Treasure Box Press´s #1 seller.

.

AD

This toy lets the monkey do the math. Kids hang up a bunch of bananas in one of the monkey's hands, then balance the monkey by adding the correct number of banana bunches to his other hand. The scale will not move until the monkey has an equal number of bananas in both hands. Once the problem has been solved, the monkey straightens up and uncrosses his eyes. The monkey is 7" tall; his 15 perfectly balanced banana bunches range from 2-1/2" to 3" tall. The bananas can also be played with separately to reinforce counting. Huntar expects this to be one of its best sellers for 2006, said Jason Cheung, the company's sales manager.

.

AD