---
Kids Want Their Plush to Go
Cuddly Holiday Toys Get Ready to Move
For more fresh holiday products, click here.


"You can feed Webkinz, design rooms and buy clothes for it." — Susan McVeigh, Ganz

Girls on the go don't have to go it alone, according to manufacturers and retailers of plush products. Kids've been zipping up their fake furry friends in fuzzy knapsacks and taking them to school, to play … wherever. At least one plush manufacturer has begun designing for real pets, too.

"The pet business is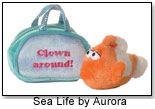 a fast-growing market segment and we want to take advantage of it," said Paul Roche, senior vice president of sales for Aurora World Inc. They're releasing a line of "Real Pets" products, including clothes and carriers, to be sold in gift shops.
Aurora has plenty of toys in the works, too. Their Mini-Pet Carriers were named as a great stocking stuffer for little girls [view article] and they're coming out with three new themes, including Jungle. In addition, they're expanding their Flopsies line to include longhaired dog breeds such as Lhasa Apso and Australian Silky Terrier.
The Douglas Company, marking its 50th year in 2006, is also growing its porta-plush lines with new 6" Lil' Nugget Sea Shell Saks as well as Monkey and Western Sassy Saks. New Adventure Saks and Western Knapsaks are also coming.
Bobbi Dickinson, owner of Next Generation of Stoughton, Wis., told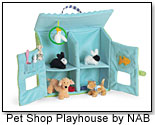 TDmonthly Magazine that Sassy Paks would be one of her best sellers for Christmas. "North American Bear has cute purses, too," she added.
"Goody Bags are our best selling produ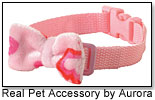 ct in our fashion accessory line," confirmed Lorene Shiraiwa, public relations manager for North American Bear.
New Goodybags for 2006 include infant bags. North American Bear also has a brand new ballerina backpack that "doubles as a doll when the backpack is folded inside the hidden compartment," Shiraiwa told TDmonthly.
In addition, they have new Pop Up Playsets, including Goldilocks and Mary Had a Little Lamb, and Playhouses in Ark and Pet Shop designs. New Muffy Van der Bears will be coming mid-2006 [see collectible bears article].
Meanwhile, plush has moved onto the Web with The Webkinz by Ganz, introduced this summer, which are a hit at Dickinson's store. Kids buy the toy, then use a secret code around its neck to log onto the Webkinz Web site and adopt their animal online, too. [EDITOR'S NOTE: For an update on the Webkinz craze, please read "Webkinz: Boom, Bust or Both" in the May 2007 TDmonthly.)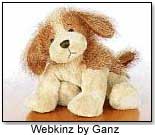 "You can feed Webkinz, design rooms and buy clothes for it," said Susan McVeigh, communications manager for Ganz. The toys have been doing "tremendously well … More than 50,000 Webkinz pets have been adopted [online] since June."

Even organic toys are going multipurpose. Kits 'N Kaboodle touts a line of herb-filled plush toys that can be used to soothe tired eyes. Joy Stories' It's the Pits is filled with cherry pits that release soothing vapors when microwaved. Hosung NY just launched its miYim organic plush line for children, which includes Storybook characters that come with their own little adventure tales attached to their chests.

Other plush products that retailers say practically walk out the door on their own four feet include toys by Ty, Folkmanis, Gund, Mary Meyer, Steiff and Manhattan Toy Company.

Here is some of the newest plush that can be ported home for the holidays or early in 2006:









The button-in-ear plush toys from Steiff come at family-friendly prices. The toys are manufactured in Asia, but are then shipped to Germany for hand-inspection and button placement. This cute Mama cat comes with her own little kitten. They're machine washable. Cat is 25 cm and kitten is 15 cm long. This product was launched in 2005.

.

AD
---






This padded foam, soft velboa carrying case with handles and Velcro closure contains a menagerie of coordinating animal friends and accessories for imaginative play. The compact 12" x 10" x 5" size is handy for travel and a complete gift-to-go.

.

AD
---






New pastel purple ballerina keeps dancing divas in fashionable style! Backpack and adjustable shoulder straps tuck neatly inside the hidden back compartment for added play value as a 14" ballerina doll.

.

AD
---






.

AD
---






Elephant Webkinz is a velvety soft pet about 8" long. Check his hantag for a secret code that brings him to life on the Web. Using the Webkinz site, kids can adopt their pet and create a virtual world for him, too. By earning Kinzcash through playing arcade games and answering trivia quizzes, kids can design rooms, buy furniture and clothes and take their virtual pet to Dr. Quack for a check-up. Each pet has its own unique characteristics, so even if kids only collect the Webkinz Lions, for instance, each online counterpart will have different likes and dislikes from the other. There are 25 Webkinz and new ones are being created constantly, said Ganz spokesperson Susan McVeigh. Lil'Kinz ($7.50), smaller sisters and brothers to Webkinz, are also available.

.

AD
---






New longhair dog breeds are coming for the Flopsies line in 2006. This Lhasa Apso is 12" long. He comes with a comb to keep the messes out of his tresses.

.

AD
---






The Mini Flopsies are long on hair for 2006. These Lhasa Apsos are 8". They come with their own combs to keep them looking snappy for photo shoots. Each Flopsie is sold separately.

.

AD
---






The 3.5" Mini-Pet Carriers, a portable plush key chain "carrier and animal in one" escalated to the top of Aurora's hottest products last year. It is available in three new themes, highlighted by Jungle and Sea Life. Styles include Elephants to Hippos and Dolphins to Whales. Each Mini-Pet Carrier is embroidered with a word such as "Sweetie," "Loveable" or "Smile."

.

AD
---






Even the smallest tykes have a chance to carry a pack, just like big bro or sis. Aurora is releasing new, improved, smaller-sized packs for teeny kids. Sized at 13", Little Packs have one strap (called a sling bag) and large zipper pocket. Kids can choose from 12 styles such as Tiger, Cat, Panda, Poodle and Otter.

.

AD
---






Each sak comes with plenty of storage space and pockets for collections of the travelin' kid. Each has nylon straps and mixed fabrics. Each sak comes with two clip-on toys for play. They are each 9" x 12".

.

AD
---






Sassy Saks found their fame when they made their debut at Toy Fair 2004. The line continues to grow in choices and popularity. Girls will go bananas over the new jungle chic bag holding a mischievous brown monkey. This 9"-wide bag is safari cute in bright bold hues.

.

AD
---






This 11" x 14" backpack-style knapsack carries all the essentials for an overnight stay or a light day trip. It is rich in pony print fabric with all the western details. The bag is accented with a soft sculpture horse head that lends an artistic quality. The new Western Knapsack is just one of three new styles planned for 2006, making a total of five to choose from.

.

AD
---






.

AD
---






A cute plush lamb and bear doll with a soothing medicinal secret inside: cherry pits. Aromatic cherry pit packs (which can be heated) are placed inside the doll, and the doll can then be used to soothe tooth, tummy, head or neck aches.

.

AD
---






Lana Natural products are made from 100% organic cotton. Lana controls the process from the cotton fields to the home workers who sew these adorable creatures, so that kids can have confidence in the quality and the earth friendly organic certification of these products. Goosey goose is very lovable and has a neck that is just the right size for little hands to hold. Made with 100% cotton, the goose is filled with pure wool and is washable.

.

AD
---






This teddy bear wears your school sweater! Ideal for a graduation gift or other special occasion, this 18" teddy bear is available in either white or brown with any color sweater and any lettering. The trim at the bottom can be either stripes, trains or sailboats. Lettering on the back —- such as a birthdate or grad´s chosen college and an optional mortarboard and diploma are available, all at no extra charge.

.

AD
---






Mary Meyer Yesteryear Stickhorses feature a new retro styling reminiscent of the last century. The stick horses are 33" long and are made with soft, washable fabrics. Mary Meyer stick horses were chosen by the Toy Industry Association as one of the "Toys of the Century." In 1963, Mary Meyer´s son Walter, made a "stick horse" for his two-year-old son Steven, who liked to spend many hours each day dressed up as a cowboy. When Walter saw how much Steven enjoyed playing with the toy horse, he made stick horses for his other five children. Stick Horses were introduced into the Mary Meyer product line the following year.

.

AD
---






.

AD
---






These soft, floppy, plush 8" animals are nearly as cute as the real things — and a lot quieter while playing dress-up. Mini Flopsies are the latest incarnation of fashion dolls: Various Fancy Pals Dress Up outfits are separately available. Outfit themes range from Hip to Soccer, so no cat will be bored by wearing the same dress day after day. Button eyes and nose and an embroidered mouth give the Flopsies personality and expression. This kitty´s ears are even authentically lined with soft pink. More than 70 designs of Mini Flopsies are available, including animals from the sea, jungle, forest and farm as well as special holiday versions. Each of the bean-filled Mini Flopsies stands on its own and is double-bagged for durability and safety. Fancy Pal Dress Ups sold separately.

.

AD
---






Fancy Pals Dress Ups are outfits for the 8" Mini-Flopsies animals. Each of the four outfit themes (including Hip and Glamour) feature three styles. Aurora will offer new outfits several times per year. Parents and kids can choose from boas and dresses to hats and sweaters for their plush pets. There are even jogging clothes, soccer garb and a cheerleading set complete with pom-poms. Each Dress Up is packaged in a sturdy, clear carrying case, with an illustrated backer showing the existing Fancy Pals Dress Up collection. Fancy Pal Dress Ups and animals sold separately.

.

AD
---






Lavender Lab uses the scientifically proven relaxation qualities of lavender to help soothe young children to sleep. It can be placed on baby's pillow during the day, then moved to bedside at sleeptime so, as children doze off, they are soothed by the tranquil scent. It's ideal for traveling with children and adapting them to new surroundings where environments may be unfamiliar. This product has received an iParenting Media Award and a 2006 Creative Child Magazine Top Toy Award. Launch date: 2006.

.

AD
---






This pastel poodle purse is a new addition to North American Bear's best-selling fashion accessory category. The fully lined 7-1/2" cohair pint-sized purse with Velcro closure and handles is machine washable.

.

AD
---






The classic playset concept has been upgraded with 3-D pop up accessories and fairytale characters. This complete gift-to-go is self-storing. The handled carrying case measures 8" x 6.5" and closes with Velcro to keep contents safe during travel. The purse itself is just 7.5" and is machine washable. Other fairytale designs in this line include Goldilocks and the Three Bears, Wizard of Oz, Three Little Pigs, Mary Had a Little Lamb and Hansel and Gretel.

.

AD
---
THIS BANNER IS AN AD:
---
---