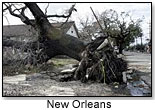 Communities In Schools of New Orleans Inc. is requesting donations of products (no cash) that can help rebuild schools in New Orleans that were severely damaged by Hurricane Katrina. School supplies, including everything from pencils to backpacks, and teacher/office supplies, such as tape, chalk, erasers and teacher guides or resource books, as well as necessities such as tissues, toilet paper and hand soap, are desperately needed, as are cleaning supplies and First Aid kits. Many other items, including clothing for students and teachers, art and music supplies, playground and sports equipment, books, snacks, holiday gifts and decorative plants for the school grounds, would also be appreciated. For the next three weeks, please send all goods to:


Becky Bidwell-Hanson
Communities In Schools of New Orleans
818 Dante St.
New Orleans, LA 70118

Please send packages via UPS or DHL. Please DO NOT send via the U.S. Postal Service; it is not reliable in this part of the country at this time.

After January 1, or for more information, please call Becky directly at 504/583-0163 to find out where to send donated products.