---
Games Win for the Holidays
Traditional Toys Bring Families Together
To see more fresh holiday products, click here.


"When we ask our customers what they're thinking about buying for the holidays, they mention big things … but then they buy a bunch of little things." — Jude Larene, Izilla Toys

Families who want that get-together spirit to last through the New Year are expected to load up on games for the holidays. Retailers from New York to California report that games, puzzles and other traditional toys are among kids' and grown-ups' favorite buys. And now that Imagination Entertainment has transformed the newspaper puzzle craze, Sodoku, into a board game, 2005 might be the best holiday season yet for games.

Meyer's, in Decorah, Iowa, has been in business for more than 90 years. "We just moved our location to a more upscale market and it's almost like starting over," manager Dan Shapiro told TDmonthly Magazine. "We tend to find a lot more grandparents shopping. They don't know anything about electronics. They want to buy things they feel comfortable with and understand."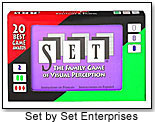 Across town, Linda Wagness, manager of Imaginit, found the same buying trend. "We do an awful lot in board games and the smaller packaged games, such as Quiddler [Set Enterprises] and Blink [Out of the Box Publishing]," she told TDmonthly.
"Wooden puzzles and games" sell well for Sara Evers, owner of Dancing Bears in Rochester, Minn. "We're in a touristy type town, where people are wanting something to do." She expected the trend to hold for Christmas.
"I'm selling a ton of puzzles, both to adults and children," Judy Bergelin, owner of the Frankenmuth Toy Company in Frankenmuth, Mich., told TDmonthly. What specifically were they buying? "Lots of thousand-piece jigsaw puzzles."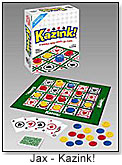 "There's a new word game I'm doing well with: Wordigo by River Edge Game Co. … It's a great family game," said Gladys Griffin, owner of Main Street Toy Shop in Columbus, Ga.
"Blokus [Educational Insights] is huge," said Terri Bracken, owner of Earth Explorers Toys in Zionsville, Ind., though some retailers have found it falling off lately. "Spy Alley [Spy Alley Partners LLC] is a great game." She also recommended Front Porch Classics' Dread Pirate and Old Century Baseball as holiday gifts.
The passion for games wasn't just a flyover phenom, either. The coasts, traditionally less traditional, had similar reports.
"When we ask our customers what they're thinking about buying for the holidays, they mention big things … but then they buy a bunch of little things," noted Jude Larene, owner of Izilla Toys in Seattle.
Board games "that parents had as kids," such as Chutes & Ladders by Hasbro, were doing well at Portland, Ore.'s Finnegan's Novelties & Toys, commented manager Jordan Walden.
"Bzz Out and Rat-a-Tat Cat [Gamewright] are good sellers and make great stocking stuffers for little kids," said Eric of Gamescape in San Francisco. For older children, he recommended Fluxx by Looney Labs.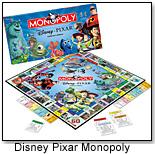 "We always sell a lot of Rivers, Roads and Rails by Ravensburger," noted Doris Jelliff, bookkeeper for Dinosaur Hill in New York City.

"Younger kids love Kids on Stage [Growing Tree Toys] and … Mighty Mind [Leisure Learning Products Inc.], which is a puzzle-type thinking game that's used as an entrance exam for some of the top preschools," said Michael Stone, manager of the Children's General Store in New York City.

Apples to Apples and Rush Hour were still cited as "hot" by most retailers. Others were keen for Blue Orange's Zimbbos, Scoop's Surprises and Gobblet Jr.; games by Cranium; Space Faces by Educational Insights; Zingo by ThinkFun; Magic: The Gathering [Wizards of the Coast]; Yu-Gi-Oh [Upper Deck Entertainment] and Hasbro's Scattergories and, of course, Monopoly, which "still keeps on selling," said Joseph Baiocco, manager of Big Top of Scarsdale in Heathcote, N.Y.

Here are the games that retailers predicted would be hot for the holidays, as well as a few new games that have come our way and look fun to play (sales figures unknown):









Bzz Out is an entertaining card game that teaches numbers and counting as well as elementary strategy. Through the game play, children learn about the relationships between numbers and practice their counting skills by deciding which number is higher. Players also learn some basic probability and strategic thinking skills as they decide whether to keep or swap their cards. It's won an Oppenheim Toy Portfolio Platinum Award, Parents' Choice Gold, Dr. Toy's Best Vacation Products and a top prize from the Canadian Toy Testing Council.

.

AD
---






.

AD
---






.

AD
---






.

AD
---






.

AD
---






.

AD
---






Scoop, the Ice Cream Man, is starting a new Sunday tradition to promote his surprise ice creams: Each ice cream hides a different flavor. Taking turns, players shuffle the ice creams and ask other players to find the hidden flavor of their choice. The player with the most flavors wins the game. This all-wood game includes four wooden ice cream cones and 12 wooden ice cream flavors. For one to six players.

.

AD
---






.

AD
---






Chutes and Ladders is the game of rewards and consequences. As kids travel along the game path, they encounter situations that reward them for good deeds by letting them climb the ladders or punish them for misbehaving by sending them down chutes. All the while, they are learning to recognize numbers and count to 100. Included are a game board, spinner with arrow, four pawns and instructions in English and Spanish.

.

AD
---






.

AD
---






.

AD
---






.

AD
---






.

AD
---






.

AD
---






Space Faces is an outer space search-and-rescue mission. It´s a race to identify stranded galactic travelers by the colors of their "space faces." Comes with a game board with 120 unique space faces, an alien identification device, 20 purple aliens, four rescue craft and a guide.

.

AD
---






Players get 10 wooden building blocks, a timer ticking per the number rolled and a card showing players what to build in that time. When the time is up, players total the points on their completed building cards and collect tokens. After four rounds, the one with the most points is the winning builder. The game comes with an expert version as well.

.

AD
---






.

AD
---






.

AD
---






Desert islands, treasure, hungry sharks, treacherous seas and, of course, pirate battles all await you in Dread Pirate. This beautiful coffee table game comes packaged in an authentic wooden treasure chest and is played upon a wonderfully illustrated cloth treasure map. Choose a ship and a port of call, and set sail in search of treasure. Trade in a foreign port or sail broadside to another captain and take your best shot. Be the first pirate to collect all types of jewels and land on Dread Island to become the most feared and powerful captain on the high seas. Journey back with your family for a high seas treasure hunting, pirate adventure! Perfect for four players.

.

AD
---






This ever-popular board game combines crossword puzzles with letter unscrambling to produce hours of intellectual fun. Wordigo gives 1 to 4 players different boards (depending on the difficulty level) and allots them seven minutes to accumulate as many points as possible. Wordigo was a 2004 Parents´ Choice Gold Award Winner, as well as a GAMES Magazine Best 100 Games of the Year for 2005.

.

AD
---






This FamilyFun Magazine Toy of the Year Award Winner is now available with your favorite Major League Baseball team logos. Exquisitely detailed and crafted of high-quality wood, this retro pinball-style game allows you to bring America's favorite pastime into your family room or den. Truly an authentic tribute to the grand ol' ballparks of yesteryear and a "must have" for any baseball fan.

.

AD
---






.

AD
---






.

AD
---






Duelists can now stack their decks with a collection of booster packs designed to increase complexity and power during Dueling matches. Each unique tin offers an assortment of the game´s top-selling booster packs, which include Dark Beginning 1, Dark Revelation 1, Soul of the Duelist, The Lost Millennium, and Flaming Eternity.

.

AD
---






For both the young and old artists who like to create images: arrange the colorful shapes over and over again into new patterns. The next is always nicer than the one before! Magnets are stuck to the wooden shapes so they stay put in the wooden frame. Includes 88 wooden pieces and 10 motifs to copy. Wooden frame measures 26 x 26 cm. Wooden frame may also be hung on the wall.

.

AD
---






The first player lays down a category card from her hand and says a word from that category. She then starts the timer and the next player must lay down a card from his hand and name a word from his category card — but it has to start with the last letter of the word that the first player mentioned. Cards with yellow borders permit any player to respond once the timer has been set — including the person who played the card. If the timer buzzes before a word has been named, the player must draw another card from the deck. The first player to put down all of her cards wins. Most of the five families from the Homeschooling Roundtable said they played Respond! "pretty regularly" between November 2005 and July 2006. But at the Petoia household, the six kids have played the game "at least 50 times," said Mom.

.

AD
---






.

AD
---






This 2- to 4-player game transports players back through the ages, back to the time of the Vedic Rajas of India. Chaturanga is well recognized as the earliest form of chess. Played on an authentic cloth game surface by 2, 3 or 4 players, Chaturanga combines the basic strategy of chess with the dynamic challenge of chance as each move is determined by the random roll of wooden dice. Whether players seek treasure or fun, Chaturanga is a great game for the entire family. It has so far won an Oppenheim Toy Porfolio Gold Seal Award, an Oppenheim Toy Platinum Seal Award, a Parent's Choice Silver Award and a National Parenting Center Seal of Approval.

.

AD
---






From Australia comes a new board game based on the Sudoku craze that's taken over the country. This addictive number puzzle game has already been ordered by Toys "R" Us, according to a Sudoku Web site. The exciting new game combines the logic rules of Sudoku with a random element introduced by throwing a die to make a fast and compulsive game that can be enjoyed by two or more players. "Its the first multiplayer Sudoku game," Nora Wong, director of marketing for Imagination Entertainment, told TDmonthly Magazine.

.

AD
---






b. dazzle's new "Planets" Scramble Squares® brain teaser puzzle, one of four Scramble Squares® puzzle winners in Dr. Toy's "Smart Play/Smart Toys Awards 2006, is truly a universal gift that is Easy To Play, But Hard To Solve!® for children, teenagers, adults and senior citizens of all ages. Each Scramble Squares puzzle package includes a panel of fascinating facts on the subject of the puzzle, as well as a trivia question and hidden answer, all packaged in a unique and handy resealable clear vinyl pouch which can be collected and easily stored in a standard 3-ring binder. This new Scramble Square puzzle, with bold images of planets on it, is no different. The nine squares can be put together in numerous ways, but only one way is the right one for all of the planets to line up correctly.

.

AD
---
THIS BANNER IS AN AD:
---
---