To see more fresh holiday products, click here.


"For some reason, rockets seem to be selling right now." — Robert Jenkins, Robert's Hobbies

This December, young scientists will be ripping open their presents and discovering the coolest toys about the natural world. TDmonthly Magazine "experimented" by contacting more than 20 retailers to find out what the hottest selling science and nature toys are likely to be.

Building things are high in demand from Santa. "From the age of two, the idea of construction as a formative tool enters the mind of a child," explained Dr. Meredith Sanchez, associate professor, school of Pediatric Behaviorism, University of California at Berkeley.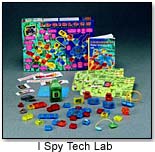 Perhaps this is one reason why "Logiblocs always sell well," said Duncan Fullbright, owner of The Toy Place in Cheyenne, Wyo. He added, though, that "the Spy-Tech Lab has the added bonus of being … well, spy,"

Lagoon Games' Rollerscape, a roller coaster in a box, helps kids learn about gravity and engineering, said Marc Buchanan, the owner and "play-maven" of Wonder Toys in Jackson, Miss. "I've put three advanced boxes together and have it running across one whole side of the store."

Dr. Sanchez clarified another nature toy stronghold: living creatures. "By the age of three, a child truly differentiates between themselves and the world around them … Living things become a fascination."

Insect Lore's Butterfly Pavilion had been a top-selling nature toy all year long (see "Creepy, Squirmy"). "This Christmas, we're going to see it do great, just like it always does," Bobby Decker of Nature's Path in Tioga, N.D., elucidated.

Since Mars has been in the news so much lately, Ben Douglas, owner of Douglas' Toy Spot, puts "the Sea-Monkeys on Mars [by Educational Insights (ToyDirectory)] in with our telescopes and planetarium products."

Even books about nature were in demand — especially the Undercover series, which continues to grow in popularity with each new release:

"Uncover a Tarantula: Take a Three-Dimensional Look Inside a Tarantula!" by Silver Dolphin Publishing, "is the best Uncover book yet," said Pierre Solomon, assistant manager at The Information Store in Wildwood, Ga. "It's gross and informative: a perfect combination."

And the hottest item from all the retailers we talked to was in the field of "artificial" nature and robotics. Everyone put the Roboraptor by Wow Wee on the "must have" list.

Janis Rasmussen, manager of the Play Hut in Indianapolis, Ind., told TDmonthly: "We can't keep them in stock," she said. "Once they see it move, they want it."

Dr. Sanchez confirmed the fact that kids love things that fly. "Flying dreams fade as we get older; our intensity about soaring is strongest in the formative years."

"For some reason, rockets seem to be selling right now," said Robert Jenkins, owner of Robert's Hobbies in Woodbridge, N.Y., speaking of the DK Publishing Inc. Ultimate Rocket Kit," and this is our best-selling rocket kit."

Francis Kremmin, "toy guru" of Talented Toys in Trenton, N.J., explained, "every boy likes rockets, and now the girls are starting to, too. We're going to sell a lot of the DKs."

The Levitron Platinum Pro was one of the top-selling items at the Tech Museum of Innovation in San Jose, Calif. And at Fascinating Things in Miami, Fla., "Everyone is mesmerized by it levitating," reported Todd Tabor, manager.

And then, finally, there were simply old standbys updated: Discovery Communications' Next Generation Rock Tumbler was a strong seller according to Don Rexford, assistant manager of the Sears Store in Franklin, Ohio. "Some things never go out of style, and rock tumblers are one of those. This one is particularly well-made and faster than most. It's great for boys and girls."

What follows is more information on the products mentioned in this article:

This high-tech tumbler transforms rough rocks and minerals into smooth, shiny gemstones. It is great for making decorative accessories or gifts. Tumbling machine comes with 1/2 lb. of rough rocks. The grinding powder duplicates nature´s erosion process, delivering a smooth finish. Includes two key chains, two necklaces, rings, earrings and glue. Instructions on how to find polishable rocks outdoors are included. It is approved by Underwriters Laboratories — the worldwide trusted source for product compliance. It includes a two-month manufacturer´s warranty.

.

AD

For all those kids who have a burning desire to launch a rocket, this is another creation from the man who created the Ultimate Robot Kit and the Robot Challenge Kit, David Eckold. The Ultimate Rocket Kit contains four different rockets, each with its own mission. Read up on rockets in the enclosed book, build one and get it ready to soar into space.

.

AD

Create four kinds of intruder alarms with voice warnings, secret message devices, a pressure-activated security mat, a metal detector or a lie detector. Record your own secret messages and play them back automatically. The set includes 10 electronic blocks, one jack plug, two pressure mat cards, decorative stickers and an Inventor´s Manual. Each kit includes bright transparent electronic blocks that connect into circuit systems to create fun activity toys. All Logiblocs integrate with each other to provide an ongoing, expandable discovery system of endless creative fun.
— The Toy Chest manager, Winnie Chaffee, likes the Spy-Tech Lab because, "It does so many things. It keeps a child occupied and challenges their thinking. They have fun 'spying' while learning about electronics. It's a fantastic toy."
— John Verloc, owner of Electro-Toy in Topeka, Kan., said about Logiblocs: "They're both informative and fun. Because of their plug-and-play nature, younger kids can enjoy them, while older kids can expand and use their creativity."
— It won a Dr. Toy´s Best Vacation Product.

.

AD

In addition to the Robosapien and Robopet, Wow Wee is now introducing the Roboraptor. The robotic dinosaur is fully functional in three modes: remote-controlled, where the owner controls his actions; free-roam mode, where the Roboraptor's artificial intelligence takes over; and guard mode. Motion sensors, infrared vision and laser-tracking technology all make this dino one of the smartest toys on the market, as well as one of the most fun and unique.
— "The coolest toy on the market. Everyone wants one," effused Danny Southerland, owner, CEO and head banana of Shenanigans in Austin, Texas.
— "I was surprised that at this price point Roboraptors are outselling toys one-tenth their cost," explained Rikki Desoto, manager of The Play's The Thing in Rochester, N.Y.
— "Amazing. Can't say enough about it," piped Tom Finci, owner of The Toy Stop in Portland, Ore.

.

AD

Bring nature inside and witness the wonder of the butterfly life cycle with this amazing experience. The roomy 2-foot-tall Butterfly Pavilion habitat "pops-up" easily, looking like a Chinese lantern. Hang it from a string or set it on a tabletop for best display. The breathable see-through mesh and zippered entry allows easy access for care and feeding. The Butterfly Pavilion is a 2004 Teacher´s Choice Award winner.

.

AD

Build incredible mazelike marble rollercoasters with both the starter and advanced construction kits. They retail for between $20 and $30.

.

AD

Sea-Monkeys go to Mars! Sea-Monkeys have already traveled on several NASA missions and now these rugged space pioneers are ready to explore the Red Planet! This Sea-Monkey habitat features mysterious craters, towering arches and dormant volcanoes making this detailed landscape a fascinating Sea-Monkey playground! A crystal-clear magnifying lid allows a better view of this alien world. And, of course, water conditioner, food, and... Sea-Monkeys!

.

AD