Kathy Palker made more than 1,000 games and wrote seven published books during her teaching career.

Doing what you love has a way of paying off — especially if your name happens to be Kathy Palker. For Palker, the energetic vice president of sales and marketing for Brand New World (ToyDirectory), a company that designs educational toys for kids in childcare and school, making a career of what she loves has led to one success after another.
"I started off as an early childhood teacher and my passion was that I loved the challenge of making learning rewarding and fun," said 52-year-old Palker, who works from her Ohio home. She told TDmonthly Magazine, "I love watching them soak up knowledge like a sponge soaks up water. They learned and they had fun. I wore them out."
Palker made more than 1,000 games and wrote seven published books during her teaching career. With nine years as a kindergarten teacher and an equal amount of time working for LEGO — for which she facilitated workshops with teachers to help them make learning more fun — Palker had the right stuff to craft the right kinds of products for Brand New World. The 3-year-old affiliate of U.S. Worldwide Inc. quickly snatched her up.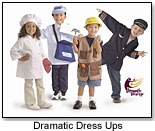 Dramatic Dress-Ups — playwear kids can put on over their street clothes — and funky overstuffed plush furniture for the younger set, are two big sellers for the company. Brand New World has a staff of just five employees.
"We felt making durable, high-quality products, things that would last, was very important," Palker said. "Most of the dress-ups we saw just weren't durable."
Brand New World's line of dramatic dress-ups includes fantasy styles — such as kings, princesses, knights, dragons and wizards — and community helper styles, which include chefs, doctors, mail carriers, police officers and others.
Palker said each of the dress-ups is fashioned of high-quality materials, and all of the accessories are plush. Everything, of course, is washable. Palker also made certain there were no cords — such as the kind on a doctor's stethoscope — that could be unsafe for kids.
An early-childhood expert panel, including representatives from agencies such as Head Start, is utilized during the design process. In 2004, the company received Dr. Toy's Best 100 Children's Products Award for its Dramatic Dress-Ups.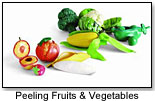 Palker's company has found a market in making products that teach while kids play. Products such as its Manipulatives, which include plastic loaves of bread, fruits and vegetables that can be peeled, and blocks, are practical and fun tailor-made teaching aids. "You can tell we have a background in education," Palker said.
The most important lesson Palker has learned is to use the resources available to succeed. "The most important thing is your business contacts and providing excellent customer service. There's nothing we won't do for them," she said.