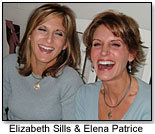 elizabeth sills and elena patrice, two Virginia sisters, had always dreamed of having creative careers, working together and contributing to the "children's world." Those dreams and more came true when they founded ee publishing & productions inc. — "the laugh-friendly company" — in August of 2003.

The double-e sisters wanted a company rooted in the fun of simpler times so they began with Nana Star, the story of a lost star finding its way home, which became a book, CD and doll. This month [December] the company is releasing "Chatterbox: The Bird Who Wore Glasses," written by Michael Uslan, executive producer of "Batman Begins." They also founded the Nana Star Foundation, which supports inner-city schools and terminally ill children.
sills and patrice tell the story of their company in their own words.
The Birth of a Company
elizabeth sills: We saw a trend, a common thread of emotion. People, parents were nostalgic for a simpler time. elena was moving back to Virginia and we were in a position to work together. It was all in the timing.
elena patrice: I returned to Virginia in July of 2003. The company was formed in August 2003, so we moved quite quickly to get things in motion. Nana Star was a character our grandmother, Elizabeth Owens, created for her youngest grandchild, Vance. She used Nana Star when she sent him cards, letters. But when he died in 1997 — he was 5 — she put it all away in a drawer. It was too painful for her. But we knew the Nana Star concept would be great to launch our company.
sills: elena and I wrote the story and our mother did the illustrations. Basically, we called her in Tennessee and said, "Will you help us?" She had a full-time job, no professional artistic experience, but she just opened up creatively. She ended up quitting her job and works for us now.
patrice: All the Nana Star products came out about the same time. After the success of Nana Star in June 2005, the other products just seemed to come along then. We have too many ideas. We've had to set a few aside while we focus on developing others such as our Positive apparel line — HA, HA, HA laugh everybody — which will launch in 2006.
The Challenges of Business
sills: The publishing industry is a tight industry. When you're so small…
patrice: … they don't take you seriously. Vendors, other publishers, customers. I imagine a lot go under.
sills: But our motto is "Ignorance is bliss." We know just enough. Too much information can be overwhelming. But the challenges fuel us.
patrice: We go to the shows and because we're so new, we're not getting the great spaces. But when people do find us they get it, the craving for nostalgia. They see the two of us as the face of the company and they respect that. They say, "I wish I could do what you do." And when you're small, overlooked, you can do a lot of wonderful things under the radar. You're not seen as a threat.
sills: And we decided early on to always do things very … upscale, unique. Have you seen our Web site? [Their Web site is bright pink.] We want to make people stop and take notice. It's all about image and branding. They should recognize you and remember you.
When asked if they ever thought about giving up in the face of so many challenges both sisters answer together with a resounding, "Nooo!" With that determination, the double-e sisters are well on the path to creating a successful company out of a dream.