Tools:








Take Britney Home With You
Wholesome or Not, Celebrity Dolls Find Takers
"When you license a celebrity, there's always a risk that the celebrity will take a turn for the worse, but there are people like Beyonce Knowles and Hillary Duff who are good role models and live lives that parents and young fans can be proud of.." — Reyne Rice, toy trend specialist, Toy Industry Association

It's been more than 70 years since Shirley Temple and her namesake doll won America's heart. But today, teen stars don't always grow up maintaining a wholesome image.

Play Along Toys and Yaboom Toys both produced Britney Spears dolls before the singer became tabloid fodder. A Lindsey Lohan doll, inspired by the animated film "My Scene Goes Hollywood," once appeared on store shelves. Even Anna Nicole Smith lives on in a bobblehead doll by Bolsley Bobbers.

FROM ROCKIN' TO KICKBOXIN'

Fortunately, there are always new, fresh-faced celebrities to kick off promising toy lines. To inspire young girls' rock-'n'-roll fantasies, Disney Consumer Products and JAKKS Pacific have released a new role-play line based on the hit Disney Channel children's show "Hannah Montana."


The line features a singing doll based on the girl-next-door Miley Stewart and her rock- star secret identity, Hannah Montana (played by Miley Cyrus). The line includes an electric and acoustic guitar, a dance mat and two playsets: Backstage Closet and In Concert Stage.

"These types of dolls resonate with girls because they're aspirational," Reyne Rice, Toy Industry Association Toy Trend Specialist, told

TD

monthly Magazine.



"When you license a celebrity, there's always a risk that the celebrity will take a turn for the worse, but there are people like Beyonce Knowles and Hillary Duff who are good role models and live lives that parents and young fans can be proud of," she added.

Kids who love to sing, dance — and fight social injustice — will be inspired by JAKKS Pacific's new dolls based on the hit film "Hairspray."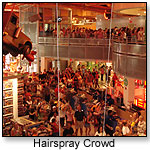 Fashion dolls based on Nikki Blonsky and Zac Efron's characters also come in deluxe singing versions. And dolls based on characters played by Amanda Bynes, Brittany Snow, Elijah Kelley and even the gender-bending John Travolta are also available.

Female action figures such as Jessica Alba as Susan Storm in "Fantastic Four: Rise of the Silver Surfer," Angelina Jolie in "Lara Croft Tomb Raider" and Pamela Anderson as "Barb Wire" captivate adult collectors who appreciate the female form. Yet, according to Rice, they appeal to girls, too: "A young girl may be a kickboxing star or other athlete and look to these characters as positive role models."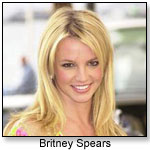 CYBERDOLLS

The fastest way to find all these celebrities, positive role models and otherwise, is to visit online dress-up doll sites. Stardoll.com has figures of Miley Cyrus (Hannah Montana), Carmen Electra, Paris Hilton, Nicole Ritchie, Anna Kournikova, Lindsey Lohan, Angelina Jolie, Emma Watson, Shakira, Jennifer Lopez, Jessica Simpson and Avril Lavigne.

Stardoll recently announced a partnership with Mary-Kate and Ashley Olsen allowing members to dress up their personally created avatars with virtual clothing and accessories from their mary-kateandashley brand. Other cyber-doll sites include www.thedollpalace.com and www.cartoondollemporium.com.

SHAKE THEM BABY BOOTIES

Celebrities aren't just inspiring toys; they're creating them as well. Beyonce Knowles' dad, Mathew, and sister, Solange, of Music World Entertainment have partnered with Planet Toys to launch Baby Jamz. Solange herself sings the hip-hop nursery songs that toddlers can play on these musical, hip-hop/rhythm inspired toys.

The Mix Master chair lets kids "mix" their own songs. Other products are the Baby Jamz Boom Box Shape Sorter, Dance Mat, Cell Phone and Key Chain.

FROM JAILHOUSE TO PLAYHOUSE

Even Paris Hilton wants to get in the act. In an interview with Barbara Walters, the heiress considered building a "Paris Hilton Playhouse," as reported by ABC News and others, where sick children play with donated toys. Given our culture's fascination with fame — and celebrities' fascination with toys — the era of celebrity toys isn't going away soon.

Here are the latest celebrity-inspired toys, as well as some unique discontinued and collectible items:







With the Hannah Montana Singing Dolls, kids can pretend that they're at a live Hannah Montana concert. When the microphone is lifted to her mouth, each doll in the "In Concert" Collection sings one of Hannah Montana's chart-topping tunes. Dressed in authentic Hannah Montana fashions, these dolls rock out in style. "The dolls play songs from her new CD, "Two Meet Miley Cyrus," which recently launched at No. 1 on the Billboard Top 200 chart, making Cyrus the youngest recording artist to have two No. 1 albums in less than a year," said Genna Rosenberg, SVP, Corporate Communications for JAKKS Pacific. Launch date: August 2007.

.

AD
---






Kids can rock out and rock on with the Hannah Montana Pop Star Stage. It includes a realistic light show and plays two of Hannah's original songs, so kids can't get any closer then this to having a Hannah Montana concert in their own home. The Pop Star Stage can also be connected to most music players, so kids can listen to all their favorite tunes through the stage sound system. "Her backstage playset includes an incredible light show and sounds of fans chanting for Hannah Montana as she enters the stage singing her famous songs," said Genna Rosenberg, SVP, Corporate Communications for JAKKS Pacific. Launch date: August, 2007.

.

AD
---






.

AD
---






.

AD
---






In this new game, kids can live like a normal teenager by day and movie star by night. Kids can help manage Miley's bus schedule, maintain Miley's relationships with friends and family, and keep Hannah at the top of her game with performance at school and by practicing her singing and dancing. Launch date: August 2007.

.

AD
---






This game features Miley Stewart and her friends working together to promote her latest hit CD. Kids can help Miley with her daily challenges associated with being the pop star Hannah Montana and as a high school student. Avoiding obstacles, quick-changes and making appearances for fans are just part of the life kids will get to lead in this game. Launch date: August 2007.

.

AD
---






.

AD
---






Modeled after the character played by Nikki Blonsky, this 10.5"-tall, full-figured doll sings the popular "Hairspray" theme song, "Welcome to the '60s." It comes with two shopping bags and an autographed picture of Tracey, as well as an exclusive "Hairspray" poster. Launch date: July 17, 2007.

.

AD
---






Modeled after the character played by Zac Efron, the dreamy host of the Corny Collins show, this 12" "Hairspray" doll is dressed in 6'0s-style clothing with a 6'0s hairstyle. Link comes with his own can of hairspray and a framed picture of his sweetie, Tracy Turnblad. It includes an exclusive "Hairspray" poster. Launch date: July 17, 2007.

.

AD
---






.

AD
---






Modeled after the character played by Amada Bynes, this 11.5" "Hairspray" doll comes with her own can of hairspray and toy poodle. It includes an exclusive "Hairspray" poster. Launch date: July 17, 2007.

.

AD
---






Modeled after the character played by John Travolta, this 11.5", full-figured female doll comes with her own can of hairspray and clutch purse. It includes an exclusive "Hairspray" poster. Launch date: July 17, 2007.

.

AD
---






This 12" "Hairspray" doll is modeled after the character played by Elijah Kelley. It includes an exclusive "Hairspray" poster. Launch date: October 2007.

.

AD
---






Modeled after the character played by Brittany Snow, this 11.5" doll comes with her own can of hairspray and a loose-leaf binder. Launch date: July 17, 2007.

.

AD
---






Every child can be a DJ with his or her own Mix Master Chair. Four numbered light-up buttons deliver cool add-in sounds to the child's choice of nursery rhyme. When a child sits in the chair and on a yellow note in the seat, all buttons come to life. Kids can create several renditions of each nursery rhyme by pressing three different buttons that light up and provide hours of fun. "Many children love music and dancing to hip-hop, so we have creatively combined great toys with the hip-hop versions of popular nursery rhymes," said Mathew Knowles, president and CEO of Music World Entertainment, in an August 7, 2007 press release. Launch date: July 2007.

.

AD
---






Suitable for ages 6 months and up, this dance mat inspires kids to dance to 36 seconds of nursery rhymes in a hip-hop tempo. The songs are "Bingo," "Mary Had a Little Lamb" and "Hush Little Baby." The mat provides seven different spots for the toddlers to step, dance and create their own unique rendition. It provides hours of endless fun and physical activity. Launch date: July 2007.

.

AD
---






Suitable for ages 18 months and up, this musical toy engages children to complete three different hip-hop nursery rhymes by placing square, triangle and circle LED light up blocks in the right order. The microphone has three buttons that a child can press to emit cool add-in sounds to each song. "Boomer" the boom box has a friendly, fun animated appearance. Nursery rhymes played within are "Hip-Hop Buckle My Shoe," "Twinkle Twinkle Little Star," and "Wheels On the Bus." Launch date: July 2007.

.

AD
---






The cell phone has many buttons but is designed for easy and fun musical stimulation. Toddlers need only to press one of two large buttons to hear "Old MacDonald," "Buckle My Shoe" and "Mary Had a Little Lamb." Launch date: July 2007.

.

AD
---






This figure with a poseable flight base and a removable "invisible" force field is based on Jessica Alba's role as Sue Storm, aka the Invisible Woman, in "Fantastic Four: Rise of the Silver Surfer."

.

AD
---






This stunning 5 ½"-tall action figure of Jessica Alba in her role as Max Guevara from the "Dark Angel" TV series has long flowing hair and a beautifully sculpted body. The figure includes a grappling hook and rope, backpack, toolkit, harness and an extra set of hands.

.

AD
---






This beautiful 5 ¾"-tall action figure of Jessica Alba in her role as Max Guevara from the "Dark Angel" TV series has hidden hip articulation and comes with a pair of replaceable hands. The motorcycle has rev-up speed-away action, a headlight and a kickstand.

.

AD
---
Catalog Request Form
THIS BANNER IS AN AD:
---
---