"The new version of ["Dr. Who"] has not yet been aired in America and may trigger the next sci-fi wave here."

British popular culture has had a tremendous impact on America. Many of our science fiction and fantasy films originate in the United Kingdom, such as the "Harry Potter" series and "War of the Worlds." These days, "Doctor Who" is re-taking the nation by storm. American retailers would do well to pay attention to the BBC as it reintroduces well-loved shows of the past.



Films such as "Star Wars" and "Lord of the Rings" created the "mainstream mall or high street presence" of specialty stores, according to Gavin Syme, creative manager for Alternative Armies, a designer and distributor of licensed action figures in Girvan, Scotland. "We see this as a two-level trend, with American films at the top of the market providing the largest boost of financial investment in these stores … and a secondary market for lesser brands and others filling the rest of the shelf space."

These cult-status brands, according to Syme, are created because of collector demand, and include products based on small TV shows, small movies, most novels (excluding "Harry Potter") and retro classics.
Alternative Armies has worked with licensed miniatures for the BBC done under the "Doctor Who" brand, one of the oldest British television series from the '60s, which returned in 2005 after a gap of 16 years. The new version of the show has not yet been aired in America and may trigger the next sci-fi wave here, with a proven audience already established.

This company is also known for its unique brands like the fantastical Flintloque and a pseudo-mythological product called Typhon from Ancient Greece. They have been quite successful in selling to U.S. retailers through Matt Gilford with Castle Hobby and Games, their agent in Maryland.
"We find that the ´made in Scotland´ image on product goes down well with American retailers, and we look forward to promoting and developing business with them," Syme said.
David Dance, owner of Darkstar, a specialty retailer in Surrey, England, believes that adult collectors are commanding the sci-fi and fantasy trend. Many of the action figures are available only in comic stores and not in the toy shop market, such as Todd McFarlane´s Spawn Movie Maniacs. NECA and Mezco are producing characters from other popular films. He said the collectors´ market is now global, which may lead to some smaller companies having to close.
"The biggest British program to hit our screens in years was the new ´Doctor Who´ television series, which hauled in over 10 million viewing figures for most of its run on the BBC," Dance remarked. "Hopefully, with this type of response, the BBC will update other old science fiction shows."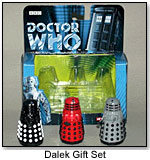 Mark Gasper, owner of Doctor Who America, says there have been Doctor Who toys imported over the past two to three years, prior to discussion of the new show. He´s seen plans for two dozen items for the new series, from talking coffee mugs to coin banks to light-up pens to bottle openers.
"First, fans will seek out the new items of merchandise from the U.K.," Gasper explained. "Second, new fans to the series may try to learn more about the past 42 years of Doctor Who and purchase merchandise from previous eras of the show. I will certainly have all the new items coming out from the U.K., and I suspect that as long as new episodes are being produced, there will be a widening range of items to satisfy demand."
While American retailers wonder what to put on their shelves … perhaps they should instead ask, Who?