Article Archive: Collectibles

Top-10 Most-Wanted Collectible Toys

When TDmonthly Magazine interviewed retailers in August 2014 about their best-selling collectibles, we learned that licensed toys featuring Star Wars, Frozen, and Thomas the Tank Engine were all popular...

9/1/2014
Top-5 Most-Wanted Action Figures

Action figures aren't huge sellers in specialty, according to half the retailers TDmonthly Magazine interviewed in August 2014. However, for some, these toys do generate sales...

9/1/2014
Will American Kids Want Some Tsum-Tsum?

If there's one thing Disney's great at, it's integrating experience (whether digital or physical) with merchandise - and they just might have another hit on their hands...

9/1/2014

Top-5 Most-Wanted Collectibles

In an August 2013 survey, TDmonthly discovered that many specialty retailers just aren't that interested in selling collectible items...

9/1/2013
Safari Ltd® Supports Miami Children's Hospital Foundation's Holiday Toy Drive

PRESS RELEASESafari Ltd®, a worldwide distributor of quality, hand painted animal replicas, donated more than 2,000 of its toys to Miami Children's Hospital Foundation's annual Holiday Toy Drive last week.The Holiday Toy Drive benefits children spending their holidays in the hospital. On Christmas morning, patients will wake up to a...

12/1/2012
Safari Ltd® Supports Neighborhood Toy Store Day

Safari Ltd®, manufacturer and worldwide distributor of award-winning replica collections, is providing free giveaway items throughout October to support local toy stores in honor of Neighborhood Toy Store Day...

10/1/2012

Top-10 Most-Wanted Collectibles

When TDmonthly Magazine surveyed retailers about their best selling collectible toys in a Summer 2012 survey, their answers were varied...

9/1/2012

Diamond Announces Top Comic Book Product Sales For May 2012

The battle between Marvel Comics' top teams reaches the surface of the moon in the publisher's Avengers Vs. X-Men #4, the best-selling comic book to specialty retailers in May 2012, according to information provided by Diamond Comic Distributors...

6/1/2012

Q&A With Dax Logue, Creator of Sqwishland LLC

Entering or leaving a toy store can provide an unbearable temptation for children - there, at the entrance, several small machines dispense candy, stickers, and even small toys, all at kid-friendly prices...

2/1/2012

Realism and Altruism Fuel Safari Ltd.®

Safari Ltd. creates astonishing replicas of Nature's most fascinating and beautiful creatures by hiring expert sculptors with acute observational powers...

2/1/2012

Collectibles

Collectibles are hot and getting hotter. See these recently added mass-market and specialty collectibles...

12/1/2011

Collectibles

See these recently added specialty and mass-market Collectibles...

10/1/2011

Top-7 Most-Wanted Action Figures

When TDmonthly Magazine interviewed retailers for a Summer 2011 survey about best-selling action figures, four out of the 14 said that figurines from Papo were their best-sellers...

9/1/2011

Top-10 Most-Wanted Collectibles

When TDmonthly interviewed 14 retailers about their best-selling collectibles in Summer 2011 five named dolls from Alexander Doll Co. (Madame Alexander) as their best-sellers...

9/1/2011

Solving the Mystery of Composition Soldiers, Part II

The composition of Playwood's soldiers consisted of triple zero wood flour from Wisconsin (very fine-ground, almost like talc), 20 Mule Team Borax, unbleached white flour (condemned by food inspectors who had marked the inedible flour with chicken blood), and water...

9/1/2011

Top-10 Most-Wanted Dolls

When TDmonthly interviewed 14 retailers in early Summer 2011 about their best-selling doll, a whopping 71% of them named Corolle Dolls as their best-selling brand...

7/1/2011

Top-10 Most-Wanted Collectibles

In July 2010, we spoke with 38 specialty retailers about their best-selling collectible toys and gifts. Their responses crowned BC USA's Iwako novelty erasers an overwhelming favorite...

9/1/2010

My Best Sellers: Dancing Bear Toys Ltd.

At Dancing Bear Toys Ltd. in North Carolina's Asheville and Hendersonville, the Evers family imagines that customers are guests in their living room...

7/1/2010

My Best Sellers: Key West Toy Factory

At Key West Toy Factory in Key West, Fla., shoppers are seeking fun vacation toys that are easy to take on a cruise ship and then on a plane back home...

6/1/2010

February's Toy Videos Are All Heart

While kids are scribbling their Valentine's cards, they can take a look at these new toys, which are sure to set off a spark of love...

2/1/2010

A Safari Into the Imagination

What do dragons, dinosaurs and pirates have in common? Along with dozens of other intricately detailed plastic figures from Safari Ltd., they're the stars of collections designed to promote education and imagination...

2/1/2010
Retailer Spotlight: RoundTable Toys

After 10 years of success with selling toys in cyberspace, Owner David Davis of RoundTable Toys decided to branch out into the brick-and-mortar space, opening a retail store in Winterville, N.C., just last October...

2/1/2010

Innovations of 2010

Coins jump into bracelets, a dollhouse goes super modern, pacifiers take a new shape, and baby food benefits from a safe storage solution in stylish silicone...

1/1/2010

Top-10 Most-Wanted Items for Tween Girls

These days, if it's not a craft to be made, an accessory to be worn or a cute animal to be admired, it's probably not at the top of tween girls' want lists...

11/1/2009

Top-10 Most-Wanted Novelties

If your specialty toy or gift store doesn't carry Iwako erasers from BC Industries, you should take a second look at the sales of these tiny, collectible, puzzle erasers...

11/1/2009

Top-10 Most-Wanted Collectibles

Based on a TDmonthly Magazine survey of 49 specialty retailers regarding sales of collectibles, the wide range of products catching customers' acquisitive fancy goes from cute Japanese erasers from BC Industries to familiar collectors' items including Steiff plush and Breyer horses...

9/1/2009

TDmonthly Goes Inside ... Sideshow Collectibles

Unlike other manufacturers who rely exclusively on laser scans and digital-wax outputs to create character likenesses, Sideshow Collectibles still hires artists to individually sculpt 90 percent of the faces and bodies for its action figures and collectibles...

8/1/2009

Reviving Doll Collecting Amid a Fading Generation

Old friends were reunited and new friends made over a mutual love for dolls during the 60th annual meeting of The United Federation of Doll Clubs and the Original Doll Artist Council of America convention held in Atlanta, Ga., the week of July 12...

8/1/2009
Holiday Preview - Action Figures

Elves and crocodiles ready for battle could be the perfect addition to a child's toy box this year. TDmonthly's Holiday Preview of Action Figures also boasts other non-traditional collectible figurines, including tween characters tied to a virtual world, critters that place emphasis on diversity, and designer figurines that can spruce...

6/1/2009
Holiday Preview - Collectibles

Decorative change banks, handmade ornaments and pins with personality give children (and adults!) lots to keep around for the long-term. See card collections, jewelry sets and more in TDmonthly's Holiday Preview of Collectibles...

6/1/2009

13-Year-Old Shares Secrets of Snap Caps Success

M3 Girl Designs hit New York City for its first Toy Fair ever in February 2009, showing off Snap Caps, the interchangeable, magnetic bottlecap necklaces that have taken off in well over 400 stores nationwide since their introduction...

5/1/2009

My Best Sellers: Twirl Toystore & Playspace

Fun, impulse toys are staples at Twirl Toystore & Playspace in Taos, N.M. Following are the items Operations Manager Molly McMullin told TDmonthly Magazine are best sellers at her store...

4/1/2009

IDEX 2009: Dolls Draw Attention Despite Economy

Warm Florida weather greeted enthusiastic attendees as exhibitors displayed one of a kind dolls, play dolls, reborn babies, limited editions, and doll clothing and accessories alongside many celebrity artists at the 2009 Idex Premiere Jan. 30-Feb. 1 in Orlando...

3/1/2009

Munipals Puts Fay Graphic on Track

Incentive to get the wheels in motion for a line of wooden toy trains modeled after the New York subway came from a son's question at the dinner table...

12/1/2008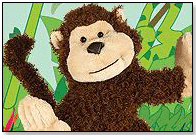 Webkinz Speaks

At Toy Fair 2008, George Kacic, vice president of sales and marketing for Ganz, said he felt TDmonthly Magazine hadn't covered his company's point of view about the Webkinz shortage last year...

4/1/2008

Sports Action Figures Cast a Spell

Sports fanatics don't just go out and wear their favorite team jerseys or add to their baseball card collection anymore. Sports action figures are becoming a popular way for fans to support their local teams on and off season, sources told PlayZak, and just as kids are with Pokémon, many have to collect them all...

9/1/2007

Webkinz: Boom, Bust or Both?

Now that the Webkinz boom has made the mainstream press, and rumors of a mass-market sellout are flying, specialty retailers who built the brand are telling TDmonthly Magazine they're frustrated with shortages and angered by Ganz's silence...

5/1/2007

My Best Sellers: All Things Fun!

Every day is full of adventure for Ed and Dina Evans, owners of West Berlin, N.J.'s All Things Fun, where action toys, games and comics are the focus...

5/1/2007

Trains Keep Hobbies Chugging

Models are out, electronics are in, and RC trains, planes and automobiles are keeping the hobby industry hobbling along, retailers told TDmonthly...

10/1/2006

Adults Grab Kids' Toys

Adults are the biggest collectors "because they have the disposable income and come from a generation that's very self-centered," .....

10/1/2006

Get Collectors Collecting Again

Competition for adults' diminishing disposable income has collectibles manufacturers scrambling for new sales strategies...

10/1/2006

TDmonthly's Top-10 Most-Wanted Mini-Toys

Manhattan Toy's Groovy Girl Minis are tied with Papo Knights as the best-selling teeny toy, each getting a top-selling nod from 10 of 45 specialty toy-store owners surveyed...

9/1/2006

Don't Throw Out Those Baseball Cards

David Brown, president of Serious U.S.A. Inc., believes sports trading cards can still be profitable; he just thinks manufacturers "need to demand innovation to keep their product relevant."...

9/1/2006
The World in a Pocket

Though not always small in price, tiny collectibles are big with little kids, a TDmonthly Magazine survey of 40 specialty retailers revealed...

12/1/2005

Guys Grab Dolls for the Holidays

Tonner, Integrity Toys and Mattel have the gals of the moment, and smart retailers have ordered extra Tyler Wentworths, Jason Wu-designed Fashion Royals and I Love Lucies for well-behaved adults this Christmas...

12/1/2005

Become Enchanted With Dervish Toys

After six years in development, the husband and wife founders of Dervish Toys, Charles Erdman and Tatiana Romanov, are finally ready to bring their old world fantasy to life...

9/1/2005

Collectible Trading Card Games Go Deck to Deck

Since Pokémon reached billion dollar success, soon followed by Yu-Gi-Oh!, every collectible card game publisher has been turning his or her eyes to anime licenses, looking for an equally winning hand...

4/1/2005
Taking Heroes Home: Licensing trends

Licensed products currently account for over one third of the toy industry, and the market segment keeps growing. Superhero products are one of the larger players in this field, especially as more feature films continue to be based on comic books...

2/1/2005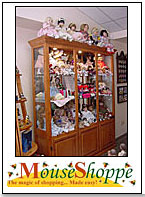 Getting the Word Out: Advice from MouseShoppe

MouseShoppe is an Internet-based store that carries low-end licensed Disney mechandise, while its physical counterpart, CharmingShoppe, is a brick and mortar store that sells high-end Disney collectibles. Strategically located near Disneyland in Anaheim, Calif., Adrienne Vincent-Phoenix may have an edge on her competitors, but even this experienced retailer must advertise to draw sales...

1/1/2005
Monogram International: Batman Begins to the Future

Monogram International is known for movie collectibles; everything from items based on animated tales to their newest licensing contract with Warner Brothers for the live action film "Batman Begins."...

1/1/2005
Collectibles: Gotta Get Another Set

The term collectibles has always referred to a broad category of products, with collectors on the hunt for everything from out of date, limited edition items to ubiquitous, must-have toys. This year, toy makers are rapidly developing precious new sets of collectible items and introducing older collectibles to an expanding...

1/1/2005
Novelties: Simply Uncommon Delights

These fanciful, whimsical products take off this year in intriguing designs, shapes and styles. Whether the goal is to draw a silly reaction or merely light up someone's day, modern novelties take on a range of ingenious forms. Take a look at the following one-of-a-kind samples of novelty inspirations...

1/1/2005

TDmonthly´s Top 10 Most Wanted Political Playthings

Get out to the polls and, while you're at it, vote with your dollars for your favorite political toys. The presidential contest has been on everyone's mind this year and will continue to generate interest as the election draws closer...

10/1/2004
Magic Mini´s: Mini Doll Phenomenon

According to a report "What to Watch in 2004" by the NPD Group, "another area of strength in 2003 that will continue this year is the mini doll category."...

9/1/2004
Toys Inspired By the U.S. Troops

Dusty Trails Toys has come out with a set of action figures which remarkably commemorate the heroic efforts of America's troops abroad...

8/1/2004
Snoop Dogg Collectible

Among the hippest of stylish new collectibles is the Snoop Dogg Vinyl Figure: Series 1 (ages 3+) by Sota Toys...

8/1/2004
NOVELTY & IMPULSE

Hog Wild Toys The Desk Top Punching Bag is a glutton for punishment. Simply lick and stick the aggressive rubber suction cup to any flat surface and you´re ready to thump, flick and pop Bop-Oh! The bounce-back spring keeps him coming back for more. ($7.99) Jumping Beans "Jumping...

8/1/2004
Not Your Mother´s Barbie, Anymore

Barbie has remained a penultimate collectible for those who cherish each Barbie transformation. And the rest of the Adult Collectibles category is morphing, too, along generational and economic lines of the new century...

7/1/2004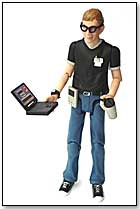 What A Geek!

There is a new super hero action figure hitting the toy markets. He doesn't have a cape, doesn't carry a gun or a light saber, isn't the subject of some popular show or cartoon, and he doesn't transform into something...

7/1/2004
Eclectic Collectibles

The field of popular collectibles has exploded thanks to auction websites...

7/1/2004
Wheeling and Dealing

Among the hottest in new collectible toys, Hubz Thumb-Racerz (2 pack $2.99; 4-pack $5.99 to $6.99) by Uni Toys are in tune with the latest trends on the street...

7/1/2004
COLLECTIBLES

Bennett Scopes Inc. The newest signature scope from Carolyn Bennett is called The Barry. The Barry is 9" tall and has an interchangeable chamber. It is elegantly made of brass and is operated by a two mirror system with a seven point star interior. This classic kaleidoscope is signed and...

7/1/2004
Retro Revival

From Care Bears to He-Man, many of this year´s "new" toys were actually born two decades ago...

5/1/2004
Since 02/01/05 people have visited this page.

Advertisement: