The Few, The Proud...The Award-Winning Toys!
Who Made the Cut This Year?
By Alison Marek and Julie L. Jones
---
Thousands of products are introduced to the toy industry every year, but only a limited number are good enough, playable enough and innovative enough to garner an award.

In addition to issuing TDmonthly Awards, TDmonthly Magazine regularly asks manufacturers to present their award winners to our readers so that retailers can quickly identify products with great potential and manufacturers can learn and be inspired by others' successes. Here are the most recent responses:
Mag-Blocks by POPULAR PLAYTHINGS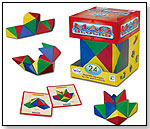 Mag-Blocks stimulates both imagination and creativity while promoting basic logical thought. Each Mag-Blocks cube is made up of 24 large, easy-to-handle, colorful pyramids. Held together by magnets, they fit together only when the magnets are properly aligned. Children will first have to understand how the blocks fit together in order to build with Mag-Blocks. Twenty challenge cards are included with suggested designs, but the real fun begins when individuals start creating their own. This product received a Spring 2007 Parent's Choice Gold Award.
6/13/2007 (Price: $12.99; Age: 8 and up) [Add to my Inquiry Basket][?]



Related Video:
Charlie Davidson's Tricycle Club by PARKER BENT MUSIC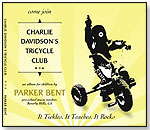 It tickles. It teaches. It rocks. This children's album was developed by a full-time preschool music teacher in Beverly Hills, Calif., from experience with more than 1,500 live performances with children. It features smart and fun songs that nurture music appreciation by helping listeners hear more in what they're hearing. The songs are lyrically and musically sophisticated. This product received a Spring 2007 Parents' Choice Recommended Award. Launch date: February 2007.
6/13/2007 (Price: $15.00; Age: 3 to 10) [Add to my Inquiry Basket][?]



Related Video:
Roger Day: Dream Big! by ROGER DAY PRODUCTIONS LLC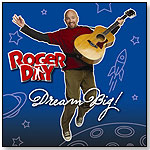 This 13-track album by two-time Parents' Choice Award-winner Roger Day features rock legends The Crickets, as well as children's performer and radio superstar Billy Jonas. Roger's trademark wit, whimsy and wordplay are evident in songs such as "Rumble in the Jungle," "Roly Poly" and "Turn Off the TV," in a musical world of pachyderms, isopods and nandina berries. "Elefunks" get down low in Borneo, Yaks wander with the Dalai Lama, and there's even a Beatlesesque string quartet. "Roger Day urges kids to reach their potential by using 'body and brain, mind and muscle.' The predominant theme underlying the music's lively verbal gymnastics and colorful imagery is that of aspiration." Launch date: July 2007.
6/13/2007 (Price: $15.00; Age: 4 to 10) [Add to my Inquiry Basket][?]



Related Video:
Microcontroller by THAMES & KOSMOS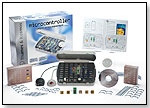 This computer systems engineering kit introduces kids to microcontrollers, sensors and programming. The educational kit includes 100 experiments involving light, heat and sound sensors, data collection and more. Kids will learn about the inner workings of computers and programs and how to assemble circuits, design circuits and write programs. This product received a Spring 2007 Parents' Choice Silver Award.
— "This kit breaks down how computers actually work and thus is extremely relevant to the technology-dependent world in which children live and learn," Christa Raimondo, customer relations manager for Thames & Kosmos, told TDmonthly.
— "Thames & Kosmos science kits do really well during the holidays," Little Blue Choo Choo Manager Brandy Lindstrom in Scottsdale, Ariz., told TDmonthly.
— Five out of 58 retailers who spoke with TDmonthly named science kits as a popular gift item for older kids.
6/13/2007 (Price: $149.95; Age: 12 and up) [Add to my Inquiry Basket][?]



Related Video:
Shining Stars® by RUSS BERRIE

With plush Shining Stars, kids can log onto the Shining Stars website and use the secret code inside the hangtag to register and name a star with the International Star Registry. Children can print a star chart and certificate that gives the exact location of their star in the cosmos. Additionally, the website offers customized games and fun activities. Shining Stars made Dr. Toy's Spring 2007 Best Products List.
6/8/2007 [Add to my Inquiry Basket][?]



Related Video:
Dado Cubes - The Blues by FAT BRAIN TOY CO.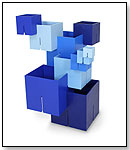 The Blues are the first addition to the award-winning Dado Cubes line. Dado Cubes combine art and science as players explore architectural principles — proportion, balance, structure and color. A new twist on classic building blocks, Dado Cubes engage the imagination as the slits on each cube are interlocked to create an unlimited number of three-dimensional structures. Each set features 10 cubes, scaled from 1" to 5", capable of building structures over 32" high. They are made of durable, heavy-gauge plastic and were developed, manufactured and assembled in the U.S.A. Dado Cubes have been honored with numerous awards, including Dr. Toy's Spring 2007 Best Product Award and a Spring 2007 National Parenting Center Seal of Approval. Launch date: May 2007.
6/7/2007 (Price: $27.50; Age: 3 and up) [Add to my Inquiry Basket][?]



Related Video:
JellLoopyDo Keys by FASHION ANGELS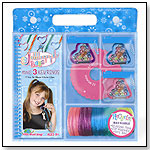 If girls ever had problems on the playground making these key chains, they don't have to worry now. They can simply use the EZ Weaver, sparkle jelly tubing and beads to create the coolest, jell-licious key rings ever! "With space-age jelly tubing and the reusable EZ Weaver, beading tray and tote, you will surely be the hit with all your friends!" Sarah Koth, manager of trade shows and exhibitions for Fashion Angels Enterprises, told TDmonthly. This product received a 2007 Oppenheim Toy Portfolio Gold Seal Best Toy Award. Launch date: January 2007.
6/5/2007 (Price: $12.00; Age: 8 and up) ENTER FASHION ANGELS TOYSHOW [Add to my Inquiry Basket][?]



Related Video:
Noah's Pals by Caboodle! Toys LLC (Noah's Pals)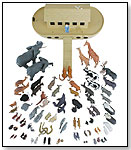 Assembling a top-notch zoo in the playroom just got a little easier. These well-crafted, realistic looking, humorously named animals are packaged as a pair — a male and female of each species. The cards that accompany the animals detail information about the habitat and size of each species. All animals are built to a consistent scale of 1:24. "Each animal pair is packaged with an educational ID Card that contains a unique secret scratch code, similar to Webkinz. When collectors gather and register the entire series, Caboodle! Toys rewards their diligence by sending a Caboodle! — a box of special, exclusive rewards," Co-founder Steve King of Caboodle! Toys told TDmonthly. Noah's Pals was a spring 2007 Parents' Choice Approved award winner. Launch date: February 2007.
6/5/2007 (Age: 3 and up) [Add to my Inquiry Basket][?]



Related Video:
Seussical: 2-Disc Karaoke CD+G by STAGE STARS RECORDS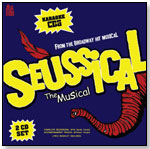 With fully-orchestrated background tracks that follow the Broadway score, this new recording of "Seussical the Musical" in Karaoke CD+G allows participants to practice with the guide vocalists, and then sing along with the accompaniment version of each song. It plays in any CD player, and on-screen lyrics appear when played in a karaoke machine. The album is an entertaining CD for young vocalists and a great rehearsal tool for performers. A lyric booklet is included. The product received a Spring 2007 Parents' Choice Award. Launch date: January 2007.
— "The quality of our musical tracks far exceeds typical karaoke," Malinda Boothe of Stage Star Records told TDmonthly. "This...product provides well-orchestrated sound recordings — whether the child is singing at home or rehearsing for a school production."
6/5/2007 (Price: $29.95; Age: 5 and up) [Add to my Inquiry Basket][?]



Related Video:
Scoop 'n' Shoot R/C Basketball by KID GALAXY INC.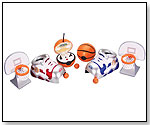 This set includes two basketball shoe vehicles that, with the help of the two basketball-styled radio-controllers, drive in all directions: forward, reverse, left and right. The front of the sneaker scoops up the basketball and then players must push the shoot button on the controller to launch the ball toward the basket. It also includes two backboards with nets and three basketballs. The set requires eight AAA batteries and two 9V batteries (not included). "This is the only game on the market to combine remote control interaction with basketball fun," a representative of Kid Galaxy told TDmonthly. This product is a 2007 Oppenheim Toy Portfolio Gold Award and 2007 Dr. Toy 100 Best Children's Products Award winner. Launch date: June 2007.
6/5/2007 (Price: $40.00; Age: 5 and up) [Add to my Inquiry Basket][?]



Related Video:
Following are some of the programs represented in TDmonthly.com's section of award winners: Dr. Toy, iParenting Media Awards, TIA T.O.T.Y., Oppenheim Toy Portfolio, The National Parenting Center, and Parents' Choice Awards.

You may also access TDmonthly's review section to see which products earned 5 TD stars.