The Few, The Proud...The Award-Winning Toys!
Who Made the Cut This Year?
By Alison Marek and Julie L. Jones
---
Thousands of products are introduced to the toy industry every year, but only a limited number are good enough, playable enough and innovative enough to garner an award.

In addition to issuing TDmonthly Awards, TDmonthly Magazine regularly asks manufacturers to present their award winners to our readers so that retailers can quickly identify products with great potential and manufacturers can learn and be inspired by others' successes. Here are the most recent responses:
Coin Hopping - Washington D.C.™ by COIN HOPPING GAMES LLC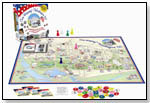 To play this game of strategy, players simply scatter coins on the board and then vie to become president, appoint Supreme Court justices, and even vote in Congress to change the rules. The game is fast-paced and topical as all eyes turn toward the 2008 U.S. election year. "People are interested in politics, and this game gives them a chance to become president and experience the balance of power among the three branches of government. It really captures the spirit of the city," Co-owner Joan Cartier of Coin Hopping Games told TDmonthly. The game board, a beautiful map of the National Mall and surrounding areas, invites exploration of the city and its landmarks. The game includes 50 destination cards with pictures of things to see, and is a patriotic experience Americans will find intriguing. For those thinking of taking the family to D.C., it's more fun than a guide book and provides a way to involve the whole family in the vacation planning. The game has received the following awards: 2007 iParenting Media; Dr. Toy's 100 Best Children's Products 2008; Dr. Toy's 10 Best Board Games 2008; and Creative Child Preferred Choice 2009. Launch date: March 2007.
12/5/2006 (Price: $29.95; Age: 8 to 101) [Add to my Inquiry Basket][?]



Related Video:
Yamodo! Volume 1 by IDEA STORM PRODUCTS, LLC.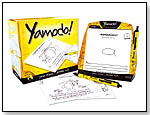 In "the ultimate game of personal expression and creativity," players use their imagination to draw and define the made-up word written at the top of each card. Each card features an existing doodle for players to add to, and on each pass, a player draws something and writes part of the definition. The cards become increasingly outrageous and laughable as players stretch their imagination in this game of creative collaboration. "The game is unlike any other and is even being used by teachers, guidance counselors and hospitals," Bill Phelps, chief imaginator at Idea Storm Products, told TDmonthly. This product has received the following awards: Creative Child Magazine Award of Excellence, iParenting Media HOT Award, The National Parenting Center 2007 Seal of Approval and Dr. Toy 10 Best Games. Launch date: November 2006.
— "Yamodo! is a very clever and fun drawing/word definition group activity," said Michele and Ken Gietz of Where'd You Get That!? in Williamstown, Mass., naming the game as a best seller in fall 2008. "Good packaging helps the game sell itself."
12/5/2006 (Price: $19.95; Age: 10 and up) [Add to my Inquiry Basket][?]



Related Video:
Tonka Mighty Motorized Side Loading Sanitation Truck by FUNRISE INC.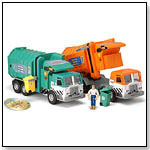 This realistic Tonka Mighty Motorized Side Loading Sanitation Truck has all the cool features of the real thing, including a lifting belt for up/down motion, opening doors with working interior lights and a figure that can be placed in the driver's seat. Sturdy Tonka construction and incredible detail are combined in one great vehicle. This product received a 2007 Best Product iParenting Media Award.
11/29/2006 (Price: $29.99; Age: 3 and up) [Add to my Inquiry Basket][?]



Related Video:
Top Toss by FUNDEX GAMES


Players take turns trying to wrap the bolo balls around the rungs to score points. The top rung is worth three points, the middle rung two points and the bottom rung one point. The person who gets the most points wins. The steel frame provides a sturdy target, easy set-up, and portability. The game includes six soft team colored bolo balls, Top Toss Tower, storage bag and instructions. This product is a 2008 iParenting Media Award winner. Launch date: February 2006.
11/28/2006 (Price: $30.00; Age: 8 and up) [Add to my Inquiry Basket][?]



Related Video:
Hunk-Ta-Bunk-Ta TWINKLE by HUNK-TA-BUNK-TA® MUSIC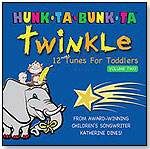 Hunk-Ta-Bunk-Ta TWINKLE contains 12 songs written especially for toddlers. Award-winning songwriter Katherine Dines has created songs with catchy lyrics, easy-to-sing melodies and rhythms. This product received 2007 iParenting Media and iParenting Media "Hot" awards.
11/28/2006 (Price: $15.99; Age: 1 to 3) [Add to my Inquiry Basket][?]



Related Video:
Wheely Bug by PRINCE LIONHEART INC.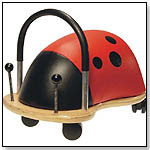 Multi-award winning and multi-directional Wheely Bugs, distributed in the United States by Prince Lionheart, go backward, forward, sideways and 'round and 'round. These ride-on bugs have a magical mind of their own. Their bodies have a padded layer of sponge, which is covered with a tough polyurethane skin that can easily be wiped clean. Handmade and crafted from the highest quality materials, Wheely Bug features multi-directional casters and unlimited mobility on all level surfaces. "The fact that the Wheely Bug is multi-directional, encourages gross motor skills and at the same time is heaps of fun," explains its appeal, said Sarah Eastman, sales and marketing associate at Prince Lionheart. "In addition," she continued, "this is a great product for the specialty market because it is handmade and beautifully crafted. Now moms can let their kids play with bugs, worry-free."
― Wheely Bug was a Toy Fair favorite spotted by Terry Myers, owner of Kaleidoscope Toys in Round Rock, Texas. It was voted Toy of the Year in BabyTalk's Dec. 2006/Jan. 2007 issue and received the 2007 Silver Award for Best Baby & Infant Product in The Netherlands.
— This handmade Australian toy earns gold stars for everything — wooden base, sturdy construction, simple design, adorable themes, easy-to-clean seat, multi-directional motion and two size options — all adding up to its receipt of a TDmonthly Top Toy 2007 award.
— Two of 60 retailers in a March 2009 survey listed Prince Lionheart Wheely Bugs as a best-selling ride-in in their stores. The Wheely Bug was a best seller at Golden Apple Learning Store in Pleasanton, Calif., in summer 2009.
11/27/2006 (Price: $69.99; Age: 2 to 5) [Add to my Inquiry Basket][?]



Related Video:
Rush Hour Deluxe Edition by THINKFUN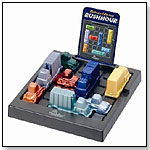 A winner of 20 awards, Rush Hour continues to be one of ThinkFun's most popular and renowned mind-challenging games. In honor of Rush Hour's 10 years of success, ThinkFun is celebrating with a Deluxe Edition that is guaranteed to delight seasoned Rush Hour fans and newcomers alike. Just like the traditional game, the object is to put problem-solving skills in gear to help the red car escape the traffic jam. But Rush Hour Deluxe Edition has been revved-up for maximum performance, featuring 60 of ThinkFun's best challenges and an exciting new level of play. It comes complete with a modern design, 15 bright metallic cars and a collector's gift box for easy travel. Launch date: Summer 2006.
— When surveyed about his best-selling puzzles in a Summer 2011 survey, Joe Berardoni, owner of Pun's Toys in Bryn Mawr, Pa., said he sells between 5 and 7 Rush Hours puzzles each month.
— As of 7/12/2011 this product had 4.3 out of 5 stars from 19 reviews on Amazon.com. Pros: Helps build problem solving skills; great for travel or quiet time. Cons: Two reviewers said that the Deluxe Edition was disappointing, as it actually has less features than the original game.
— Kids caught in traffic love to pull out this game and find their way out of the crunch. Rush Hour makes a great travel toy, specialty retailers have told TDmonthly, and it's been a top seller in their stores for more than 10 years. For these reasons, we gave it our TDmonthly Classic Toy 2007 award.
11/20/2006 (Price: $19.99; Age: 8 and up) [Add to my Inquiry Basket][?]



Related Video:
Skullduggery by OUTSET MEDIA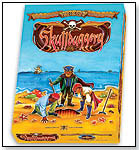 Avast ye mateys! Here's a salty, shiver-me-timbers strategy game. Young scallywags are marooned on a tropical island with a piece of treasure map. By hook or by crook, (or by roll of the Jolly Roger die) players face challenges such as scurvy ne'er-do-wells and dangerous animals. Precious gems and landmarks discovered along the way help players reach the treasure first. A unique tile game board means no two games are ever alike... and players can move the tiles to thwart opponents. This product received a 2007 Mensa Select award, a 2007 National Parenting Center Seal of Approval and a spring 2007 Parents' Choice Award.
11/17/2006 (Price: $24.99; Age: 8 and up) [Add to my Inquiry Basket][?]



Related Video:
Booby Trap by FUNDEX GAMES



One of the all-time great classic table games is back and better than ever. Booby Trap™ combines strategy, tension and a soft touch for hours of family fun. Players try to pull round tabs that are under pressure off the game board without having all the pieces fly off the board. A newly-designed game board adds to the play while maintaining all best aspects of the original. There's even a new alternative game play for a different Booby Trap experience. This product is a 2007 iParenting Media Award winner.
11/15/2006 (Price: $16.99; Age: 4 and up) [Add to my Inquiry Basket][?]



Related Video:
RUKSHUK – The Game of Rock Balancing by ZABAZOO CORPORATION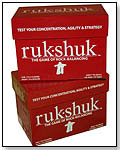 In this original game of rock balancing, players race against the clock to balance rock formations and score points. Skill, luck and strategy determine the winner. "RUKSHUK is a brand new concept in board games and promises to be a popular choice as it is a very simple and intuitive concept based on a thrilling and, dare I say, 'addictive' activity," Malcolm Bisiker of Zabazoo Corp. told TDmonthly. This product is a 2007 Parent's Choice Foundation Award winner, a 2006 Neighbourhood Toy Stores of Canada Gold Star Award winner, a Dr. Toy Top Ten Games Award winner, a Dr. Toy 100 Best Children's Products Award winner and a Family Review Center Platinum Award winner. Launch date: June 2006.
11/10/2006 (Price: $24.99) [Add to my Inquiry Basket][?]



Related Video:
Following are some of the programs represented in TDmonthly.com's section of award winners: Dr. Toy, iParenting Media Awards, TIA T.O.T.Y., Oppenheim Toy Portfolio, The National Parenting Center, and Parents' Choice Awards.

You may also access TDmonthly's review section to see which products earned 5 TD stars.