The Few, The Proud...The Award-Winning Toys!
Who Made the Cut This Year?
By Alison Marek and Julie L. Jones
---
Thousands of products are introduced to the toy industry every year, but only a limited number are good enough, playable enough and innovative enough to garner an award.

In addition to issuing TDmonthly Awards, TDmonthly Magazine regularly asks manufacturers to present their award winners to our readers so that retailers can quickly identify products with great potential and manufacturers can learn and be inspired by others' successes. Here are the most recent responses:
Rubbabu Action Trucks: Cleanupper Dump Truck / Fireman Rubba Engine / Bully Bulldozer by RUBBABU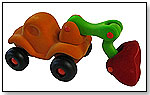 This set of three different trucks includes a dump truck, fire engine and bulldozer. All have the same, popular, velvet-like flocking as the other Rubbabu vehicles, but have movable parts to encourage active play. Launch date: March 2009. (Product was formerly dist. by Plasmart)
Awards: 2010 Oppenheim Toy Portfolio Best Toy Award, Gold Seal.
10/27/2008 (Price: $24.99; Age: 2 and up) [Add to my Inquiry Basket][?]



Related Video:
Rubbabu Rubbablox by RUBBABU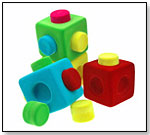 These building blocks have soft connectors so children can easily build with them. They are tactile and great for early spatial learning.
Awards: Parent's Choice Award 2010. Launch date: March 2009. (Product was formerly dist. by PlaSmart)
10/27/2008 (Age: 2 and up) [Add to my Inquiry Basket][?]



Related Video:
Billy Blue Hair and Me! - Why Do Giraffes Have Long Necks? by BILLY BLUE HAIR



On this 30-minute personalized DVD, blue-haired Billy speaks directly to the child who owns the DVD, educating him or her as he interacts with wild animals and encourages use of the imagination. A non-personalized version is also available. "We have over 400 unique names in stock, so product ships within 48 hours," Kris Olson, president of Kayo Media LLC, told TDmonthly. This product received an iParenting Media Award. Launch date: October 14, 2008.
9/23/2008 (Price: $29.95; Age: 3 and up) [Add to my Inquiry Basket][?]



Related Video:
Thought Cards - I Have Fun When ...™ by SMILES MADE EASY


Packaged in a small tin, this product includes 15, 8 cm x 8.5 cm note cards and envelopes. "We start the thought. You finish it," the packaging says. Starter phrases include "You are especially good at ...,"You have a great way of ..." and "I remember when ..." The cards can be stuffed into stockings or lunch bags, and four other themes are available. Thought Cards won an iParenting Media Best Products Award.
9/23/2008 (Price: $8.99; Age: 6 and up) [Add to my Inquiry Basket][?]



Related Video:
WowWee FlyTech Bladestar by WOWWEE GROUP LTD.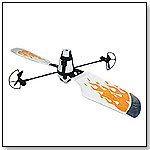 This indoor flying machine features an Autopilot Mode with sensor-based navigation that allows it to avoid ceilings and other obstacles while gliding. It also comes with a three-channel digital IR remote controller, plush a Dogfight accessory for use when pitting two Bladestars against one another. The crash-resistant Bladestar boasts lightweight "high-flex" materials and is for indoor use only. It has a 12" wingspan, and 20 minutes of charge time results in about five minutes of flight. It requires 6 AA batteries (not included). The product received a CES 2008 Popular Mechanics Editor's Choice Award.
9/23/2008 (Price: $49.99; Age: 8 and up) [Add to my Inquiry Basket][?]



Related Video:
Slooh Kids Volume 2 Activity Book by BLUESTORM PRODUCTIONS INC.



Each Slooh Kids activity book includes 14 celestial objects located in the northern and/or southern Hemisphere. It's easy to launch, explore, and learn with the whole family. Kids can learn about space, then go see it LIVE using the Slooh mission card via Internet access on a Mac or PC. Kids can connect to three observatory site locations, learn how to plan missions, remotely control the telescopes, and take and print pictures, then paste them in the book. Access includes Live SkyGuide Audio. "Slooh is revolutionizing the way we explore the night sky," Patrick Paolucci, president of BlueStorm Productions, Inc., told TDmonthly. Slooh mission cards won a 2006 NAPPA Gold Award Honor award. Launch date: July 2008.
9/19/2008 (Price: $19.95; Age: 5 to 17) [Add to my Inquiry Basket][?]



Related Video:
CALAFANT Pirate Fortress by CREATIVE TOYSHOP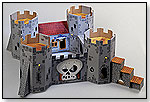 Children can easily build this sturdy Pirate Fortress, decorate it, and play with it. This kit transforms from a crafting activity into a real toy, and, best of all, is recyclable. All pieces are made from pre-cut and pre-punched sturdy white cardboard and can be put together without glue and scissors. "It's a great choice for parents who want to promote their children's creativity, and it is a wonderful, unique present for a kid that wants a cool toy," Martina McConnon, owner of distributor Creative Toyshop, told TDmonthly. It received the Spiel gut 2008 award in Germany. Launch date: September 8, 2008.
9/19/2008 (Price: $24.99; Age: 4 to 9) [Add to my Inquiry Basket][?]



Related Video:
Letters & Numbers by HELP ME 2 LEARN COMPANY



Beginning reading and math builds the foundation for success with this content-packed interactive program. Includes 11 sing-a-long songs and 15 two-level activities to teach children letter names, numbers, phonics, basic addition and more. The Super Star System gives students an incentive to repeat an activity until a gold star is awarded. Winner of a National Parenting Center Seal of Approval
9/11/2008 (Price: $24.95; Age: 2 to 7) [Add to my Inquiry Basket][?]



Related Video:
Mini Zillio by ZILLIO

Zillio has 12 colorful staircases based upon multiplication tables. The visual and tactile relationships between steps enable kids to discover and master difficult math concepts as they learn and play with 10 essential math skills. Mini Zillio handles numbers up to 36, and measures 18" x 18" x 8", compared to Mega Zillio's 27" x 27" x 12.5". For up to 4 players at a time.
Awards: 2010 Tillywig Brain Child
9/10/2008 (Price: $99.95; Age: 4 to 94) [Add to my Inquiry Basket][?]



Related Video:
Blast Pad® Advanced Missile Launch System by MARKY SPARKY TOYS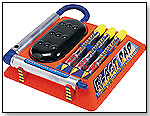 This launch system features a flex tube that stretches to nearly 3' and won't restrict airflow. It only blasts vertically (9 degrees either way), using Metalix™ missiles (three included). The parts store in the base, and the product is also available in Electric Extra Terrestrial Green and Exploding Sun Yellow.
— Two of 66 retailers told TDmonthly in July 2008 that this product is one of their overall best sellers. Five of the 66 named it as a best-selling gift item for boys. Three of 39 retailers listed Blast Pads as their best-selling item for tween boys during an October 2009 survey. "I've been accused of giving them away with how fast I go through them," Jude Larene, owner of Izilla Toys in Seattle, Wash., said in March 2009.
— "Blast Pads from Marky Sparky were our biggest sellers last year," Joe Berardoni, owner of Pun's Toy Shop in Bryn Mawr, Pa., told TDmonthly in spring 2009. Of 47 retailers, two told TDmonthly in June 2009 that Blast Pads top their sales of boys' items, reporting figures of seven to 15 sold per month. "We sell that all year. Every time we get them in we sell out," reported Kim Haynes of Lollipop Toy Store in Dawsonville, Ga., in March 2010.
—''We sell at least one per week, sometimes more,'' said manager Gwen Bowden of Doodlehopper 4 Kids in 1Q 2011.
AWARDS: 2010 TDmonthly Top Seller
8/28/2008 [Add to my Inquiry Basket][?]



Related Video:
Following are some of the programs represented in TDmonthly.com's section of award winners: Dr. Toy, iParenting Media Awards, TIA T.O.T.Y., Oppenheim Toy Portfolio, The National Parenting Center, and Parents' Choice Awards.

You may also access TDmonthly's review section to see which products earned 5 TD stars.