The Few, The Proud...The Award-Winning Toys!
Who Made the Cut This Year?
By Alison Marek and Julie L. Jones
---
Thousands of products are introduced to the toy industry every year, but only a limited number are good enough, playable enough and innovative enough to garner an award.

In addition to issuing TDmonthly Awards, TDmonthly Magazine regularly asks manufacturers to present their award winners to our readers so that retailers can quickly identify products with great potential and manufacturers can learn and be inspired by others' successes. Here are the most recent responses:
Duple by ANOMIA PRESS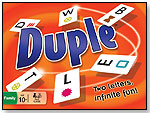 Duple is a quick-thinking game of symbol matching and word-finding. Players flip letter cards in turn until the symbols on two players' cards match. Matching players face-off by being the first to shout a word which contains the letters on both cards. Correct answers must be at least 5 letters long and conform to ever-changing categories. Wild Cards and Cascades create unexpected face-offs and the All Play card gets everyone facing off a once. Distributed by Everest. Launch date: February 2012.
Awards: 2013 TDmonthly Seal of Approval
5/25/2012 [Add to my Inquiry Basket][?]



Related Video:
Sprouts Cure It! My Very Own Doctor Set by LEARNING RESOURCES INC.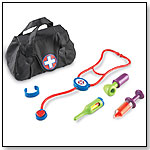 Chunky tools made from durable, soft plastic are perfect for encouraging imaginative play. Includes stethoscope, syringe, bandage, ear scope and thermometer. All pieces store in a vinyl doctor's bag measuring 6.75"W x 5"H.
Awards: 2012 Oppenheim Toy Portfolio Best Toy Gold Seal Award.
5/25/2012 (Price: $24.95; Age: 2 to 4) [Add to my Inquiry Basket][?]



Related Video:
Sunflowers Master Kitz by KIDZAW INC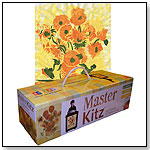 Sunflowers have been become an iconic symbol of van Gogh's work. Many of his Sunflower paintings were done in the Yellow House in Arles and were used to decorate the room he created for Gauguin. The vibrant colors and simplistic beauty of the paintings have led many artists to try and duplicate their beauty. The Sunflowers Master Kitz includes all the tools your child needs to create their own Sunflowers masterpiece and the learning materials to deepen their understanding of van Gogh the artist and the time he spent in Arles. Each Sunflowers Master Kitz contains: A sturdy, re-usable art tool box with magnetic closures; 3 Custom Acrylic Paints (child friendly); 1 van Gogh Roller specially designed to replicate van Gogh's active stroke; 2 re-usable Sunflower stencils; 1 foam paint brush; 2 pieces deluxe art paper; Fun, easy-to-understand van Gogh learning materials; Easy-to-follow step-by-step instructions.
Awards: 2013 TDmonthly Seal of Approval
5/25/2012 (Price: $29.99) [Add to my Inquiry Basket][?]



Related Video:
Graham by HABA USA/HABERMAASS CORP.



Graham's favorite place is the skateboard park, where he hangs out with friends and tries out the latest skateboard tricks while listening to cool music. Grahams outfit includes 1 T-shirt, 1 pair of dungarees, shoes, baseball cap, scarf.
Awards: 2013 TDmonthly Seal of Approval
5/23/2012 [Add to my Inquiry Basket][?]



Related Video:
100 pc Glow in the Dark Blocks by CITIBLOCS LLC



100 piece GLOW IN THE DARK building block set. The building fun doesn't have to stop when the lights go off. Safe and non-toxic glow paint adds a new dimension to block building. Set includes 70 glow blocks and 30 natural color blocks. Building guide included.
Awards: 2013 TDmonthly Seal of Approval
5/18/2012 (Price: $29.99) [Add to my Inquiry Basket][?]



Related Video:
Newspaper Builders by ROYLCO INC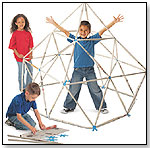 Go green with a new and innovative approach to building. Don't toss out newspapers: recycle them to build incredible geometric sculptures. Tape the included tubes to both ends of a sheet of newspaper. Roll up the newspaper and secure with tape to make a connecting paper rod. Includes durable plastic connectors that fit into the rods. Follow the step-by-step instructions in the guide to make a triangular pyramid, a square anti-prism or design kids can design their own creations in the classroom, gymnasium or playground. Includes guide. 36 connectors, 200 rod-tubes.
Awards: 2013 TDmonthly Seal of Approval
5/18/2012 (Price: $39.95; Age: 4 and up) [Add to my Inquiry Basket][?]



Related Video:
Polar Eclipse™ by TURN4TURN INC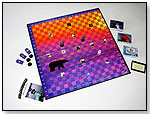 Polar Eclipse is an educational board game created to raise awareness about climate change and lifestyle choices. Published in 2011 by turn 4 turn llc. based in Park City, Utah, the game is created for global citizens 8 years and older. Designed, tested and re-tested with students who attend a Utah K-8 charter school, the game offers players the opportunity to add their ideas to the discussion and move toward their survival by doing so. The game board is a warm to cool, and past to future grid; a game about time and temperature. The object of the game is, as one of five species, to make it into the future and get cooler, to survive. If you hit 100 your species becomes extinct and you are out of the game. The motivation to create this game comes from the inventors background as an elementary teacher and the concern for the natural world. By playing the game, it is hoped that the mix of experience that sparks awareness, concern and stewardship to protect the natural world will expand. Knowledge is power. The game includes a die to set your place in time, 184 event cards to experience cause and effect, 64 arctic cards to offer open-ended and multiple choice questions, five players/species, the game board and a rules and reference booklet. Playing time ranges from twenty to forty-five minutes depending on the set of cards you play and number of players. Eight blank event cards are included to create your own events to add to the game. A secondary activity is to sort the event cards into sets of eight cards, by a symbol on the card, and assemble puzzles that make up the photographs on the cover and sides of the game box.
Awards: 2012 Dr. Toy Best Green Toys
5/18/2012 (Price: $24.95; Age: 8 to 12) [Add to my Inquiry Basket][?]



Related Video:
Hatch Magnetic Wooden Car by TEGU INC.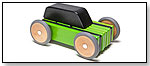 Hatch is a member of the Compact Line of Tegu Mobility. Deconstruct Hatch and click the wheels on and off to create any number of mobile creations. Magnetic connections make racing and crashing as fun as building. Hatch integrates seamlessly with the existing line of Tegu blocks. Made with beautiful Honduran hardwoods and safe water-based finishes.
Awards: 2012 Dr. Toy Best Green Toys
5/18/2012 (Price: $38.00; Age: 3 to 12) [Add to my Inquiry Basket][?]



Related Video:
PlanWood Dancing Alligator by PLANTOYS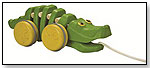 Made from the new collection of PlanWood materials, the classic Dancing Alligator has been remade using this new sustainable wood to delight children. When pulled along, the alligator moves his head and tail up and down making a click-clack sound. Created to maximize the usage of the reclaimed rubber trees, PlanWood uniquely provides an even safer, higher quality and more affordable product, while maintaining the eco-minded excellence and unforgettable design consumers have come to expect from the PlanToys brand. PlanWood is made from the sawdust and wood chips left over from regular PlanToys production. By adding some organic pigments for color, mixing it with less than 1% of their non-formaldehyde E-zero glue and pressure molding the mix, a new safe and non-toxic material was born. Launch date: 2012.
Awards: 2012 Dr. Toy Best Green Toys
5/18/2012 (Price: $20.00; Age: 1 to 2) ENTER PLANTOYS TOYSHOW [Add to my Inquiry Basket][?]



Related Video:
makedo™ Find & Make Shop by TOYSMITH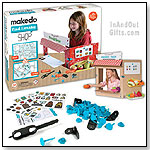 Find & Make has added a new project kit that directs children to make their own original creations using Makedo connectors and packaging commonly found in the home. This product invites child to be resourceful by sourcing boxes and packaging from around the house and using them as the 'building blocks' . Once built, the Shop becomes the source of endless role-play fun. Through this experience, the child changes their perception of a box as something they would throw away. Instead it becomes an object of value. The child has learned about reuse and upcycling in a fun and playful way. Each Makedo Find & Make kit includes a safe-saw for cutting and punching through materials safely; re-clips and lock-hinges for connecting, themed decorative stickers, beautifully illustrated step-by-step instructions and a gorgeous inspiration poster. The material contents and packaging has been kept to a minimum. The reusable nature of Makedo's connectors means that the child is able to pull apart and reconstruct their shop over and over for new building and role-play experiences. Construction with Makedo also minimizes the use of virgin materials by directing the child to make their own toy rather than going out to buy something completely new.
Awards: 2013 TDmonthly Seal of Approval, 2012 Dr. Toy Best Green Toys
5/18/2012 (Price: $19.95; Age: 5 to 12) [Add to my Inquiry Basket][?]



Related Video:
Following are some of the programs represented in TDmonthly.com's section of award winners: Dr. Toy, iParenting Media Awards, TIA T.O.T.Y., Oppenheim Toy Portfolio, The National Parenting Center, and Parents' Choice Awards.

You may also access TDmonthly's review section to see which products earned 5 TD stars.