The Few, The Proud...The Award-Winning Toys!
Who Made the Cut This Year?
By Alison Marek and Julie L. Jones
---
Thousands of products are introduced to the toy industry every year, but only a limited number are good enough, playable enough and innovative enough to garner an award.

In addition to issuing TDmonthly Awards, TDmonthly Magazine regularly asks manufacturers to present their award winners to our readers so that retailers can quickly identify products with great potential and manufacturers can learn and be inspired by others' successes. Here are the most recent responses:
Adorable Kinders Rag Dolls by GRANZA INC.



These 18" soft-cloth rag dolls are American made and come with admission to an Internet cartoon eSchool where kids learn as they play fun educational games (grades Pre-K through 6th). The dolls and their clothes are washable, and there are 26 different characters and multiple outfits. The dolls are "made in [the] USA and not sold in mass-market retail stores," Greg Goodenbury, VP of GRANZA, Inc., told TDmonthly. Adorable Kinders have received the following awards: NAPPA 2009 Children's Products Gold Award; Dr. Toy's 2009 100 Best Children's Products Award; Dr. Toy's 2009 10 Best Toys Award; Toy Man Seal of Approval; Toy Man Award of Excellence; Toy Man Eco-Recognition Award; and Toy Man eChoice Award. Launch date: 2009.
11/5/2009 (Price: $59.99; Age: 2 and up) [Add to my Inquiry Basket][?]



Related Video:
Secret Message Bead Kit by BEAD THE MESSAGE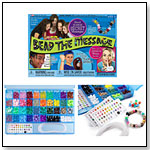 This patent-pending kit of nearly 1,000 beads features various colors that each represent a letter, number and space, so that kids can create bracelets and other accessories with their own secret messages to be decoded. The kit includes 20 decoder cards, 15 feet of lacing with closures, labels, and instructions.
Awards: 2010 WTS "What The Stuff" Five Star; A TDmonthly Classics Award for being an all-time favorite toy.

Past videos: Product Demonstration
10/30/2009 (Price: $19.99; Age: 4 to 14) [Add to my Inquiry Basket][?]



Related Video:
Risas y Sonrisas Spanish Program - Student Book with CD-ROM & Skits DVD by Risas y Sonrisas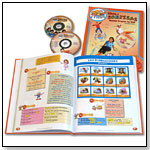 Risas y Sonrisas (which is Spanish for "Laughter and Smiles") is a Spanish Program for kids that makes teaching and learning Spanish enjoyable. The Student Book includes an interactive CD-ROM and a Skits DVD. The interactive CD-ROM is the voice of the book. It is divided into five areas: Pronunciation, Songs, Vocabulary, Q&A, and Verb Conjugations. The Skits DVD incorporates vocabulary and Q&A learned in each chapter with subtitles to read and repeat whenever necessary. Vocabulary Units are illustrated in the same order as the Songs. They have Q&A of high frequency to use in conversations, a skit and a cultural point at the end of each chapter. This audiovisual presentation helps young and older students learn at their own pace. Everything learned with the classroom program is included in the student book to practice at home. This product was named one of Dr. Toy's 100 Best Children's Products 2009.
10/30/2009 (Price: $45.00; Age: 5 to 12) [Add to my Inquiry Basket][?]



Related Video:
Silly Soft Seating- Iggy by P'KOLINO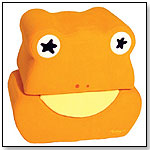 These smart characters are comprised of three soft pieces that when "puzzled" together make a playful friend. Sturdy enough for a wobbly toddler to balance on and lightweight enough to move around, these silly seats are a fabulously fun gross motor tool. Kids can climb on it, sit on it or drool on it; the snugly, durable fabric is removable and washable, and there are four playful characters. Silly Soft was a 2010 Gold Award Winner for Netherlands' Best Baby and Infant Product. Launch date: September 25, 2007.


10/29/2009 (Price: $49.99; Age: 1 to 3) [Add to my Inquiry Basket][?]



Related Video:
Thumball: Who Are You? by TALICOR / ARISTOPLAY


Kids toss it, catch it and then react to the concept under their thumb. This ball offers a fun way for children to get to know one another. The utilization of a ball during play allows participants to ask each other questions about personal preferences and life experiences. Launch date: March 3, 2009. Awards: Creative Child Preferred Choice Award 2007
10/29/2009 (Price: $10.99; Age: 3 and up) [Add to my Inquiry Basket][?]



Related Video:
Organic Cotton Diaper Kit by BUMMIS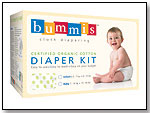 Designed as an economical, easy and environmentally friendly starter kit that removes the guesswork from choosing a cloth diaper system, this box of cloth diapering essentials features organic cotton diapers and accessories. It includes flushable liners and a step-by-step guide to no-fuss diapering. It does not involve rinsing, pins, or stuffing. This product is a 2009 winner of both the iParenting Media Award and the PTPA Media Green Award. Launch date: June 16, 2009.
10/29/2009 (Price: $169.00; Age: 0 to 3) [Add to my Inquiry Basket][?]



Related Video:
Flip & Grip Rattle by SASSY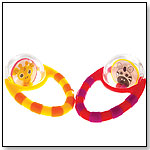 These lightweight oval rattles are made for little hands to grasp and little mouths and fingers to explore. The set comes with a yellow rattle with raised, textured, orange stripes and a red handled rattle with raised, purple stripes. A smooth, clear plastic ball perches at one end of the rattle, spinning and sending colorful beads popping along. Inside is a spinning disk with a mirror on one side and a symmetrical, smiling face on the other. It comes in a two-pack and received a 2009 Oppenheim Toy Portfolio Gold Award. Launch date: October 2009.
10/29/2009 (Price: $4.99; Age: 0 to 1) [Add to my Inquiry Basket][?]



Related Video:
Grasp & Glow Rattle by SASSY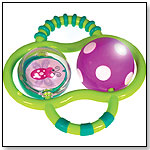 High contrast geometric stripes, polka dots and a surprising light up feature grab baby's focus. The lime green rattle has two textured handles with teal stripes, perfect for two-handed play. There are two spheres on the rattle. One lights up as it spins. The other is clear with a bug character smiling on a rotating disk inside. It is available with either blue or pink accents and has received a 2009 Oppenheim Toy Portfolio Platinum Award and SNAP Award. Launch date: October 2009.
10/29/2009 (Price: $4.99; Age: 0 to 1) [Add to my Inquiry Basket][?]



Related Video:
Hello Baby! Phone Rattle by SASSY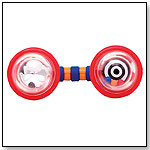 This retro, little phone receiver has chewy textures, soft rattling noises and clear, bright colors to engage and stimulate baby's senses. A bold, black and white bull's eye on one end fosters visual acuity. Two beads — one black and the other white — circle around a mirrored funnel on the other end for additional visual stimulation. The lightweight rattle has a thin handle to fit even the tiniest grasp. This product received a 2009 Oppenheim Toy Portfolio Gold Award and an Oppenheim Toy Portfolio SNAP Award.
10/29/2009 (Price: $2.99; Age: 0 to 1) [Add to my Inquiry Basket][?]



Related Video:
Spa Time BabyŽ Cape by SPA TIME BABY



The original Spa Time Baby Cape has a waterproof panel to keep parent dry while bathing baby. The patented Spa Time Baby Cape, easily worn by the parent, is designed as a safe and convenient alternative to bathing and drying baby. It has received the following awards: 2008 Mom's Best Award; 2009 PTPA (Parent Tested Parent Approved); 2009 iParenting; 2008 Baby Planner's Seal of Approval; and 2008 Best Products Media Guide by Orca Unlimited, LLC. Launch date: June 2008.
10/29/2009 (Price: $38.95; Age: 0 to 3) [Add to my Inquiry Basket][?]



Related Video:
Following are some of the programs represented in TDmonthly.com's section of award winners: Dr. Toy, iParenting Media Awards, TIA T.O.T.Y., Oppenheim Toy Portfolio, The National Parenting Center, and Parents' Choice Awards.

You may also access TDmonthly's review section to see which products earned 5 TD stars.