The Few, The Proud...The Award-Winning Toys!
Who Made the Cut This Year?
By Alison Marek and Julie L. Jones
---
Thousands of products are introduced to the toy industry every year, but only a limited number are good enough, playable enough and innovative enough to garner an award.

In addition to issuing TDmonthly Awards, TDmonthly Magazine regularly asks manufacturers to present their award winners to our readers so that retailers can quickly identify products with great potential and manufacturers can learn and be inspired by others' successes. Here are the most recent responses:
Trappex by MARANDA ENTERPRISES LLC.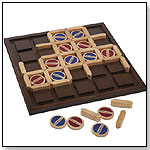 To play, players take turns placing their wooden "wall" pieces on the board, attempting to complete squares while preventing their opponent from doing the same. The player with the most completed squares at the end of the game wins. TRAPPEX is simple enough to be played by children, strategic enough to engage a true gamer. The rules have been drafted so that there is always a winner, no ties, stalemates, or cat's games. Hand crafted from high quality hardwoods. Playing time is 10-15 minutes. Includes game board, 60 wooden wall pieces, 25 two-sided game discs, and instructions.
Awards: 2012 Dr. Toy Best Classic Toys
6/22/2011 (Price: $29.99; Age: All Ages) [Add to my Inquiry Basket][?]



Related Video:
The Bishop CubesŪ 27-Cube Set by SHAPE GAMES LLC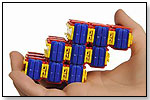 This is a set of 27 interlocking Cubes arranged in a 3x3x3 cube shape. The puzzle challenges the player to transform the arrangement of the 27 cubes from one shape to any other shape, without disengaging any of the Cubes from each other. Cubes must be shifted by sliding along their faces. The Cubes can shift in all three dimensions: X, Y and Z, but each face slides in only one direction. There are many solutions because there are millions of shapes you can tranform from and to. The ultimate goal is to be able to logically understand how to shift from one shape to another in the fewest number of moves. Other games can be invented by disengaging the Cubes and re-engaging them with the colors "flipped" on one or some of the Cubes, creating a "marked" Cube. The challenge is then to shift the "marked" Cube or Cubes into a specific position in the arrangement
Awards: TDmonthly Top Toy Award, June 2011
— Why it won: This cube puzzle challenges kids to use their spacial-temporal reasoning and logic skills. It's innovative design allows for more open-ended play than similar products, and it is portable for fun on-the-go.
6/3/2011 (Price: $29.95; Age: 8 to 88) [Add to my Inquiry Basket][?]



Related Video:
Little Builder Rattle Blocks by CITIBLOCS LLC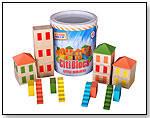 This 22 piece rattling building block set was designed specially for Little Builders. Shake, rattle, and build with these colorful blocks sized for little hands. Launch date: June 2011.
Awards: Dr. Toy 10 Best Toys of 2011
5/27/2011 (Price: $34.99; Age: 2 and up) [Add to my Inquiry Basket][?]



Related Video:
Palette by FAT BRAIN TOY CO.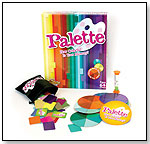 Players will be challenged to put their memory to the test in just five short seconds as they attempt to memorize a specific shade of color and then match it to the correct color wheel. Just the slightest difference between shade, tint or hue can completely change the game. The first player to fill their artist's palette with six color chips and win the game. Fast-paced play combines with memory building, visual thinking and art. Color guide provides extra learning material.
Awards: TDmonthly Top Toy Award, January 2012; 2011 Finalist for ASTRA's Best Toys for Kids
— Why it won: Unlike most matching games, which require players to remember and pair off images, this game challenges players to remember the exact shade of a certain color. They then must match the color they saw to a color wheel. An entertaining, challenging twist on the classic memory game.
5/27/2011 (Price: $24.95; Age: 6 and up) [Add to my Inquiry Basket][?]



Related Video:
Squishable Fox by SQUISHABLE.COM INC.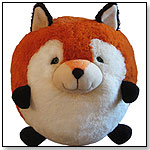 This fox is 15 inches tall and is soft and squishy. Squishables comply with U.S. ASTM F963 safety standards. They're made out of all new materials (100% polyester fiber). Squishables can be spot-cleaned. Also available in a miniature size.
Awards: TDmonthly Top Toy Award, June 2011
— Why it won: These extra soft and plush animal/pillows include a variety of characters we don't usually see in children's toys, such as narwhals. They come in several sizes, too, which make them fun for decorating a kid's or tween's room. With a range of characters from the Google Android to a T Rex, they'll appeal to boys, too.
— "Squishables are selling really well. It's a big ball pillow in the shape of animals. We sold 20 last month," Joe Berardoni, owner of Pun's Toys in Bryn Mawr, Pa., told TDmonthly in late Spring 2011.
— In a May 2012 survey, Elmer Carranza, manager of Doodlehopper 4 Kids in Springfield, Va., told TDmonthly that they sell six Squishables each month, making them the best seller in the plush category.
5/27/2011 (Price: $39.00; Age: 3 and up) [Add to my Inquiry Basket][?]



Related Video:
Perplexus Rookie by PATCH PRODUCTS INC.



Perplexus Rookie offers newcomers to Perplexus a three-dimensional puzzle challenge, with 75 barriers to success. Users must guide the metal ball through a maze of twists and turns, down dips and around winding spirals toward the maze finish. Players maneuver surprising routes of challenge that test hand-eye coordination, focus and perseverance. 6.5 Inches in Diameter, Perplexus Rookie is a brainteaser puzzle filled with layers of detailed maze structures. A shelter finish keeps the ball in place at the end to secure success.
Awards: 2012 Creative Child Awards – Puzzle of the Year, 2011 Oppenheim Toy Portfolio – Best Toy Award (Gold), 2011 NAPP Gold – Seal of Approval, 2011 Canadian Toy Testing Council – Best Bet, 2011 ASTRA – Best Toys for Kids, Game Play (3-7years)


5/24/2011 (Price: $22.49; Age: 4 and up) [Add to my Inquiry Basket][?]



Related Video:
PlasmaBike Red by PLASMART INC.


No batteries, gears, or pedals - just a fun, encouraging and progressive start to bicycle riding. PlasmaBike's unique design encourages balance, coordination and motor skill development while offering a fun ride. Children as young as 18 months can enjoy the freedom or riding without the added complication of training wheels or anxiety of having to hold their balance too long, too early. Wide wheels ensure that PlasmaBike doesn't tip over in a stopped or stationary position, giving children added confidence and promoting self-esteem. The wide wheels and limited steering range enhance balancing capabilities and provide a smoother transition to a conventional 2 wheel ride.
Awards: 2012 The Toy Insider – Top Summer Toys, 2012 The National Parenting Centre – Seal of Approval, 2012 Parenting Magazine – Recommended, 2012 Creative Child Awards – Preferred Choice Award, 2011 Parenting Best in Play – New York Toy Fair, 2011 Best Toys Guide
5/11/2011 (Price: $79.99; Age: 2 and up) ENTER PLASMART INC. TOYSHOW [Add to my Inquiry Basket][?]



Related Video:
ABC WordPad by THE LEARNING JOURNEY INTERNATIONAL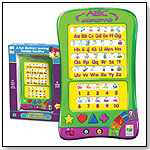 Children can carry along their own electronic tablet with the ABC WordPad, a compact electronic learning device that looks and feels like a little tablet. It features include five different learning activities: Letter Learning Fun, Word Learning Fun, Find It!, Spelling Practice Fun and Music Fun. This portable playbook requires two "AA" batteries (included). Launch date: May 2011.
Awards: 2011 Creative Child Preferred Choice Award; 2011 Dr Toy 10 Best High Tech Products and 100 Best Children's Products.
4/29/2011 (Price: $19.99; Age: 3 and up) [Add to my Inquiry Basket][?]



Related Video:
Fantastically Fun Edible Finger Paint by WEE CAN TOO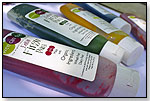 This edible fingerpaint was created in 2007 with babies in mind, adhering to baby safe ingredients which are organic. The paint is also vegan, wheat-free, sugar-free, and contains no preservatives. Babies and toddlers can start expressing themselves artistically earlier, without parents having to worry about them ingesting harmful chemicals and dyes. Fantastic Finger Paints come in 5 colors. Purple/Blue with REAL blueberries, Red/Pink with REAL beets, Orange & Yellow with REAL pumpkin and green with REAL spinach. CPSIA Compliant. Made from Organic Fruit & Vegetable powders, rice cereal and rice flour. Paints come in 6 oz. convenient tottle bottles which have powder in them. Just add the water, shake and create. Makes over 12 oz. of paint per bottle (refill bottle with water and get more paint). Must be refrigerated after water is added.
Awards: A Dr. Toy Best Green Product for 2011; TDmonthly Top Toy Award, June 2011
— Why it won: This paint is extremely eco-friendly, and encourages parents to introduce their children to art and painting as soon as possible, without having to worry about their child being harmed by ingesting the chemicals in non-organic, non-plant based paints. This means kids can start learning forms of creative expression from a younger age.
4/28/2011 (Price: $35.00; Age: 1 to 5) [Add to my Inquiry Basket][?]



Related Video:
Hoot Owl Hoot! by PEACEABLE KINGDOM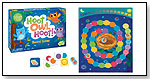 This game is easy enough for first time game players and the game can be made infinitely more challenging simply by adding more owl tokens into the game. This allows the game to age with the child or for older kids (or even adults) to play with younger kids. Like in Candyland, kids practice color recognition and moving tokens. Unlike Candyland, Hoot Owl Hoot is a cooperative game, meaning all players are playing for the same outcome together. A cooperative game eliminates stress, builds self-esteem, and teaches kids that playing together can be fun. Kids learn to work together, they share in the game play, and they practice cooperation. The object of the game is move all the owls from start to the nest before the sun rises. Players take turns, but work together. Launch date: May 2011.
Awards: A Dr. Toy Best Green Product for 2011; 2011 Parents' Choice Silver Honor Award; 2011 Parents' Choice Major Fun Award; 2011 Disney FamilyFun magazine Toy of the Year (T.O.Y) Award.
— As of 05/23/2011 this product had 4.8 out of 5 stars from 10 reviews on Amazon.com. Pros: Teaches kids to work together; difficulty can be increased as players get better; eco-friendly.


4/27/2011 (Price: $14.99; Age: 4 to 12) [Add to my Inquiry Basket][?]



Related Video:
Following are some of the programs represented in TDmonthly.com's section of award winners: Dr. Toy, iParenting Media Awards, TIA T.O.T.Y., Oppenheim Toy Portfolio, The National Parenting Center, and Parents' Choice Awards.

You may also access TDmonthly's review section to see which products earned 5 TD stars.