The Few, The Proud...The Award-Winning Toys!
Who Made the Cut This Year?
By Alison Marek and Julie L. Jones
---
Thousands of products are introduced to the toy industry every year, but only a limited number are good enough, playable enough and innovative enough to garner an award.

In addition to issuing TDmonthly Awards, TDmonthly Magazine regularly asks manufacturers to present their award winners to our readers so that retailers can quickly identify products with great potential and manufacturers can learn and be inspired by others' successes. Here are the most recent responses:
One Earth So Green and Round - Songs of Nature, Music CD by Kathy Byers and Lydia Adams Davis by KT MUSIC PRODUCTIONS INC.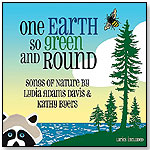 Singer-Songwriters Lydia Adams Davis and Kathy Byers have collaborated on this album of original songs about nature, recycling, animal habitats, global warming, conservation and environmental awareness. Highlights include the sprightly "Shy Raccoon," the appropriately tropical and lyrically transformative "Chameleon," and the easy picking tale of the great northern environment "In Alaska." Elsewhere, we are treated to tales of the decidedly un-limbed "I Am Snake," the busy "Be a Bumble Bee," and the complexity of ecosystems in "Think About the Ocean." Other favorites include "We Study Frogs" which will be a welcomed song for any science teacher to learn, and the pressing question of "Why Do Turtles Cross the Road," answered in the song of the same name. The album closes with the lovely and spirited "Song of Life" which should become the theme song for every nature center and school. The CD comes in mostly paper packaging, with nature-themed illustrations, a full booklet of lyrics and credits. Launch date: January 2012/
Awards: 2012 A Parents' Choice Award-Music Category
10/10/2012 (Price: $14.99; Age: All Ages) [Add to my Inquiry Basket][?]



Related Video:
The Global Game Changers by PIXEL ENTERTAINMENT



Winner of Dr. Toys 100 Best Childrens Products of 2012 and 10 Best High-Tech Products of 2012, as well as a Preferred Choice Award by Creative Child Magazine, this new children's book is built around The Global Game Changers, a fictional team of superheroes whose leader, Global Girl, and her sidekick, Little Big-Heart, and their trust dog Pixel, recruit real-life kids to help change the world for the better by doing good things for others without expecting anything in return. At the end of The Global Game Changers book there is a call to action for the reader to be inspired to join the Alliance by visiting The Global Game Changers interactive web community where they can share their Ignite Good! stories, learn how to utilize their talents to affect things they are passionate about, have fun, and be empowered to help make a difference in the world. Launch date: July 15, 2012.
10/9/2012 (Price: $16.99; Age: All Ages) [Add to my Inquiry Basket][?]



Related Video:
Ezee Glider Orange Air Tires by GLIDE BIKES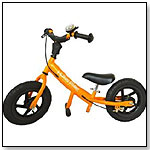 The EZee Glider from Glide Bikes allows children to gain confidence, improve motor skills, increase coordination, and learn balance at their own pace all while having fun. Balance Bikes do not have training wheels and pedals to get in the way, so children learn the important first step in riding a bike- BALANCE. Pushing off with alternating feet as if the child were running from a seated position, the child can learn balance and control. Once the child becomes more stable they begin to glide with their feet off the ground. Glide Bikes also incorporates a unique foot peg system to allow kids to have a place to rest their feet while gliding. These pegs can be locked into place with one simple to use, tool-free pin allowing the foot pegs to be installed or removed in seconds.
Awards: 2013 TDmonthly Seal of Approval
— As of 10/5/2012 this product had 4.6 out of 5 stars from 14 reviews on Amazon.com. Pros: Air tires glide smoothly; bike is light enough for kids to handle; durable.


10/5/2012 (Price: $99.00; Age: 2 to 5) [Add to my Inquiry Basket][?]



Related Video:
iStrike Shuttle by DREAM CHEEKY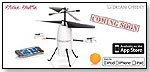 Take office warfare into the sky with the Dream Cheeky iStrike Shuttle. This 3-channel Helicopter is wirelessly controlled by the iPod touch, iPhone, or iPad through Bluetooth®. With the free and fully equipped iStrike Controller app users can make the iStrike Shuttle go where no Dream Cheeky gadget has gone before. Make it hover above the unsuspecting heads of targets and drop an iStrike Bomb at the exact right moment. Its unique design and flying pattern give the iStrike Shuttle an almost human character. Yet it's surprisingly easy to control. It even comes with an attachable bright orange training wheel that makes landing easier. Launch date: November 2012.
10/5/2012 (Price: $129.99; Age: 8 and up) [Add to my Inquiry Basket][?]



Related Video:
Spring Ring by MARANDA ENTERPRISES LLC.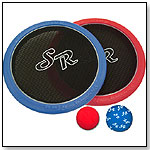 Spring Ring adds extra zing to indoor and outdoor fun. Use them to give favorite old games an exciting new twist or come up with something completely new and different. No Rules Required for this creative new toy. Constructed with a firm foam outer ring and a stretchy trampoline center fabric, the versatile Spring Rings can be used like a paddle, thrown like a frisbee. They even float. Great for indoors (when used with the dry splash ball) or outdoors.
Awards: 2010 Creative Child Magazine, Preferred Choice Award; 2010 Dr. Toy Best Picks Award.
— In a March 2013 survey, Joe Berardoni Jr, manager of Pun's Toys in Bryn Mawr, Pa., told TDmonthly that "The top selling outdoor item over the last two years has been the Spring Ring from Maranda...Even in the winter months, we have sold out of the item consistently, and have reordered several times already in 2013. We sell around 24-30 pieces a month during 'outside' weather months."
— Joe Barardoni Sr., owner of Pun's Toys in Bryn Mawr, Pa., told TDmonthly in a March 2014 survey that the Spring Ring was a best-selling outdoor toy.
10/4/2012 (Price: $29.99; Age: 4 and up) [Add to my Inquiry Basket][?]



Related Video:
Potty Training Little Ones by GALLOPING MINDS



Potty Training Little Ones is geared towards making potty time fun for children. The book walks through each step of potty training. From the time the child is introduced to the potty to the time he or she is ready to go and make it part of their routine. This fun and colorful book also motivates kids by providing coloring pages for each activity - choosing a potty, going for the first time and washing hands.
Awards: National Parenting Seal of Approval 2012
10/4/2012 (Price: $14.99) [Add to my Inquiry Basket][?]



Related Video:
GYRO Hercules Unbreakable 3.5CH Electric RTF Remote Control Helicopter by HOBBYTRON/WORLD TECH TOYS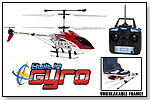 Introducing the GYRO Hercules 3.5CH Electric RTF RC Helicopter. The WORLD'S FIRST AND ONLY UNBREAKABLE RC HELICOPTER. This RC helicopter has super strong polymer frame. The Helicopter's body can take up to 200 pounds of force. You can even step on it and it won't break. This awesome Helicopter comes with the greatest advancement in Helicopter Technology, a Gyro. No more crashing, no more replacing parts, the GYRO has changed the Helicopter industry completely, making this RC Helicopter super easy to fly. Great for people of all skill levels, this bad boy features a coaxial rotor a single rear rotor for precise movement and a GYRO for increased stability whether flying or hovering. Controlling the Hercules is a breeze. It can go forward, backward, up, down, left, right and hover. What really makes the GYRO Hercules stand out is the built in gyroscope making it automatically stabilize allowing you to focus on flying instead of trying not to make it crash. This product is ready to fly, there is no assembly required. Launch date: November 2012.
Awards: 2014 TDmonthly Top Toy Debut Award


10/2/2012 (Price: $59.95; Age: 8 and up) ENTER HOBBYTRON/WORLD TECH TOYS TOYSHOW [Add to my Inquiry Basket][?]



Related Video:
Cuddle Bear by ELKS & ANGELS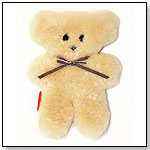 The Cuddle Bear from Elks & Angels is nature's answer to a cuddly companion for little ones. Its silky soft texture made from Australian shearling has a darling gentle face and is flat for ease of cuddling and sleeping on. Sheepskin has a host of benefits, that make this toy hard to resist, it is easy-to-clean, static- and stain-resistant, anti-bacterial, hypoallergenic, and flame retardant. Plus, since it's made with sheepskin, it's incredibly breathable and never smells! Sheepskin is also said to be very soothing and calming for little ones to swaddle into. This adorable cuddle buddy is a cute companion for little ones and has so many great benefits. Launch date: October 2010.
Awards: 2012 Mom's Choice Gold Award
10/2/2012 (Price: $49.00; Age: All Ages) [Add to my Inquiry Basket][?]



Related Video:
WO! by NEW HOPE RECORDS INC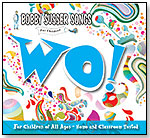 For over 40 years, Bobby Susser has entertained and educated millions of children through his songs. In his new, 25th collection, containing 12 songs, titled WO!, he continues his work, and quite remarkably, sounds better than ever. The songs are joyful, optimistic, and lots of fun. They encourage the young listeners to sing along, dance, and/or exercise; they develop a sense of rhythm and oral expression, and promote the significance of friendship, and togetherness through appreciation and understanding of songs, and their ability to enrich our lives. The first song , Any Time Of Day, is an exceptional song that's very inviting as soon as it's heard, as are, The Wo Wo Song, Smiling Face, Oooh Good Morning, and all the rest. The entire collection is filled with very catchy songs that will have everyone singing and dancing, learning and having lots of fun. Launch date: April 2012.
Awards: 2012 Dr. Toy Best Children's Product; 2012 Dr. Toy 10 Best Audio/DVD
10/2/2012 (Price: $16.95; Age: 3 to 8) [Add to my Inquiry Basket][?]



Related Video:
KerFlip! by CREATIVE FOUNDRY GAMES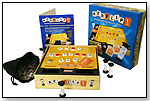 KerFlip is a fun, fast anagram word game that families and word nerds can claim as their own. KerFlip's innovative flip-scoring system rewards players for constructing words FASTER than their opponents can. And cleanup has never been simpler: just sweep used letters into the tile chute and funnel them into a collection cup at the end of the game. "KerFlip features a completely original and innovative way to score, called "flip-scoring." The first time a tile is used, it's worth 10 points. Once it's been scored, flip it to its orange side. Now it's worth only 5 points to other players," Damon Tabb, inventor and owner of Creative Foundry Games, told TDmonthly. Launch date: May 2012.
Awards: 2013 TDmonthly Seal of Approval, GAMES Magazine BEST Word Game for 2013; Oppenheim Toy Portfolio Gold Seal Best Toy Award; 2012 Dr. Toy: 10 Best Educational Products for 2012; Creative Child Magazine: 2012 Game Of The Year; 2012 Majorfun.com: Major Fun Award; 2012 Playonwords.com: PAL Award.
10/2/2012 (Price: $24.99; Age: 8 and up) [Add to my Inquiry Basket][?]



Related Video:
Following are some of the programs represented in TDmonthly.com's section of award winners: Dr. Toy, iParenting Media Awards, TIA T.O.T.Y., Oppenheim Toy Portfolio, The National Parenting Center, and Parents' Choice Awards.

You may also access TDmonthly's review section to see which products earned 5 TD stars.