The Few, The Proud...The Award-Winning Toys!
Who Made the Cut This Year?
By Alison Marek and Julie L. Jones
---
Thousands of products are introduced to the toy industry every year, but only a limited number are good enough, playable enough and innovative enough to garner an award.

In addition to issuing TDmonthly Awards, TDmonthly Magazine regularly asks manufacturers to present their award winners to our readers so that retailers can quickly identify products with great potential and manufacturers can learn and be inspired by others' successes. Here are the most recent responses:
Up Down & All Around by Leaping Legs Creative Movement Programs



"Up Down & All Around" is a creative movement/exercise DVD for people of all ages and abilities. The DVD provides resources to develop gross motor skills, spatial awareness, strength and balance. It's designed to be easy to follow, easy to do, and encourage adult-child interactions. "It was designed specifically to be utilized by educators and parents to do with their students and children. ... each of the eight sections of the DVD begin with bulleted objectives. There is also a detailed movement guide ... [that] explains how to do each section of the program in depth, what kinesthetic skills are being addressed, as well as offers fun variations to the exercises. This is a comprehensive program that will help schools and communities meet the National Physical Education Standards as well combat the obesity epidemic," Stacey Pepper Schwartz, founder of Leaping Legs Creative Movement Programs, told TDmonthly. The DVD was awarded Dr. Toy's 10 Best Active Products 2009 and Dr. Toy's 100 Best Children's Products 2009. Launch date: December 21, 2008.
11/17/2009 (Price: $19.95; Age: 2 and up) [Add to my Inquiry Basket][?]



Related Video:
Easy Daysies Magnetic Daily Schedules For Kids - Starter Kit by EASY DAYSIES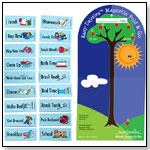 This magnetic daily schedule for kids consists of 18 durable, kid-friendly magnets and a fold-&-go magnetic board that kids can take anywhere. Grandparents and babysitters can easily know a child's daily routine. It can be personalized with a dry erase marker. Users can place magnets down the middle or use the "To Do" and "Done" columns for a reward system. The back stores unused magnets. This mom/teacher-created product is made in Canada of 70-percent recycled materials. Individuals can mix and match from nine different kits to create a family's or classroom's perfect routine. "A daily visual schedule helps children become more successful and independent all because they feel safe and confident knowing what is happening next! Wonderful for helping preschoolers or kids of any age, and children with special needs, with event transition," Elaine Comeau, founder of Easy Daysies, told TDmonthly. Launch date: December 2009.
Awards: 2010 Creative Child Magazine Top Choice of the Year Award (Parenting Aids-Teaching Responsibility & Educational Products-Preschool Category); 2010 Parent-Tested Parent-Approved Award
11/17/2009 (Price: $25; Age: 3 to 12) [Add to my Inquiry Basket][?]



Related Video:
U-Play Mat Deluxe Edition by PLAY THIS WAY EVERY DAY LLC.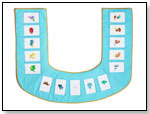 Created by Dr. Jen, a pediatrician with two sets of twins, the U-Play Mat is a "U" shaped floor mat with 15 clear pockets, 240 theme-based card decks, a tote bag and an instruction manual. Children ages 1 to 4 can work on language and communication development engaging with the caregiver in 10 exercises per card deck. The child sits inside the U, which is designed to promote physical acvitity, social skills and enhancement of language development. The U-Play Mat is a "pediatrician-invented, low-tech, interactive, unique educational toy for language development," Dr. Jennifer Canter, CEO of Play This Way Every Day, told TDmonthly. This product was named one of Dr. Toy's Top 10 Active Products 2009. Launch date: September 30, 2009.
11/17/2009 (Price: $85; Age: 1 to 4) [Add to my Inquiry Basket][?]



Related Video:
Triagonal Board Game by ACUMEN BOARD GAMES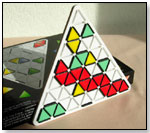 Triagonal comes in a sturdy Eco-Box and includes seven game-playing options with 204 gaming pieces that may also be used to create colorful geometric designs and tessellations, aided by 40 "Get You Started" images free online. There's also an additional five new game options owners can download for free online. Some of the main games played with Triagonal include ones similar to Squares, Connect 4 and Left Center Right, as well as solo, four-player and prediction games. Triagonal received a 2008 Major FUN Thinking Award and a 2008 Dr.Toy Best Picks New Product Award. Launch date: December 25, 2006.
11/16/2009 (Price: $22.00; Age: 5 and up) [Add to my Inquiry Basket][?]



Related Video:
HEXBUG Nano Micro Robotic Creatures by INNOVATION FIRST LABS, INC.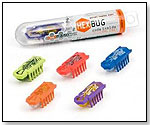 This small, 12-legged microrobotic creature is battery powered and designed to behave just like a real bug. It moves very quickly and can even flip over by itself. Five colors are available in the Newton Gravity Series. Awards: Parent's Choice Award 2010. Launch date: Fall 2009.
— Chris Lowe, owner of Bean Head Toys in Sandy Springs, Ga., told TDmonthly in a Summer 2011 survey that she sells between 20-30 items from the HEXBUGS line each month.
— Christine Osborne, co-owner of Wonder Works in Charleston, S.C., has a Hexbug Nano Habitat set up in the store. They've sold ''thousands,'' she said; she couldn't even guess at an exact number.
― "Hexbugs are doing very well," said Jenny Bramhall, owner of Dandelion Toys in Fort Collins, Colo., in summer 2010. Fifteen percent of 40 retailers polled in June 2010 said Hexbugs are their best-selling electronic item.
— Hexbugs were great sellers at Figpickels Toy Emporium in Coeur d'Alene, Idaho in Aug. 2010. "They fill the affordable techno/RC need - grab and go," said owner Brett Sommer.
AWARDS: 2010 TDmonthly Top Seller
11/9/2009 (Price: $9.99) [Add to my Inquiry Basket][?]



Related Video:
Fish Stix by PEACEABLE KINGDOM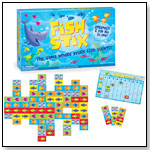 Fish Stix is a visual strategy game. To start, players place 1 fish stick in the center of a table where all players can reach it. Give 3 sticks, 1 scoreboard, and 6 fish tokens to each player. Players take turns matching fish by color and direction. For every fish matched, a player moves her fish tokens that number of spaces on her scoreboard. The first player to move all tokens to 10 wins! For 2-4 Players. This game was named one of Dr. Toy's 100 Best Children's Products 2009 and 10 Best Games 2009.
11/9/2009 (Price: $14.99; Age: 6 to 12) [Add to my Inquiry Basket][?]



Related Video:
Oüm by OUM PRODUCTIONS INC.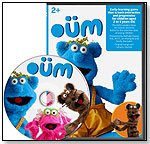 This early learning game for children is designed to be both interactive and progressive. Visually colorful, the DVD features three, 20-minute sessions suited to the attention span of young children. It features three puppets: Oüm, the main character, asks children to participate in his friends' lessons with him; Mimi has a talent for music and Coco, for physical activity. Children and animals appear throughout each of the lessons. Both English and French original versions are included.
Awards: 2010 Creative Child Magazine DVD of the Year Award
11/9/2009 (Price: $17.97; Age: 2 and up) [Add to my Inquiry Basket][?]



Related Video:
The Goal Bands Game by BLACK BELT GOALS INC.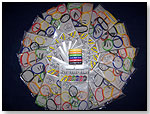 The Goal Bands Game features karate belts turned into six wristbands and used as a simple reward/reminder system that encourages the achievement of behavioral goals. Goals are chosen, daily, by GBG participants and the wristbands are exchanged, in karate belt order, after each days' success until the black wristband is reached, ideally, at the end of the week. The idea is for GBG participants to become goal oriented and able to supercharge their inner stregths for a lifetime of great achievements. "The Goal Bands Game is both visual and tactile, has a broad appeal, a mutitude of uses, is as simple to use as putting on a bracelet, and works for virtually anyone of any age to encourage personal growth and the achievement of great individual, or group, goals," James Mentzer, president of Black Belt Goals Inc., told TDmonthly. This game received a 2009 Dr. Toy 10 Best Socially Responsible Products award and was named one of Dr. Toy's 100 Best Children's Products. Launch date: 2009.
11/5/2009 (Price: $5.00; Age: 4 and up) [Add to my Inquiry Basket][?]



Related Video:
Mag-tagz - Ashley's Peace & Happiness Starter Kit by MAG-TAGZ DESIGNS LLC



The playful expression, "tag, you're it" no longer applies to the boys on the playground who swoosh by as they poke a girl. This tag is designed as a hip fashion statement that schoolgirls wear around their necks. Mag-tagz are adorable magnetic "tagz" that can be changed regularly to reflect a girl's ever-changing mood and style. Mag-tagz received two 2009 Seal of Excellence Awards in Creative Child Magazine's Kids Gear/Apparel category. Launch date: November 2009.
— A top pick, retailer Kate Tanner, owner of Kidstop Toys, informed TDmonthly at Toy Fair 2010.
11/5/2009 (Price: $16.99; Age: 5 and up) [Add to my Inquiry Basket][?]



Related Video:
Mom's Deluxe 3 in 1 Plus Combo Carrier by SNAZZY BABY



This multi-purpose, light-weight hip carrier is designed to give parents choices — baby can face inward or outward and ride on either hip. It converts to a portable high chair restraint and can be used in shopping carts for additional safety. It includes color-coded clips and an instructional DVD to make securing baby a breeze, and free leg warmers are included. It was "developed for use when first front carrier or sling gets uncomfortable at 5-7 months of age. [It] can be used right up to 2+ years or 37lbs," Cyndy Mundy, CEO of Snazzy Baby, told TDmonthly. Launch date: October 2009.
Awards: iParenting Media Award for Outstanding Product for Gear and Equipment 2009; Creative Child Magazine Top Choice of the Year Award
11/5/2009 (Price: $79.99; Age: 0 to 2) [Add to my Inquiry Basket][?]



Related Video:
Following are some of the programs represented in TDmonthly.com's section of award winners: Dr. Toy, iParenting Media Awards, TIA T.O.T.Y., Oppenheim Toy Portfolio, The National Parenting Center, and Parents' Choice Awards.

You may also access TDmonthly's review section to see which products earned 5 TD stars.